When is Casa Amor 2023? The infamous second villa could be returning sooner than you think
When is Casa Amor 2023, you ask? It looks like the ultimate test could be returning in a matter of days...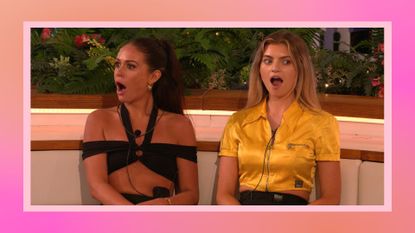 (Image credit: ITV/ Lifted Entertainment)
As the heads of our winter Love Island cast are already starting to swivel (here's how to watch Love Island UK if you need to catch up), you might be wondering—just when is Casa Amor returning? Well, from the looks of Maya Jama's latest Instagram post, it could be very soon indeed...
For anyone new to the reality show, Casa Amor is the infamous second villa, that has previously delivered some of the most memorable Love Island moments of all time. It's heralded as the 'ultimate test' because it either makes pairings or it breaks them—especially since the islanders always seem to forget that what happens in Casa, NEVER stays in Casa.
Love Island 2022 alone supplied us with one of the most dramatic Casa recouplings to date but this year looks set to take the award for the most savage, as many of the boys are already swithering before Casa has even reared its head!
So, when is the ultimate destination for mad moves set to return, exactly? Well—Maya may have just given us a major clue!
What is Casa Amor?
For those who are Love Island first-timers or simply need a refresher, Casa Amor is another villa on the show which opens up to either the girls or the boys, while the other group remains in the main villa.
For season eight, the girls were summoned to Casa Amor where they were joined by five new boys—while five new girls joined the original boys in the main villa. This likely means that winter Love Island 2023 will see the boys pack their bags and sneak away to Casa.
After a few days, there will then be a recoupling, where the Casa Amor islanders will return, either single or in a new couple. As you can imagine this has sparked some of the wildest and iconic moments on the show. Like when Amber returned in season five to a recoupled Michael—and when Liam returned to Millie, single in 2021, only for his Casa love interest Lillie to spill the beans on his behavior at the firepit—right in front of his OG girl, Millie. Yikes!
When is Casa Amor 2023?
As a rule, Casa Amor usually lands around the midway mark of the season. Currently, we're in week three, so if our calculations are correct—we could see Casa return as early as this weekend!
Our Casa senses are also tingling after a hint from the host, Maya, who revealed on Sunday's Aftersun that she would be returning to South Africa (where Love Island is filmed) this week.
As we know, the Love Island host does not enter the villa often—they're present for the first day and coupling up, Casa Amor and the recoupling, as well as the live final —so since we're nowhere near the end of the season yet, Casa seems very likely. Especially since Maya needs to be in the UK to film Love Island Aftersun every Sunday, so she can't be returning to the villa for any old reason...
Typically, Love Island will tease Casa's return in the "tomorrow night" preview, before it's then shared on socials.
If you want our prediction, we'd guess Casa will be teased on Thursday/ Friday—to kick off on Sunday night's installment...
When does Casa Amor 2023 end?
Based on previous seasons, Casa Amor lasts for three to four days though it always feels much longer as we await the dramatic recoupling.
The Islanders will spend a few days apart, before reuniting in the main villa for the Casa Amor recoupling, which will also see Maya Jama return—hopefully we'll see a few more of Maya's Love Island outfits too!
Casa Amor meaning: What does Casa Amor actually mean?
If you're looking for a literal translation, Casa Amor means Love House in Spanish (the original Love Island UK is filmed in the Spanish island of Majorca after all)...
Best Love Island gifts and merch to shop now
Price
Refine ☵
Sort By
Sagal is a journalist, specialising in lifestyle, pop culture, fashion and beauty. She has written for a number of publications including Vogue, Glamour, Stylist, Evening Standard, Bustle, You Magazine, Dazed and Wonderland to name a few.