Casa Amor 2021 is finally happening and this is what we know so far
Love Island's Casa Amor villa will be back to stir up trouble very soon...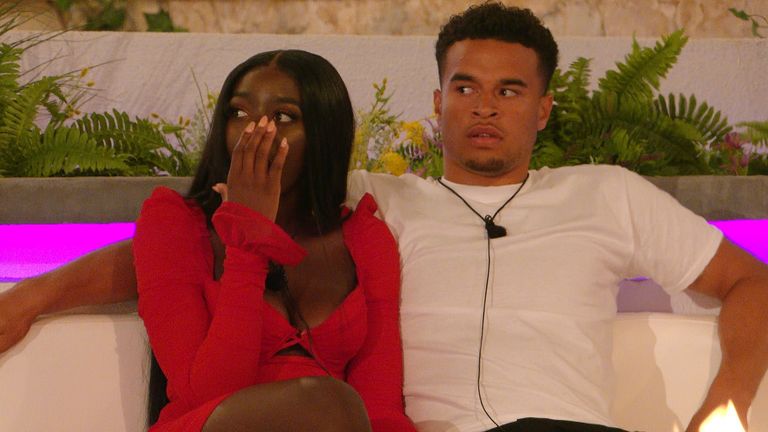 (Image credit: ITV)
If you've been tuning in to Love Island UK, you probably have two things on your mind—when will Hugo finally find someone and when is Casa Amor 2021?
Like every season, Casa Amor 2021 is set to be the highlight of Love Island this year as the famous alternative villa is back to put the couples to the ultimate test. However, it's a little hard to tell who exactly will be tested this year as so far, none of the islanders — aside from day one couple Liberty and Jake (who are now official!!) seem to be forming deep romantic connections.
It's no secret that Love Island can be a little slow in the first few weeks, with the islanders getting to know each other and settling into the villa. But this year, everyone seems to only "half" fancy each other, even though we're almost halfway through the season.
Luckily, Casa Amor will be back very soon bringing in a whole host of new potential for the girls and the boys in the villa.
So without further ado, let's meet our new singletons, coming in to shake things up and turn some heads...
The Casa Amor 2021 Line-up
We sense trouble in paradise this week for some of our favourite couples...
Amy Day
Amy is 25 and a performer from Surrey. According to the Mirror, her decision to sign up for Love Island, she says, is being she's bad at dating.
She says: "I'm looking forward to the experience and the potential of finding someone I might not have met."
Clarisse Juliette
A bombshell if ever we saw one! Clarisse is 23 and an influencer and brand owner from London—And unfortunately for Faye, she's got her eye on Teddy...
She's heading to the villa to find a boyfriend and says she likes what she sees with Teddy.
Lillie Hayes
Lillie is 22 and a trainee accountant from South Fields.
She is spelling some serious trouble for Liberty and Millie. She's named Jake as her first choice saying he's '100%' her type and Liam as her second—We're already freaking out!
Salma Naran
Salma is 20 and a model and influencer from Dublin. She says she's never been in love, so Love Island is the perfect opportunity for her to meet and fall for someone.
She can be shy, but once she's comfortable, she's fiery and confident.
Kaila Troy
Kaila is 28 and a DJ from Dublin. She says real-life dating isn't doing it for her anymore, so it's time to spice things up in the Villa.
She says her friends describe her as: "very outgoing and hardworking for sure. What I want I go and get it. Independent, too. And caring and loving."
Mary Bedford
Mary is 22 and a model from Wakefield. She claims she has the worst luck with boys but is hoping that won't be the case in the villa.
In fact, worrying news for Millie and Liam fans—she's coming for him and will "step on Millie's toes" if she has to.
Dale Mehmet
Meet our first boy on the list, Dale. He's 24 and a barber from Glasgow. He describes himself as super chilled and is hoping to meet someone in the villa, but will 'take it as it comes.'
He says he likes to see the best in everyone and is always there to lend someone a helping hand—cute!
Heart reports that Dale is interested in Faye and reckons they'll have a spark.
Jack Barlow
Jack is a racing driver and coach from East Sussex. He's 26 and has been single for two years.
Jack's entrance into the villa could be bad news for Hugo, as Jack has named Chloe as top of his list and says he's ready to meet the one.
Sam Jackson
23-year-old Sam is a maintenance engineer from Clitheroe. He says he's definitely ready for a relationship and told the Mirror that his friends would described his as confident and cheeky.
Harry Young
Harry is 21 and a car salesman from Glasgow. This heartbreaker has been single for a year and has got his eye on Kaz.
Watch out Tyler!
Medhy Malanda
Medhy is an American footballer and model from Luton. He's 24 and has been single for four years.
He too has his eye on Kaz and also says Millie seems like a nice girl and is good-looking.
Matthew MacNabb
Matthew is 25 and a Marketing consultant from Belfast.
He's positive, relaxed and laid back and looking for adventure in the villa.
Now we've met our line-up....
When is Casa Amor 2021?
Casa Amor 2021 is due to start on July 25th, as teased by narrator Ian Stirling. The epic twist was first introduced in the 2017 edition of the show and usually happens halfway through the season.
Speaking of the popular Love Island format, a show insider told The Sun: "It's the twist that makes the show and gives them some of their best scenes and ratings. The episodes where half of the cast go to Casa Amor always rate really highly so producers were keen to keep it in."
We're already counting down the days! But let's hope the islanders form so real relationships in the meantime so there's actually something to put to the test.
How long does Casa Amor last on Love Island?
Based on previous editions of the show, Casa Amor lasts from three to four days. It's not very long that the islanders are kept apart from each other but just enough time for all the drama to brew...
Casa Amor meaning: What does Casa Amor actually mean?
If you're looking for a literal translation, Casa Amor means Love House in Spanish (Love Island UK is filmed in the Spanish island of Majorca after all).
For those who are Love Island first-timers or simply need a refresher, Casa Amor is another villa on the show which opens up to either the girls or the boys for three days, while the other group remains in the main villa. So either all the girls or all the boys will be summoned to Casa Amor where they will be joined by five new islanders each—the boys will get five new girls and the girls will have five new guys to spend the week with.
At the end, there will be the epic Casa Amor recoupling, where the original islanders will have the choice to either stay in their existing couples or recouple with one of the Casa Amor contestants, who will then join them in the main villa as their new partner. This is when a lot of the most memorable Love Island moments have taken place. We've seen some of the strongest couples crumble after Casa Amor, while some, like season six winners Paige Turley and Finn Tapp and their runners up, Luke Trotman and Siânnise Fudge become stronger than ever. In fact, both are among the Love Island couples that are still together.
Is there hope for this year's batch? We'll have to wait and see.
Sagal is a journalist, specialising in lifestyle, pop culture, fashion and beauty. She has written for a number of publications including Vogue, Glamour, Stylist, Evening Standard, Bustle, You Magazine, Dazed and Wonderland to name a few.