On the hunt for a 'Love Island' water bottle? Here are the best ones
Jealous of the islander's iconic personalized water bottles? We've got you covered if you want the Love Island water bottle for yourself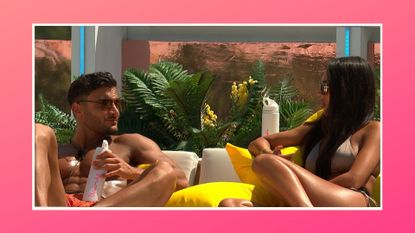 (Image credit: ITV Picture Desk)
The Love Island water bottle is perhaps one of the most popular parts of the show—and when all the contestants sport the personalized bottles, you can bet we want one of our own. So, to celebrate the return of Love Island season eight, here are the best places to shop the iconic Love Island water bottle.
So far the new season of the OG dating show has not disappointed. We can already tell our summer will be full of head-turning, chats, and grafting, with the new Love Island 2022 cast promising plenty of drama.
But never mind them—it's the water bottles that are really the stars of the show in our eyes. They appear in nearly every scene, and have been present for some of the most memorable Love Island moments through the years, with islanders using them to express everything from flirtation to getting the 'ick'.
And if you're yet to catch up on the first few episodes of this season, take a look at our handy guide for how to watch Love Island UK.
Where to get a 'Love Island' water bottle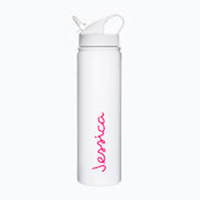 (opens in new tab)
1. Official Love Island Insulated Water Bottle
RRP: £20 (opens in new tab) (UK only)
If you're after the official Love Island water bottle then this should be your number one option! Available from the official Love Island shop, new for this year it has a double-walled stainless steel body, which means you can use it for both hot and cold drinks.
---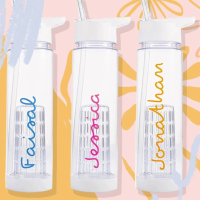 (opens in new tab)
2. Etsy Personalised Island Water Bottle
RRP: $15.03 (opens in new tab) / £11.45 (opens in new tab)
This bottle is a great option, as you get the choice of six font colors, including the classic pink, blue and orange! It's also serious value for money and really ticks all the boxes if you're after an affordable Love Island gift (opens in new tab)for a super fan.
---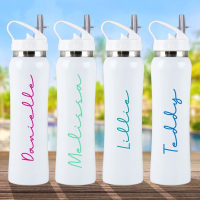 (opens in new tab)
3. Etsy White Metal Water Bottle Personalised, with Flip Straw
RRP: $24.92 (opens in new tab) / £18.99 (opens in new tab)
This is a cute twist on the classic plastic bottle, giving you a metal water bottle that is still customizable, but more subtle (and more environmentally friendly) than the iconic plastic bottles. It features a cool matte white finish and is perfect for keeping drinks chilled.
---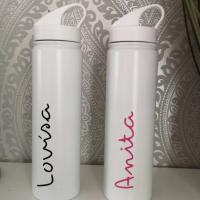 (opens in new tab)
4. Etsy Personalised Water Metal Bottle White Matt Insulated
RRP: $22.30 (opens in new tab) / £16.99 (opens in new tab)
This bottle is a close match to the 2022 bottles, and a similar style to the limited edition bottles available at Love Island's official shop, with its all-white exterior. It's customizable (obvs) and will keep your drinks cold too, thanks to its insulated metal lining!
---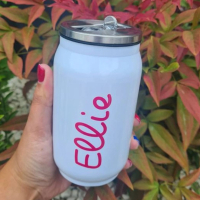 (opens in new tab)
5. Etsy Love Island-inspired can bottle
RRP: $18.31 (opens in new tab) / £13.95 (opens in new tab)
This bottle is so cute! It's shaped like a can, so it offers something a bit different to the typical Love Island water bottle, and comes in three different sizes. Before you ask—yes, it's also customizable!
---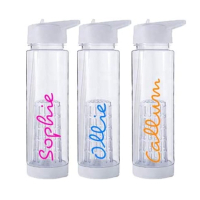 (opens in new tab)
6. Amazon Personalised Water Bottle Clear
RRP: £14.99 (opens in new tab) (UK only)
If you want to buy from Amazon (e.g. enjoy the sweet sweet next-day delivery), this could be the Love Island water bottle This bottle is customizable and available in pink, orange and blue. It also comes with a removable fruit infuser section for a perfect summery beverage!
---
If a bottle isn't fulfilling your gift needs, you can also shop everything Love Island, from T-shirts to notebooks...
Best Love Island gifts and merch to shop now
Brand
Colour
Price
Refine ☵
Sort By