Who plays Alfie in 'Emily in Paris'? Everything to know about actor Lucien Laviscount
Wondered who plays Alfie in Emily in Paris? Here's what you need to know about Brit Lucien Laviscount, from dating details to other acting work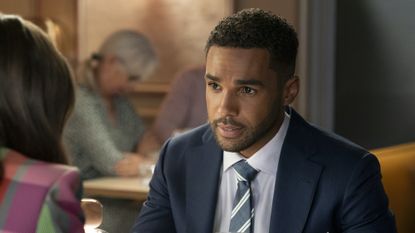 (Image credit: Stéphanie Branchu/Netflix © 2022)
Lucien Laviscount is a name we've heard a lot more of since the British actor made his debut as Alfie in the hit Netflix series, Emily in Paris. But where else do we know him from?
Anyone who grew up in the UK, or who simply enjoys British TV classics, may find that Lucien (the Alfie Emily in Paris star's real name) looks rather familiar. The actor has been in a number of shows over the years, though you could argue his latest role as Emily's love interest is his biggest—and most international—role to date.
So, before we return to swooning over him in Emily in Paris season 3 (or looking forward to seeing him again in Emily in Paris season 4), here's everything you need to know about Alfie, the Emily in Paris actor; from dating details to previous acting roles.
Who is Lucien Laviscount, the Alfie 'Emily in Paris' actor?
Lucien is a British actor from Burnley, Lancashire. Born on June 9, 1992, he is now 30 and has been in the 'biz' since he was a child, gaining more prominence in his teens and twenties.
The actor first joined the Emily in Paris cast in the show's second season as Alfie. Ahead of his appearance, his character was teased as: "a sarcastic and charming cynic. He refuses to speak French or immerse himself in French culture. He has an antagonist relationship with Emily that evolves into something more."
Is Lucien Laviscount returning to Emily in Paris?
Lucien returned as a series regular in the third season of Emily In Paris, which hit Netflix on December 21, 2022. But will he be in the show's upcoming fourth season?
While we're not entirely sure when series 4 will return to the streaming service, it seems Lucien is super keen to return to find out how things pan out with regards to *that* Emily in Paris season 3 ending.
Speaking to Entertainment Weekly, he said, "I personally need closure on certain things, whatever that might look like. So I guess with Alfie and Emily, whether it be closure or a friendship or whatever, to explore that? I know it's been explored [a little], but I think their relationship is different than what Gabriel's and Emily's was. So it'd be interesting to explore that. But, like I say, I'm all in for whatever."
Thankfully, it seems we won't have long to wait until we find out what's happening with Alfie and the gang in Paris, as season 3 and season 4 of the show are being filmed back-to-back—meaning the next instalment shouldn't be too far away!
Is Lucien Laviscount in a relationship?
Breathe a sight of relief, Alfie fans; it looks like Lucien Laviscount is indeed single IRL, as far as we can tell anyway.
Lucien is not married and has not been in a public relationship recently—though he's been linked to quite a few high-profile ladies over the years.
Most recently, in 2021, he was rumoured to be involved with Marvel and Game of Thrones actor Hannah John-Kamen, though she is now said to be in a relationship with someone else.
He was also spotted on multiple dates with Keke Palmer while they were shooting the Fox series Scream Queens in 2015-2016, and was also linked to Kelly Osborne in 2019; though in both scenarios, Lucien (nor the ladies) ever officially confirmed that they were actually dating.
Before making the move over to Hollywood, he has also been linked with lots of UK actresses as well. He reportedly dated Big Brother UK winner Sophie Reade back in 2010, and was rumored to be dating Brooke Vincent in 2013. He also had a fairly high-profile relationship with UK reality star Kerry Katona, which began when they met in the Celebrity Big Brother house in 2011. The pair had a noticeable age gap (he was 19, and she was 31 at the time), but they appeared to be pretty happy with their situation!
In fact, fans were floored when they discovered the pair had dated, with an image of an OK! magazine cover shoot of Kerry and Lucien going viral on Twitter. Commenting on the resurfacing of the image, Kerry told OK!, "Apparently my OK! magazine cover from 2011 with my former Celebrity Big Brother housemate Lucien Laviscount has gone viral on social media!
"Lucien was very charming and obviously easy on the eye, and it was all just a bit of fun."
What about Lucien Laviscount and Jesy Nelson?
Lucien Laviscount and Jesy Nelson were spotted together during a night out in London in November 2021, which started rumors that the two could be an item. You might be thinking—two famous people getting together, no drama there, right?
(Well, Lucien actually went out with Jesy's former bandmate Leigh-Anne Pinnock, so things could be a bit, ahem, awkward.)
However, things weren't serious between the two at all after all, with a source telling The Sun: "They're not boyfriend and girlfriend—they just ran into each other on a night out."
Lucien Laviscount height: how tall is Lucien Laviscount?
Per his IMDb page, Lucien Laviscount stands at 177cm tall, or just under 5ft 10, which is just above the average height for a man in the UK.
What else has Lucien Laviscount been in?
Lucien first appeared in an advertising campaign for British retailer Marks & Spencer when he was 10. He then went on to get a role in BBC school drama Grange Hill, before playing Jonah Kirby in BBC classic Waterloo Road—which has become almost a rite of passage for British actors, with famous alums also including Bridgerton stars Phoebe Dynevor and Regé-Jean Page.
Not long after that, Lucien appeared on soap opera Coronation Street where he played swimmer Ben Richardson, who was dating the daughter of Sally Webster—who was portrayed by Phoebe Dynevor's real-life mum, Sally Dynevor. Such a small world, we know!
As mentioned, Lucien made his debut in America starring in popular US shows like Scream Queens, where he played Earl Grey, and the CW series Katy Keene, where fans will recognize him from portraying Alexander Cabot—before landing the role of Alfie in Emily in Paris.
His catalog doesn't stop there. Lucien has also tried his hand at reality TV, appearing on Celebrity Big Brother UK back in 2011.
Will Lucien Laviscount be the next Bond?
There have been rumors a-plenty over the last few weeks that Lucien's next role could be a huge one—that of James Bond, 007.
Reportedly, a 'source' told the Daily Mail that the actor was in consideration for the role, explaining, "Lucien ticks all of the boxes. He is a super-talented actor, is extremely handsome, and in the past 18 months has won lots of new fans since he joined Emily In Paris. Bond bosses are already saying how you can see him in the 007 tuxedo, how dapper and fitting to the role he will look."
Of course, there are also plenty of other actors rumored to be in consideration for the role, including Aaron Taylor-Johnson, Lucien's former co-star Regé-Jean Page, Idris Elba, Tom Hardy and Henry Cavill. So will Lucien be the one to take the top job? We'll have to wait and see!
Sagal is a journalist, specialising in lifestyle, pop culture, fashion and beauty. She has written for a number of publications including Vogue, Glamour, Stylist, Evening Standard, Bustle, You Magazine, Dazed and Wonderland to name a few.