What is microshading and how does it differ from microblading?
Everything you need to know about microshading eyebrows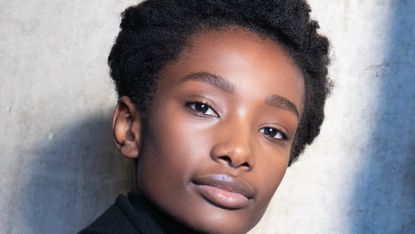 (Image credit: Getty Images)
Move over microblading, because there's a new brow treatment dominating the internet — microshading.
It's all about the eyes these days with people investing in everything from the best eyeliners to the coolest eyeshadow palettes. The last time I checked, Zendaya and Lily Collins' eyebrows were still the dictionary definition of brow goals, and the trend for thicker brows is very much alive and kicking. So even if you can't get to a salon RN, this is definitely one to have on your radar for when normality resumes.
Read on for everything you need to know about microshading, from pricing and aftercare to what the treatment actually involves.
What is microshading?
"Brow shading can also be called mist brows or powder brows," explains brow expert Suman Jalaf. "The newest shading technique, it is 100% customizable and great for anyone who wants a soft and natural look. Pixelated dots mimic powder-filled brows, with no harsh front or outline."
Sherrille Riley, founder of Nails & Brows Mayfair adds, "It's a form of cosmetic tattooing – medical grade pigments are used via a handheld tool to create pin-like dots over the eyebrows to fill them in. This technique gives the brows a powdered effect to add fullness and colour."
Jalaf adds that the powder effect can be combined with ombré brows and hair strokes for a truly bespoke finish so you get your perfect brow. "It's all decided upon consultation," she confirms.
Microblading vs microshading: what's the difference?
In short, microshading is a less invasive procedure that yields a softer result, as it uses little dots rather than the strokes you see in microblading.
"The difference between the two techniques is that microshading is used shade in the brows, to give a powdered brow look which is similar to wearing brow powder," adds Riley. "Microblading is used along the brow line to create the illusion of individual hairs, which gives a natural brow look."
In short, choose microshading for a softer, powdery finish if you like the 'filled in' brow look. Opt for microblading if you prefer a look of very defined, individual strokes. Easy!
REFY beauty review: is the cult brow kit worth it
Microshading: before and after
How long does microshading last?

Riley confirms that microshading results can last anywhere from six months to three years, with top-ups in between.
How long microshading lasts varies from person to person. However, it's worth noting that if you have oily skin your results may fade faster than those with normal/dry skin types.
How much does microshading cost?
The cost will vary hugely depending on where you live and your beauty professional of choice.
In the US, according to Harper's Bazaar, you'll spend around $350-$500 in smaller cities and as much as $1,000+ in big cities like NYC.
In the UK, microshading prices can be as little as £150 (with £50 for a top-up) but, in larger cities, expect to pay several hundred pounds for the treatment.
Microshading aftercare tips
Below are the main microshading aftercare musts, but your technician will be able to answer any additional questions and may provide you with an aftercare sheet following your appointment.
For the first 24 hours:
Within two hours, clean the brows with a cotton bud soaked in a small amount of distilled water. Wipe away any old healing balm and clear fluid, then reapply healing balm
Avoid alcohol, aspirin, ibuprofen or any blood-thinning vitamins
For the first 5-7 days:
Apply a light layer of healing balm to the brows twice a day (morning and evening)
Do not apply the balm any more than this as it will delay the healing process
For the first 14 days:
Do not get the brows wet
Avoid your brows when cleansing and showering
Do not apply make-up to the area (first 10 days)
No sunbathing, swimming, or saunas
No picking the brows — they are wounds that need to heal!
No chemical peels
Remember, the better you care for your new brows for the following two weeks, the longer they'll last you (Because who wants to throw money down the drain?).
Don't know about you, but I'm already buzzing for my next brow appointment. Until then, I'll have to settle for the REFY beauty brow kit or the microblading pen Amazon shoppers are obsessed with...
Lucy is a beauty journalist who has written for titles including Marie Claire, Cosmopolitan, OK!, woman&home and Women's Health, as well as regularly contributing to My Imperfect Life. Her work covers everything from skin and haircare tips to trying and testing the latest beauty launches, and interviewing celebrities and experts. A certified dog person, her other interests include mental wellbeing, books, piña coladas and not getting caught in the rain.