Olaplex No.4P Purple Shampoo: a beauty editor's honest opinion and a complete guide to how it works
Olaplex No.4P Purple Shampoo Blonde Enhancer—the buzziest new purple shampoo—is here and our beauty editor has put it to test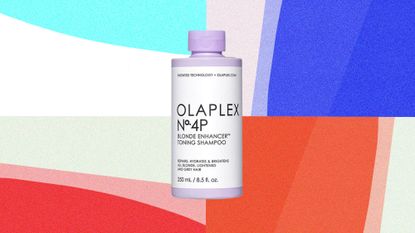 (Image credit: Olaplex)
My Imperfect Life Verdict
For this bottle blonde, Olaplex No.4P is a no-brainer. Another hype-worthy product from Olaplex that seriously delivers.
Reasons to buy
+

Easy to use

+

Sulfate-free

+

Slots easily into your hair cair routine
Reasons to avoid
-

Pricier than highstreet alternatives but the results are better
Every product this haircare brand creates causes hysteria on TikTok—and the new Olaplex No.4P Blonde Enhancer Toning Shampoo is no exception.
It's certainly an appealing premise—slather this sulfate-free shampoo over-highlighted, gray or natural blonde hair to cleanse, tone, and repair in one fell sweep. But does it live up to the same hype bestowed on the near-cult Olaplex No.3 Hair Protector or the No.8 Bond Intense Moisture Mask? Given my highlighted blonde hair is prone to losing its coolness after a few washes, I tried and tested this fabled new product and have everything you need to know.
Olaplex No.4P Purple Shampoo: Everything you need to know
Olaplex No.4P Blonde Enhancer Toning Shampoo is a customisable purple shampoo with highly concentrated pigments so you can dial up your toning level depending on how brassy your hair is looking. A quick science lesson: purple sits across from yellow on the color wheel. They neutralize each other when combined, which is why this type of shampoo is so effective at keeping brassiness at bay. According to clinical trials, hair looks three times brighter after just one use of the Olaplex No.4P compared to the top purple shampoos in the market.
But what really sets this purple shampoo apart from the rest is that it also contains Olaplex's patented molecule called bis-aminopropyl diglycol dimaleate. Put simply, this high-tech approach to repair rebuilds the hair's broken bonds as a result of bleaching.
Admittedly, levels of this ingredient aren't as high as in the salon-only treatments—No.1 Bond Multiplier and No.2 Bond Perfector—but every little bit helps when you consider the oxygen molecules in peroxide attach themselves to bonds and deplete the hair of protein, leaving it brittle.
Like all Olaplex products, No. 4P is vegan and cruelty-free; it's also free from
formaldehyde, sulphates, parabens, phosphates and phthalates.
How to apply Olaplex No.4P
To achieve the optimum results from this brightening shampoo, you should follow the instructions on the bottle. It's also important to do a patch test inside your elbow or behind your ear and wait 48 hours to ensure you experience no skin irritation.
Step 1 (optional): Pre-wash with No.4 bond Maintenance Shampoo to remove product build-up.
Step 2: Apply No. 4P Blonde Enhancer Toning Shampoo to wet hair. Lather and leave to process for one to three minutes. For more intense toning, leave on hair for up to five minutes. Use two to three times a week or as often as needed.
Step 3: Rinse fully. Follow with No.5 Bond Maintenance Conditioner, or No.8 Bond Intense Moisture Mask for extra hydration.
Olaplex No.4P: A Beauty Editor's Honest Review
Up until the age of 16, I was like a beacon for lost Scandinavian tourists on the subway who'd launch into a friendly Swedish welcome having clocked my natural platinum strands. But with each subsequent birthday my hair became a little darker and a little duller, eventually straying into 'mousey' territory, neither blonde nor brown shade but some dishwater hue in between.
I missed my natural shade and positively hated a hair color named after a rodent. So ever since, I've religiously highlighted my hair every three months.
Nothing beats the euphoria of stepping out of a salon root-free but the sentiment is short-lived if your apartment happens to be in a hard-water area like mine. Minerals and metals penetrate blonde hair, which tends to be more porous, causing warm tones to creep into your hair color.
For full transparency, I'm already a big fan of Olaplex. The in-salon treatments have done the unthinkable and resuscitated my bleached strands, while the No.3 has been a part of my Sunday night self-care routine ever since I can remember. So I was naturally intrigued that the brand had ventured into color-correcting hair care.
Like most bottle blondes, I've tried my fair share of purple shampoos to brighten my highlights between salon visits. The trouble is, while those deep amethyst-hued shampoos certainly nix brassiness, they also suck the moisture from my strands, leaving them the same shade and texture as straw. Daily lilac shampoos, on the other hand, are too watered down, making very little difference to the overall result.
The tone is customizable so on a new dye job I was only leaving it on for a maximum of three minutes once a week. After six weeks, I upped the toning time to five minutes, twice a week. It's also sulfate-free, so the formula isn't harsh on strands or on the scalp, which is important given what your roots go through in the colorist's chair. Either way, my hair never felt parched and, crucially, I was putting goodness back into strands post-color courtesy of Olaplex's infamous bond-repairing molecule.
I also love that this is a shampoo you can just slot into your regular hair care routine. You don't have to buy a separate conditioner to create a de-brassing 'system'; you just follow up with your usual No5 Bond Maintenance Conditioner. Of course, you could use another conditioner if you wish, but I find products from the same brand tend to work in synergy and with Olaplex this is all the more important given the special molecule all the products share. For me, the luminous shine and multi-dimensional tones to my hair are testament to that.
The cherry on top? The purple shade doesn't stain your hands or your shower curtain. For this bottle blonde, Olaplex No.4P is a no-brainer.
What's so great about Olaplex
We've got to grips with using the best shampoo bars for everyday maintenance but when it's time to bring in the heavy hitters, Olaplex steps up to the plate.
For the uninitiated, Olaplex rose to fame almost overnight, this was thanks to two in-salon treatments—perfect for those who frequently bleach or dye their hair. The first is mixed into your hair color, the second is the equivalent of a professional-strength deep conditioning mask and is applied at the backwash.
Both are scientifically proven to prevent the disulfide bonds in your hair from breaking
during the coloring process by effectively 'gluing' them together. Olaplex also prevents any protein-destroying molecules from ravaging your strands by stepping in before they have the chance to wreak havoc. Hello switching up your hair color while still maintaining healthy strands!
There are also eight products in the lineup (including the newly-launched Olaplex No 8) which all do different things. They all work separately but also together in a treatment plan so if you want to repair damaged hair at home then it's the perfect place to start. All are powered by the same hero ingredient as the salon treatments—the bis-aminopropyl diglycol dimaleate molecule—albeit at lower percentages.
If there is one thing you take away from reading this, make it this: the best thing about this miracle product—and one IMO sets it leaps ahead of the competition—is that it doesn't just paper over the cracks by visually making the hair look smooth. Whilst, the visual improvement is a welcome effect, Olaplex actually improves the hair's structure—a claim most haircare brands simply couldn't make.
Fiona Embleton is a multi-award-winning beauty editor who has tested over 10,000 products in her 10 years + of writing and shooting beauty stories. For the past four years, she was the Senior Beauty Editor at Marie Claire, having previously worked in the role of Beauty Editor at both Stylist and Cosmopolitan. She has recently gone freelance and alongside My Imperfect Life, she has written for titles including ELLE UK, ELLE Canada, Buro 247, Harper's Bazaar Arabia, Vogue Scandinavia, and ES Magazine. Beauty journalism allowed her to marry up her first-class degree in English Literature and Language (she's a stickler for grammar and a self-confessed ingredients geek) with a passion for make-up and skincare, photography, and catwalk trends. She loves jumping on the latest internet-breaking beauty news, dissecting the best red carpet looks, and having the crème de la crème of dermatologists, make-up artists, and hairstylists on speed dial so she can tap them for the best advice. She's a discerning beauty shopper and knows it can be confusing trying to navigate what's hype and what really works. So if she really likes something, you can trust that she has reached that opinion by vetting it against everything else she's ever tried. Her career highs? Interviewing Cate Blanchett and winning a Jasmine Award for the deeply personal feature Cancer Stole My Mother's Scent.