Outer Banks season 2: Everything you need to know
A release date has finally been confirmed for Outer Banks season 2!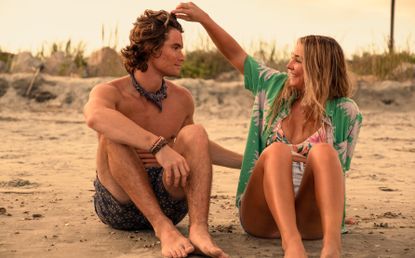 (Image credit: Netflix )
Outer Banks season 2 is coming, and soon!
A year after the popular show's first season dropped on Netflix—becoming everyone's favorite lockdown binge-watch—the series is finally returning for its highly-anticipated second season.
Here's everything we know about the upcoming season including its newly confirmed release date and what to expect...
Is there a trailer for Outer Banks season 2?
Netflix just dropped a new teaser for the upcoming second season and it looks like we got our answer to that cliffhanger at the end of season one. *Spoilers ahead!*
As you can see in the clip above, it turns out John B and Sarah do in fact reunite with the Pogues at some point during the new season.
Here's what else you can expect to see...
What will Outer Banks season 2 be about?
Everyone who watched the first season will know that the show follows a group of teens from the Outer Banks, a poor region of North Carolina directly opposite its most wealthy district. The contrast between the neighboring parts of the town is perfectly summed up on the show as "the sort of place you either have two jobs or two houses."
The teens went on an adventure to hunt for a treasure worth $400 million but things quickly spiraled when one of the protagonists, John B's dad, got involved. The season was packed with a murder mystery, romance, drugs, and scandals, as well as glimpses of the super-rich lifestyles we all earn for. It was exactly what we wanted out of a thriller-esque teen drama. Especially with that plot twist of an ending!
Now, the show is back and this time, we pick up where we left off as John B and Sarah Cameron continue their quest in the Caribbean to find the gold that was stolen by Sarah's dad (Ward) at the end of the last season. During their time in the Bahamas, the two come under even more threats and are forced to be in survival mode. Meanwhile, the rest of the gang is back home, trying to cover up Sheriff Peterkin's murder.
"New friends also bring new foes as they're back on the trail of the gold, while the stakes for Kiara, Pope, and JJ rapidly escalate at home," reads Netflix's synopsis for season 2. "The $400 million is still in the game, but will the uncovering of a new-found secret reunite the group for a fresh mission? The adventure of a lifetime awaits, but uncharted waters ahead mean our Pogues must do all they can to make it out alive."
Who is in the cast of Outer Banks season 2?
You'll be pleased to hear that Chase Stokes (John B), Madelyn Cline (Sarah Cameron), Madison Bailey (Kie), Jonathan Daviss (Pope), Rudy Pankow (JJ), Austin North (Topper), Drew Starkey (Rafe), Deion Smith (Kelce), and Charles Esten (Ward Cameron) are all returning for season 2. Hurrah!
When is Outer Banks season 2 coming to Netflix?
The wait is almost over as Netflix has confirmed that Outer Banks season 2 will drop on the streaming platform on Friday, July 30th. We've got our calendars marked!
Sagal is a journalist, specialising in lifestyle, pop culture, fashion and beauty. She has written for a number of publications including Vogue, Glamour, Stylist, Evening Standard, Bustle, You Magazine, Dazed and Wonderland to name a few.