Who is in the Real Housewives All-Stars cast?
Don't be all, like, uncool! Follow the Real Housewives All-Stars cast on their tropical shenanigans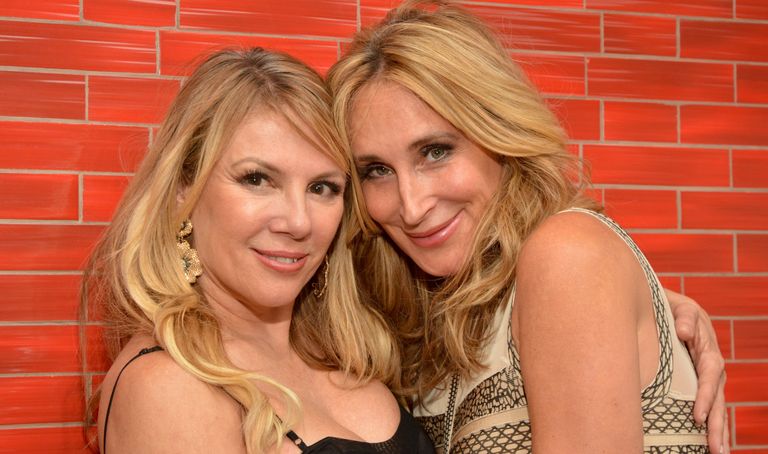 (Image credit: Steven A Henry/Getty)
The Real Housewives All-Stars cast is getting the party started, so you might want to have a glass of Pinot Grigio handy (or Ramona will be pissed). 
For non-Bravo fanatics, the Real Housewives All-Stars is the highly-anticipated spinoff miniseries of the popular Real Housewives franchise, which will feature some of the brand's best-known Bravolebrities galavanting around a mansion in tropical Turks and Caicos.
It's the first time that women from different casts of the Bravo franchise will come together—and we can only imagine the drama that will ensue. To get you fully prepped for this pumped-up edition of the Real Housewives, we'll give you the inside scoop on what to expect from the special miniseries, who is in the Real Housewives All-Stars cast, and where you can catch all of the shenanigans that will likely unfold. 
Who is Eboni K. Williams on RHONY? Everything you need to know about the newest Bravo housewife
Who will be in the Real Housewives All-Stars cast?
We've witnessed a lot of ladies throughout Housewives' history who have entertained us with their friendship turmoil, epic one-liners, and short fuses. So who exactly is joining the cast of this spinoff series? Our favorite stars from all over the Housewives map:
Melissa Gorga (The Real Housewives of New Jersey) 
Teresa Guidice (The Real Housewives of New Jersey) 
Luann de Lesseps (The Real Housewives of New York City) 
Ramona Singer (The Real Housewives of New York City) 
Kyle Richards (The Real Housewives of Beverly Hills) 
Cynthia Bailey (The Real Housewives of Atlanta) 
Kenya Moore (The Real Housewives of Atlanta) 
There were rumors, however, that more Housewives stars were supposed to be joining the cast, but COVID restrictions on the island limited the production to seven castmates. A source told The Sun: "This is not the ideal cast that Bravo wanted but due to scheduling conflicts with current seasons filming and COVID, everyone is just excited they are going through with this." 
One such rumored addition was Vicki Gunvalson, the breakout star of the franchise's O.G. season, The Real Housewives of Orange County. During a recent interview with S'More Date, Gunvalson said that she was initially asked to be part of the crossover miniseries.
"I had a contract… and COVID hit and they stopped the mashup show. It was called 'Mashup,'" the RHOC star said. "Then when it resumed, all of a sudden they forgot about me."
Sources told The Sun that an eighth cast member is expected to join the other women halfway through their Turks and Caicos trip, but it is unlikely to be Gunvalson. Rather, rumor has it that original Real Housewives of New York star Jill Zarin will be making her grand return to the franchise during the miniseries.
From Bling Empire to Bridgerton: there's actually an evolutionary reason we can't resist TV shows about gossip
What is the Real Housewives All-Stars series about?
In a similar fashion to the reality show Big Brother, The Real Housewives All-Stars cast will be filmed 24/7 for eight days straight, sources confirmed to E! News. 
The spinoff is essentially a tropical getaway—seven women from different franchises of the Real Housewives brand jetted off together to Turks and Caicos in late April. And from the looks of things, the ladies had a blast. 
The group has not been shy about posting their luxurious stay in Turks and Caicos on Instagram. You can see Melissa Gorga and "the dream team" sporting aqua-blue PJs from her line, Envy by Melissa Gorga. 
Meanwhile, our New York girl Ramona Singer is posting a ton of throwback photos from the experience, tagging all of her castmates, and saying how much she misses them (though we're sure an argument or two likely erupted between them all!).
Beverly Hills star Kyle Richards let Atlanta's Cynthia Bailey do the honors of snapping a photo of her while bikini-clad on a boat. Friends don't let friends post bad photos on the 'gram.
And our favorite cabaret sensation, Luann de Lesseps, got awfully close to cookbook author and Jersey girl Teresa Guidice. 
When is the Real Housewives All-Stars air date?
Filming is complete on the miniseries, but an air date has yet to be confirmed. (No need to flip a table: we'll keep you posted on the premiere date.) 

However, when the show does finally make its way to TV screens, fans can catch the adventure on Peacock TV. Sign up for a subscription below: 
Will there be more Real Housewives All-Stars series?
While it's still a bit too soon to confirm whether or not there will be another Real Housewives All-Stars spinoff special, sources did reveal to E! News that another round with different Housewives cast members isn't entirely out of the realm of possibilities. 
"If this first series goes well, this concept could return every summer with a similar but evolving cast, like Bachelor in Paradise or The Challenge," said the source. 
Considering there are so many ladies left—and several Real Housewives locations we've not yet covered (hello Potomac!)—we'll just keep our fingers crossed that our cup of Pinot runneth over with additional seasons and even reunions. (You've got your work cut out for you, Andy!)