Selena Gomez workout routine: how the singer got in the best shape of her life
The 'Only Murders in the Building' star has long been open about how exercise helps keep her health in check—follow this Selena Gomez workout routine to stay fit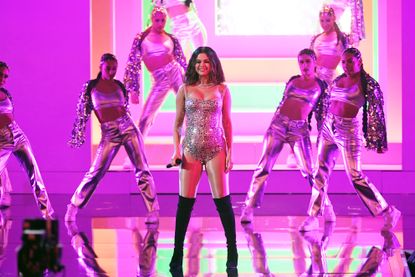 (Image credit: Kevin Winter / Getty)
It's unsurprising that the Selena Gomez workout routine requires dedication. From Disney Channel success to a string of Grammy nominations to her most recent gig as the star of Hulu's new series, Only Murders in the Building, girlfriend's got discipline in spades!
The singer and actress, 29, uses exercise to stay toned and in shape, but it also helps her manage symptoms of the condition lupus. In 2015, Gomez announced she had been diagnosed with the autoimmune disease—which can cause fatigue, muscle pain and swelling joints—and in 2017 she revealed that it had led to her undergoing a kidney transplant. But what's the perfect workout schedule if you're a Hollywood favorite trying to stay well while hopping between sets and the stage?
For the past five years, Gomez has been getting her sweat on under the guidance of Amy Rosoff Davis. The LA-based personal trainer, who specializes in dance, has also sculpted the bodies of fellow celebrities Miranda Kerr, Emma Roberts and Felicity Jones. She began working with Selena shortly after the star was cruelly trolled for looking "fat" in paparazzi photos around the time of her health diagnosis. While Gomez responded to body-shamers in the best way possible on Instagram, she was training with Davis regularly by the time of her 2016 tour for the album Revival.
But how exactly does the PT put the A-lister through her paces? We reveal all…
---
---
Selena Gomez workout routine: Tips to try
1. Stretch it out
Selena's training sessions involve plenty of Pilates—a form of exercise that focuses on low-impact movements designed to build strength and good posture.
Davis told HollywoodLife how to recreate one of her go-to positions at home. "Secure your feet under something or have a friend hold your feet down," she said. "Then, lean back into a 45-degree angle, and do some really small movements which involve a combo of a crunch and an oblique crunch. I recommend using a bar or two one-pound weights, and then punch your arms forward and back."
Speaking this time to Byrdie, David also revealed: "I incorporate yoga into almost every session as well, so Selena definitely gets her share of downward dog and stretching." Don't know where to start? You'd do well to try one of these 8 online Pilates classes to try at home.
2. Work the core
There is one key move helping Selena maintain her impressive abs. Speaking to HollywoodLife, Davis explained that planks—an exercise move, similar to a push-up, that blitzes the core—are abundant in their sessions.
"I'm into varied planks," she explained. "So, not just holding a basic plank, but doing a plank while taking turns tapping opposite arm to the opposite shoulder, or lifting and lowering one leg in a pulse, or going from your elbow to your hands tilting your hips."
The trainer added that using the correct technique is vital, so make sure your shoulders are stacked over your wrists, with hips low and your belly button pulled up towards your spine. Easy!
3. Don't forget cardio
But it's not just about strength movements—Selena's trainer recommends doing cardio three to five times a week, for around 30 minutes a time. That can be fast walking or dancing, through to jumping jacks, skipping or high-intensity interval training (better known as HIIT).
In fact, the star recently treated us to a TikTok video showing exactly how she gets her heart rate up during one of Amy's sweat sessions. The intensity was also increased thanks to wrist and ankle weights from Bala Bangles, as well as a medicine ball.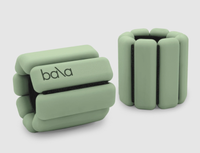 4. Mix it up
Variety is also vital when it comes to keeping Selena motivated with fitness. "If you keep your same old routine, you will most likely get bored and wind up skipping the gym," pointed out Davis to Byrdie. "[Selena and I] do everything from Pilates to hiking to dance cardio to circuit training to yoga and spinning—the list goes on."
And even within workouts, the trainer will keep her famous client second-guessing. For example, she likes to combine cardio with stretching, and the pair will break in the middle of a hike to do a circuit.
Speaking on another occasion to Cosmopolitan, Davis added: "I've always believed the best way to keep your muscles active is to mix it up. We switch things up almost every day." And, even when they're apart, Gomez told Marie Claire in November last year that she finds herself browsing YouTube for some "old-school" workout inspiration.
5. Listen to your body
Gomez usually works out three to five days a week, or daily in the run-up to a tour. But Davis indicates that doing some movement, whenever you can, really is good enough—a message she is certain to have passed onto the star.
Explaining her own fitness routine to Byrdie, Davis acknowledged that sometimes she only has 20 minutes—and that's fine. She explained that it's crucial to be "flexible with your life and your workout", adding that she doesn't pile pressure on herself. Preach!
Lauren is a freelance writer and editor with more than six years of digital and magazine experience. Most recently, she has been the Acting Commissioning Editor of Women's Health—where she co-produced the Going For Goal podcast—and has previously also written news and features for titles including The Telegraph, Grazia, Stylist, Dazed, The Sun's Fabulous, Yahoo Style UK and Get The Gloss. She covers all aspects of lifestyle, specializing in health, beauty, and travel. Can't live without: oat milk lattes, new podcast episodes, long walks, and great skincare.