Best dumbbells for women: the top workout tool for toning up at home
These dumbbells for women will suit every fitness goal and financial budget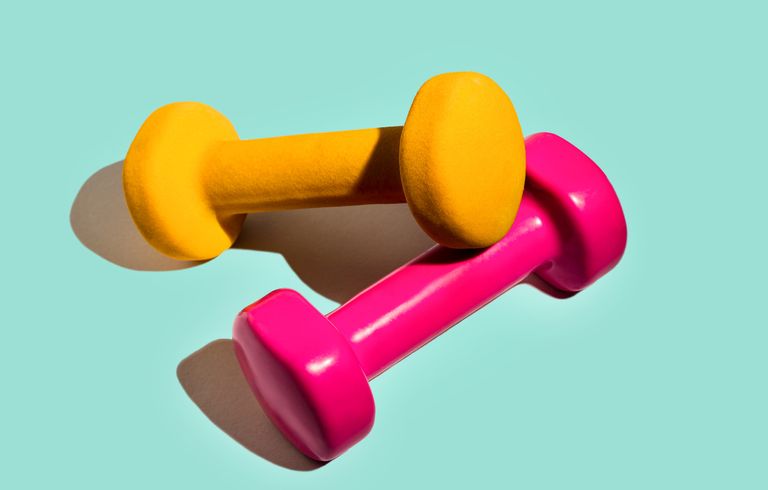 (Image credit: Getty)
Buying dumbbells is one of our top home workout tips—a good set of free weights is a vital piece of fitness kit worth investing in if you're working out at home.
Let's face it, the gym scene is facing a precarious time. As much as we may want to work out at our favorite studios, the coronavirus pandemic is still very much raging on, so you're far better off creating a home workout space.

Like the best resistance bands for women, you can use handheld dumbbell weights to work every part of the body. Want to sculpt a strong upper body? Get going with some bicep curls and shoulder presses to get those Michelle Obama-worthy arms. Looking to tone up? Have a go at an overhead tricep dip using one heavy dumbbell. If you want glutes, hamstrings, and quads a la Megan Thee Stallion, a good old Romanian deadlift or Bulgarian split squat is for you. (Pro tip: plant your feet on one of the best yoga mats you've got while performing these moves to soften the ground for your joints.)
There's a reason why so many gyms stock Technogym products and that's because their weights are super user-friendly and come in a wide range. If you don't have a spare $200 to drop on a pair, however, Eleiko is a just-as-good alternative—its rubber hex dumbbells are easy to hold, are coated in "anti-roll" ends and, most importantly, come in a wide range of weights, from 2.75lb to 55lb. And they're half the price!
Our tried-and-tested dumbbells for women guide will help you figure out which are the best weights for you.
The best dumbbells for women to tone up at home
1. AmazonBasics Neoprene Workout Dumbbell
The best all-around dumbbells for women
Reasons to buy
+
Great grip from neoprene material
+
Attractive colors
Reasons to avoid
-
Weight stand is of flimsy quality
Not only are these anti-roll, hexagon dumbbells visually attractive, but they feel really solid and easy to grip. If you're working out on wood or tiled flooring, you don't have to worry about leaving scuffs or marks from dragging the weights either, as the neoprene covering protects both the weights and their surroundings!
2. Eleiko XF Dumbbells
The best premium dumbbells for women
Reasons to buy
+
Great range of weights
+
Easy grip
Reasons to avoid
-
Quite pricey, even for lighter weights
Eleiko XF dumbbells are the closest you're going to get to premium gym-standard equipment at home. These weights range from 2.2lb to 88lb, meaning that you can progress to your heart's content and target specific muscles with specific weights.
Like the Cloud Fitness pair, the ends are hexagonal, which stops them from rolling away. Having these sorts of ends also means that you can use these weights as handles for various exercises, such as renegade rows.

Again, rubber ends mean that you can throw them down without making too much of a racket or doing any damage, while the handles are slightly curved and engraved to help you get a proper grip. These are serious weights for a serious workout.
3. Opti dumbbell tree set
The best dumbbells for women on a budget
Specifications
Weight range: 1.1kg - 4.5kg
Reasons to avoid
-
Light weight selection
-
Slippery surface material
If you're new to training and want a few pairs of light dumbbells, this Opti tree set from Argos is a steal. It holds three pairs weighing 2.4lb, 5lb, and 10lb, which can be neatly stored away after use.
The vinyl design makes them softer and easier to hold, so you won't feel as though you're lugging around big blocks of iron, although they may be liable to roll away if you're training on uncarpeted flooring.
While these probably won't cut the mustard for anyone looking for a heavy workout, they're great for beginners and for anyone who wants to tone smaller muscles without breaking the bank.
4. PowerBlock Sport 24
The best space-saving dumbbells for women
Specifications
Weight range: Adjustable - 8 1.25 kg vinyl plates
Reasons to buy
+
Multiple weights in one package
+
Easy to progress
Reasons to avoid
-
Less comfortable to lift
-
Takes longer to swap between weights
If you can't be bothered with having umpteen pairs of weights littering your home, why not get yourself just one pair of adjustable weights instead? This PowerBlock Sports 24 set replaces 216 pounds of free weights or eight pairs of dumbbells. All you have to do is change weight quickly with the patented selector pin and away you go.
You might find that adjustable weights are a bit of a fuss—you can't move between exercises quickly without changing the ends—but they are convenient in terms of having a lot of kit in one space-saving package (especially if you're storing your fitness equipment in a smaller apartment or studio).
5. Origin Fitness UD2 Urethane dumbbells
The best dumbbells for women who don't mind a splurge
Reasons to buy
+
Durable quality
+
Sleek design
Reasons to avoid
-
Normally expensive outside of sale season
Like the Eleiko set, Origin Fitness' dumbbells go up to 88 pounds. They are definitely expensive, but they're worth the investment if budget isn't a concern.
The thick urethane end coverings are shock-resistant, impact-resistant, and ultra-durable, while the knurled handle improves grip (even when your hands are mega-sweaty). Speaking of sweat, if you're feeling worried about sweaty, smelly weights stinking up your workout space, don't be—these are made with odorless material.
Again, these are gym-standard weights that are also available for home fitness, so they're aimed at people who are serious about toning up and getting strong. All of these urethane dumbbells are covered by a 36-month warranty against manufacturer defects, excluding normal wear and tear.
6. Gaiam Neoprene Hand Weight
The best versatile dumbbells for women
Specifications
Weight range: 1.36kg-6.8kg
Reasons to buy
+
Several weight options
+
Affordable price
+
Available in many stores
The Gaiam Neoprene Hand Weights would look right at home next to the brand's popular yoga mat. The dumbbells come in six weights ranging from 3lb to 15lb, and they're color-coded by weight (3lb is purple, 5lb is orange, and so on).
They're made of cast iron-covered in neoprene, making them comfortable to hold and safe for use on wooden floors, plus their flattened sides mean they won't roll annoyingly away from you every time you put them down like their rounded counterparts. However, they could be a little big for small hands, so heads up!
7. Ativafit Adjustable Dumbbells
The best adjustable dumbbells for women
Specifications
Weight range: 2.5kg-12.5kg
Reasons to buy
+
Easy setup
+
Saves space
+
One-year warranty
Reasons to avoid
-
No lower weight ranges
-
Pricier than other options
The Ativafit Adjustable Dumbbell is the dumbbell for fitness pros who want a lot of weight in a small space. Each dumbbell comes with a 5lb handle and eight plates that can be adjusted to increase the load up from 11lb to 27.5lb, in increments of 5.5lb. (Note that the dumbbells are marked with the weight in kilograms, not pounds, so you may need to do some mental math if using them in the U.S.)
The weights require zero set up and sit in a tray that makes shifting sizes a cinch. It also makes them a serious space saver. The weights can't be shifted without the tray, though, and the weight plates can rattle a bit during use, but those are minor annoyances for a great deal.
8. Bala Bars
The best dumbbells for women who are beginners
Reasons to buy
+
Wide variety of colors
+
Easy to hold
If you don't want dumbbells that are intimidating or clunky, these are the ones for you. Bala Bars are smooth, soft hand weights made of recycled stainless steel covered in silicone. They come in six colors, including a white glitter option. (Fun!) The unobtrusive weights could easily be added to aerobic or rehabilitation exercises; they're weights that won't steal the focus of your workout.
Bala Bars only come in a 3lb size, so if you want a heavier option, look elsewhere. The brand itself offers Bala Bangles wrist and ankle weights in half-pound, 1lb, and 2lb varieties, as well as weighted rings, all of which are good options for supplementing workouts with weights that aren't your typical dumbbells.
How to choose the best dumbbells for women
Ideally, you want to own a few sets—a lighter pair for smaller muscles, something heavy for the lower body, and a medium set that you can use for endurance or progression. The great thing about home workouts is that you can't compare yourself to anyone else and there are plenty of opportunities to progress at your own pace!
You want to make sure that the brand you choose has the kind of weights that you're looking to lift. Then it's a case of materials and size. Some dumbbells can be slippery or too wide in the middle, which can make it hard to get a proper hold. Women don't need different weights from men, but some of us might have smaller hands, so you want something that's easy to handle and lift without compromising on heaviness.
Remember, weights can only do so much—the results come from correct form, carefully planned regimes, and perseverance. To some degree, it doesn't really matter what your weights look like, so long as you're using them correctly. That doesn't mean, however, that you can't get a few sleek pairs to suit you—and in some cases, your home decor!
Miranda is a fitness, wellness and sustainability journalist with almost a decade's worth of experience writing and editing articles on everything from ultramarathon training to sports hypnosis. A qualified level 3 PT and three-time marathoner, you'll probably find her clocking up the miles on the Regent's Canal, racing around town on her Tokyo Bike in the pursuit of the perfect vegan croissant, or trying out the latest gym class.