Meet the 'Dubai Bling' cast: what to know about the glam Netflix stars
It's basically 'Bling Empire' in the UAE, so you know we're in! Let's get to know the 'Dubai Bling' cast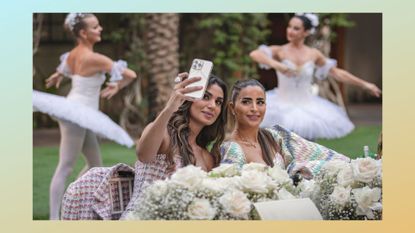 (Image credit: Netflix)
The Dubai Bling cast is just the latest reality-show representative of the United Arab Emirates, with the luxurious titular city also playing home to The Real Housewives of Dubai on Bravo and Dubai Hustle on BBC Three this year alone.
Now the latest Dubai-set reality series—premiering on Netflix on Thursday, October 27—is primed to be the overseas answer to our beloved Bling Empire, populated by a glamorous group "for whom bling is the everyday - and who can fall out over carats as much as diamonds," per the streamer. "When 1 in 100 residents is a millionaire, they all want to reach the highest level of the ladder," so you can expect plenty of luxury cars, lavish parties, designer clothes and five-star hotels.
Before we live vicariously through this high-flying social circle, let's get to know the members of the Dubai Bling cast.
Meet the 'Dubai Bling' cast: who's who?
1. Farhana Bodi
Farhana Bodi is a 36-year-old entrepreneur who was born in India and grew up in South Africa but currently lives in the UAE with her son Aydin. She is the founder of the women's empowerment and lifestyle blog "I Woman of the World." The jet-setting social media influencer is frequently found in the UK and France for high-profile events like London Fashion Week and the Cannes Film Festival.
Recently divorced from her husband, Bodi told Gulf News: "I went through a very, very bad heartbreak and divorce. I ended my marriage after being together for almost 16 years… One day, I just woke up and learned never to look back. I began travelling and started to make new friends. Today, you see a healed version of me."
2. Safa Siddiqui
The Iraqi-British 32-year-old is a fashion designer and handbag enthusiast (you'll see many Hermès and Chanel purses across her social media) who has "always loved fashion and wanted to design clothes for as long as I can remember," she told Cosmopolitan Middle East.
In episode one of Dubai Bling, she says that she "used to work in real estate" but is now a "retired housewife and mother," living in Dubai with her husband Fahad and their two-year-old daughter.
3. Kris Fade
Originally hailing from Sydney, Australia, the 42-year-old is a radio presenter, TV host, brand ambassador and entrepreneur. He hosts his own breakfast radio show called "The Kris Fade Show" on 104.4 Virgin Radio Dubai and the KIIS Network in Australia. He also is the founder of the protein snack company Fade Fit.
When he's not behind a mic, Kris Fade is a father of two and husband of "a Queen," a.k.a. wife Briana Fade.
4. Lojain Omran
Lojain Omran is a fortysomething Saudi Arabian television presenter and social media personality. On TV, she is known for series including Good Morning Arabs!, The Situation with Lojain, Ya Hala, Around the Gulf and World of Eve.
One of the Middle East's most well-known media personalities, she boasts a cool 10 million followers on Instagram and, in 2017, Forbes included Omran at number 55 in their list of top 100 Arabic celebrities. She has two kids: a daughter and a son.
5. DJ Bliss
Marwan Parham Al Awadhi, popularly known as DJ Bliss, is an Emirati DJ, TV presenter and radio personality born and raised in Dubai, UAE. DJ Bliss broke into the mainstream as the host of That's Entertainment on the Dubai One channel and the radio show The Real Flava on Channel 4 in Dubai. In 2016, he became the first Emirati DJ/Artist to have a number-one album, Made In Dubai, on iTunes.
6. Zeina Khoury
Dubai Bling's resident real estate queen, Zeina Khoury is a graduate of the London Business School and the CEO and Chief Growth Officer of High Mark Real Estate, a brokerage specializing in luxury properties in the UAE. She hosts a real estate-themed Instagram Live show called Property Talks with Zeina every Monday at 9pm. Born and raised in Lebanon, the 38-year-old moved to Dubai in 2006. She is married and has two children, a daughter Alexa and a son Joey.
7. Ebraheem Al Samadi
A businessman since he was 14, the Kuwait-born and US-raised 34-year-old is the CEO and founder of Forever Rose and Forever Rose Cafe, which reportedly sells "the only original 100% Natural Long Lasting Rose" that lasts without water or sunlight.
According to an interview with Masala, Ebraheem al Samadi boasts a net worth of 22 million dollars. "My most recent, most expensive and most exciting purchase was my Mercedes G63 2022 AFG, which cost around a million Dirhams," he told the outlet. "Another prized possession is my watch collection that exceeds USD 500,000." Hey, big spender!
8. Loujain Adada
This 33-years-old model and TV presenter born in California and raised in Lebanon is notably the widow of Arabic billionaire Walid Juffali, the chairman of E. A. Juffali and Brothers, the largest privately owned enterprise in Saudi Arabia. They married in Venice in 2012 when Adada was 25 years old and remained married until Juffali's death in 2016. Her net worth is reportedly $8 billion. She has two daughters.
Christina Izzo is the Deputy Editor of My Imperfect Life.
More generally, she is a writer-editor covering food and drink, travel, lifestyle and culture in New York City. She was previously the Features Editor at Rachael Ray In Season and Reveal, as well as the Food & Drink Editor and chief restaurant critic at Time Out New York.
When she's not doing all that, she can probably be found eating cheese somewhere.