Thinking of buying a standing desk? Benefits you may enjoy
They've become a popular WFH upgrade for a reason—this is exactly why working on two feet could be better...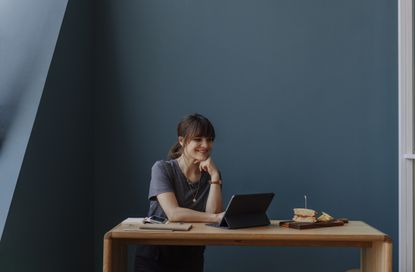 (Image credit: Getty)
You may be here to find out all about the standing desk benefits that have made them a popular WFH purchase. But first let us bring you, if you're unacquainted, up to speed on what a standing desk even is.
Put simply, it is a desk designed to be used by a person while standing upright. Also referred to as an 'adjustable desk', most allow you to switch seamlessly between sitting to typing away at your laptop on two feet (although some are set in a fixed position)—either as a contraption placed on top of your original desk or as a specially designed workspace that can rise up and down.
Now we've drilled down on the basics, why might leveling up your workday be a clever move? It's down to improving your mental and physical wellbeing. While some people are slowly migrating back to the office, still more are discovering that remote working is a continued part of their reality. Yet, it can be easy to find yourself a lot more sedentary—without the need to get up to talk to colleagues, walk to the printer, pop out to grab lunch or run to catch the bus on your commute.
This is where, as you'll find out, the standing desk comes in. Now, we're not saying that you should never sit down while taking a virtual meeting or replying to emails ever again (there is always a place for one of these best desk chairs), but that your body—and mind—will thank you for mixing it up. From reduced back pain to increased productivity, here's how a standing desk can change your life...
---
---
Standing desk benefits, if you're still WFH:
1. Helps weight management
If you've struggled to maintain your pre-pandemic activity levels thanks to remote working, a standing desk could help increase your energy expenditure. "A key benefit is that it lowers your risk of future obesity caused by sitting down for eight hours a day," says Dr. Giuseppe Aragona, GP and online doctor for Prescription Doctor.
Indeed, research has shown that those who spent the afternoon standing up burned more than 170 additional calories compared to those who spent the same amount of time seated. It may seem small, but that little adjustment adds up to an extra 1,000 calories per week. And, you still hit your deadlines!
2. Reduces back pain
Another issue of sitting down all day is the soreness and stiffness it can bring. "For me, the main perk of a standing desk is that it helps minimize bad posture from hunching seated over a desk all day," says Lewis Paris, a personal trainer at Gympass.
A study found that people experienced a 32% improvement in lower back pain when they used a standing desk for several weeks. Other research discovered that switching it up between sitting and being on two feet reduced upper back and neck pain by 54% after just four weeks.
It's thought that being in one position for too long is what causes our bodies to become achy, whereas swapping between sitting and standing adds some easy movement without impacting your workflow. Smooth.
3. Boosts energy levels
Hit yet another 3pm slump that even an oat latte can't keep at bay? "A standing desk may also help stop you from feeling as tired or lethargic as you would sitting down all day," notes Dr. Aragona.
It's something science supports. Research has found that 87% of participants who used one for seven weeks reported feeling more energized and less fatigued. The same study also discovered it improved general wellbeing, with fewer reports of stress—which will certainly help when the 9 to 5 gets real tough...
4. Improves productivity
It might seem like getting in the headspace to concentrate while standing up will be more difficult. But research actually indicates that being on two feet may help you stay focused and—ultimately—get more done.
A study, which saw participants use a standing desk for four hours a day, showed that there was no impact on how much they were able to get done. This was when characters typed per minute or typing errors were analyzed. On top of that, since other research has indicated a positive influence on mood and energy, it seems two feet really is a simple way to make it through that to-do list.
Lauren is a freelance writer and editor with more than six years of digital and magazine experience. Most recently, she has been the Acting Commissioning Editor of Women's Health—where she co-produced the Going For Goal podcast—and has previously also written news and features for titles including The Telegraph, Grazia, Stylist, Dazed, The Sun's Fabulous, Yahoo Style UK and Get The Gloss. She covers all aspects of lifestyle, specializing in health, beauty, and travel. Can't live without: oat milk lattes, new podcast episodes, long walks, and great skincare.