Closet office: how to turn your walk-in into a stylish workstation
Need a WFH boost? Turn your clothes storage into a chic closet office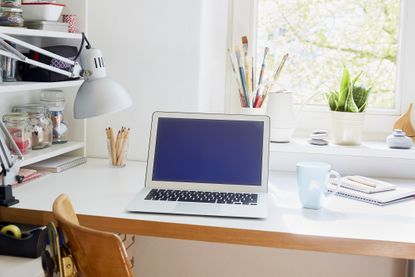 (Image credit: Getty)
Zoom calls on the couch, morning meetings at the kitchen table, email sifting in bed—if you're like us, your WFH situation has meant that the 9-to-5 has bled into every room of your house. And while it would be nice to have a dedicated space for work, not everybody has a spare room to turn into an office. That's where the closet office, or "cloffice," comes in.
A space-saving innovation that boomed during the COVID pandemic, the closet office transforms that dusty broom closet or extra clothes storage into a compact workspace that's not only functional but also often fashionable.

Upgraded with a bold coat of paint or some removable wallpaper and decked out with the best desk chairs, decorative trinkets and inspirational wall art, a closet office is a great space to pump up the personality and make those long work days go by just a bit quicker. (Not to mention, it'll drastically cut down on your TV binging throughout the workday—or is that just a problem for us?)
Intrigued by the idea of the "cloffice"? Here are some tips and inspiration for creating a closet office in your own home.
How to make your own closet office at home:
1. Take off the doors
You put in all of that work transforming a basic closet into a super-cute office, so show it off! Simply removing the closet doors from their hinges will open up your room and make your "cloffice" feel like the delightful, dedicated space it is.
2. Or keep things hidden
Okay, okay, so maybe your desk space isn't the tidiest. If you'd rather keep all of that job mess hidden from you and anyone else in your home, you can tuck your cloffice into a built-in or keep the doors on to shut away the workday when 5 o'clock hits. (And pour yourself a glass of wine when you do!)
3. Don't be afraid of color
Small spaces can still have a big impact when you opt for a few coats of bold, brazen wall paint. Whether you brush on one solitary accent wall or go all-over with your choice of hue (we're loving the cobalt paint job above), a simple can of paint can instantly transform an otherwise nondescript closet into a warm, welcoming space.
4. Paste on some wallpaper
Similarly, a roll of wallpaper also does wonders to add texture and interest to old wardrobe space. But, if you don't want to invest in a pricey wallpaper job, peel-and-stick wallpaper is a budget-friendly DIY alternative, with countless print and pattern options to choose from. Heck, you could switch up your cloffice look every quarter if you want to!
---
---
5. Put up a pegboard
Consider it style and storage all in one: a pegboard will utilize your closet's vertical space to hold those office and craft supplies, leaving your desk drawers free for less-cute bits and bobs that you don't want out in the open. Along with being super easy to install yourself, you can customize your pegboard with baskets, hooks, and shelves to store everything you need throughout the workday.
6. Stock up on shelving
Again, when you're limited on square footage, using all of the vertical space you can is key. Installing a series of shelves—both for practical and decorative purposes, like above—will give you plenty of storage opportunities. Use the highest shelf for bins or baskets to hide more unsightly items, like extra tech cords, loose envelopes and other clutter.
7. Don't forget the fashion
Just because you've turned that closet into an office doesn't mean you need to completely get rid of your clothes. Whether you work in the fashion business or simply are a style connoisseur, adding a rack of your favorite pieces, a wall of designer purses or a jewelry box of baubles will give your space major boutique vibes.
8. Hit the lights
Most closets don't come with a good amount of lighting, so additional light sources will likely be needed if you want to work from one. Adding multiple levels of lighting—from desk lamps to plug-in sconces and even overhead pendants—will not only ensure that you have adequate illumination to work but also will allow you to adjust your lighting throughout your workday, i.e. keeping things slightly dimmer in the morning before the coffee's hit and brighter in the afternoon to keep you alert during those video calls.
9. Keep it sweet and simple
Who says you need a lot of money and effort to turn your former closet space into a functional home office? Truly, all you need is some kind of ledge on which to rest your computer, notepad, pens, and any other supplies—it can truly be as fuss-free as a sheet of plywood—and a comfortable chair to sit in. Tada! Instant WFH destination.
Christina Izzo is the Deputy Editor of My Imperfect Life.
More generally, she is a writer-editor covering food and drink, travel, lifestyle and culture in New York City. She was previously the Features Editor at Rachael Ray In Season and Reveal, as well as the Food & Drink Editor and chief restaurant critic at Time Out New York.
When she's not doing all that, she can probably be found eating cheese somewhere.