6 desk storage ideas to keep your workspace organized
Banish work clutter in style with these clever desk storage ideas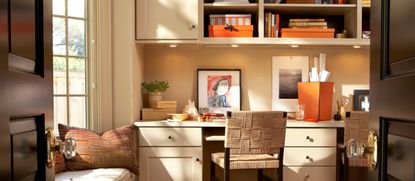 (Image credit: Getty)
So you've chosen your dream desk and found the best desk chairs—but what about storage? If you're fed up with the piles of paperwork, stray pens and loose Post-its littering your desk, we hear you! Don't worry, we've come to the rescue with some stylish storage ideas to help you create a work space that's not only tidy, but satisfyingly serene.
We've all heard the saying "tidy house, tidy mind," right? And it's no surprise that you'll find it easier to focus when your mind isn't distracted by visible mess. That doesn't mean it's easy to keep a work zone free from clutter, but with some effective storage you're bound to find it more manageable to get—and stay—organized.
From pegboard walls to drawer dividers and magazine holders, we've done the hard work for you and sourced some great buys you can treat your home office to. Less time spent looking for things means more time spent focusing on what's really important: taking care of business. You're welcome!
6 desk storage ideas to clear that work clutter
1. File it away
No one wants to have to clear piles of paper and junk out of the way just to get to their keyboard, so keep all of your important documents stashed in a filing cabinet with drawers that you can tuck neatly under or next to your desk. La Redoute's Hiba Industrial Style 3-Drawer Desk Cabinet ($370) has an oak top that gives you extra workspace should you need it, while the three drawers can hide away all that unsightly paperwork.
2. Divide those drawers
Guilty of bunging everything into your desk drawers and then not being able to find anything? In that case, this is one desk storage idea that should make you ultra-happy! The YouCopia Expandable Small Parts Organizer from The Container Store ($19.99) expands from 10- to 16-inch wide and features eight adjustable dividers. You can create spaces to fit whatever you're putting in your drawers, from pens to paperclips, and a slide-out compartment creates room for longer accessories. Plus, it has non-slip feet so the tray doesn't slide about when the drawer is open and closed. Color code your accessories for extra brownie points!
3. Match accessories
It's the most obvious storage idea, but having a pot for pens and pencils, and a small tray for other bits and bobs is key to having a tidy desk. We suggest keeping it matching for a cohesive look and this Areaware Concrete Desk Accessories Set on Amara ($80) ticks all our boxes. It includes a pencil holder, tape dispenser and accessory tray, all molded from industrial-style pale grey concrete, which will work with any design or color scheme.
4. Keep it pegged
No room on your desk? One of our favorite desk storage ideas is to mount a pegboard on the wall above your desk and use it to hang accessories instead of them taking up essential work space. You can buy mini shelves, picture ledges, pen pots and letter holders for your peg board, too, all of which attach easily and offer more storage options—genius! It's a great way of adding a splash of color, too. The Block Medium PegBoard from Red Candy ($47.79), comes in various sizes and colorways to make a gaze-grabbing wall feature that leaves you with plenty more workable desk space.
5. Store magazines in style
Sick of brochures or magazines spilling out where you're trying to work? We know that feeling well, but it's an easy one to solve if you invest in a desktop organizer like this Block Design Magazine Rack ($28.22). This particular design can hold up to eight magazines and is made from a single length of steel looped into a cube—pretty cool, hey?
6. Take it with you
Want to keep all your stationery, scissors, pens and more together? A dedicated desk organizer is where it's at, and this Ikea Klammemacka design ($29.99) comes with a handle so you can move it around with you should you decide to take your laptop to another room (or outside) for the day. We like the fact it has lots of compartments too, all in different sizes, so you can channel your inner Marie Kondo and organize your heart out!
Laurie Davidson is a Surrey-based freelance interior stylist and writer, who also dabbles in travel, craft and lifestyle content. She has over a decade of publishing experience and spent five years as the Homes & Interiors Editor on Style at Home magazine.