Everything you need to know about sunscreen ingredients—including which ones to look for and which to avoid
Experts share the potential sunscreen ingredients to avoid, plus, the reef-safe sunscreen ingredients to know about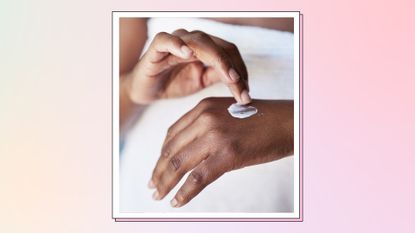 (Image credit: Getty Images)
We all know how important sunscreen is for protecting our skin from harmful UV rays—but are you up to speed with the confusing world of sunscreen ingredients, and clear on which sunscreen ingredients to avoid?
Not all SPFs are made equal—some may not offer the protection your skin needs to shield it from harmful UV rays that cause the skin to burn and promote premature aging. What's more, some sunscreens may even be bad for your health and for the planet. It's important to do your research and ensure you're investing in the best sunscreen for you—and, our sunscreen safety experts are here to help you do just that.
Here's everything you need to know about sunscreen ingredients, according to skincare experts, including what to look for (and what to avoid) when shopping for your next SPF.
Meet the experts on sunscreen ingredients
Dr. Paul Banwell is a skin cancer expert and owner of the Banwell Clinic. He was previously head and founder of The Melanoma and Skin Cancer Unit (MASCU), one of the UK's largest skin cancer units. Here, he sheds light on the complicated and confusing world of sunscreen ingredients, and reveals the ingredients he advises his patients to avoid. Plus, he shares the sunscreen ingredients we should look for to get total UVA and UVB protection.
Dr. Preema Vig is a former General Practitioner and an advanced aesthetic doctor now specialising in non-surgical facial rejuvenation at her London clinic. With 25 years of experience as a medical doctor and 19 working within aesthetics, Dr. Vig shares an insight into the most commonly used ingredients in SPF.
What are the different types of sunscreen?
Before you know what to look for on your sunscreen label, you should know that there are two different types of sunscreens: chemical sunscreens and physical sunscreens, also known as mineral sunscreens.
Chemical sunscreens
"Chemical sunscreen works by absorbing UV rays and changing them into heat, then releasing that heat from the skin," explains skin cancer expert Dr. Paul Banwell.
Chemical sunscreens are easier to apply and blend, and feel nourishing on the skin, but takes around 20 to 30 minutes for protection to kick in.
Physical/mineral sunscreens
"Mineral sunscreens work by sitting on top of the skin to form a shield. They scatter damaging UV rays away from the skin." Where mineral sunscreens offer immediate protection, they are also often a thicker consistency and may leave a white cast on the skin.
Dr Banwell is a fan of mineral sunscreens—"although, I do appreciate they are more expensive and I would rather people wear any sunscreen than none at all," he adds. This is because mineral sunscreens are free from chemicals, and are therefore less likely to aggravate sensitive skin, eczema, or other skin conditions. "They biodegrade in the water so are safe for marine life, too," he adds.
No matter what type of sunscreen you choose, Dr Preema Vig suggests opting for a broad-spectrum sunscreen of SPF30 or higher. "This means that your skin will be protected from both harmful UVA rays that cause aging and UVB rays that cause burning," she explains.
What ingredients are found in sunscreens generally?
When you look at the back of a sunscreen bottle, you'll spot similar ingredients across the board. Here, the experts share the ingredients you'll see the most in mineral and chemical sunscreens, and what they actually do.
Mineral sunscreens
There are two key ingredients most often found in mineral sunscreens, both of which have the GRASE approval—aka the FDA's "generally recognized as safe and effective" stamp.
Zinc Dioxide
One of the best ingredients for sun damage prevention, Dr Vig tells us. "There is research that shows us it's safe, and there's no evidence of skin penetration, even after repeated use," she adds.
Titanium dioxide
Another ingredient often found in mineral sunscreens, titanium dioxide is a broad-spectrum UV filter that protects skin from sun damage and premature aging—think pigmentation, sun spots, and fine lines.
Chemical sunscreens
When it comes to chemical sunscreens, things get a little more complicated. "These types often have a long list of chemicals in them, but some of the common ingredients you'll see are oxybenzone, octinoxate, and PABAs," Dr. Vig explains.
Oxybenzone
Often found in broad-spectrum chemical sunscreens, it helps filter both UVB and UVA rays, protecting skin against burning and premature aging.
Octinoxate
"This is a common and potent UVB absorber, meaning it's effective for sunburning prevention," Dr. Vig tells us. It's often combined with avobenzone, to provide full broad-spectrum protection against burns and aging.
Avobenzone
Often used for its UVA ray-blocking abilities, however, it's only FDA-approved in formulas with a concentration of up to 3% and therefore combined with other ingredients like Octinoxate to formulate sunscreens.
PABA
Another ingredient that effectively absorbs the rays that burn skin. "It was once commonly used, but the popularity of this ingredient has decreased due to the fact that it increases allergic dermatitis and increases photosensitivity," Dr Vigg tells us.
Are sunscreen ingredients harmful to skin?
The most commonly used sunscreen ingredients aren't always the most favored. In fact, in recent years, research has emerged to show that some sunscreen ingredients may be absorbed by the skin and enter the bloodstream. Although the impact this has on our health is still unknown, these ingredients haven't yet been given the FDA seal of approval.
So what ingredients should we avoid altogether?
"I would avoid sunscreens containing oxybenzone, octinoxate, avobenzone, benzophenones, cinnamates and dibenzoylmethane," advises Dr. Banwell. But oxybenzone is one of the most commonly used ingredients in chemical SPFs, so why should we avoid it? While further research in this area is needed, Dr. Banwell tells us: "Oxybenzone is easily absorbed by the skin and enters the bloodstream. It can disrupt your hormones, as well as cause terrible harm to the environment."
Similarly, octinoxate can cause skin allergies and is harmful to coral reefs, while avobenzone is another sunscreen ingredient to avoid as in certain concentrations it has been shown to cause irritation to the skin. Dr. Banwell also suggests avoiding SPF products with retinyl palmitate, a vitamin A derivative. Stick to using the best retinol serums in your nighttime routine instead.
Which sunscreen ingredients are reef-safe?
If, like us, you've been overhauling your beauty routine in an effort to be more eco-friendly and use sustainable beauty brands, it's time to take a look at your SPF. Not only to ensure it's providing you with plenty of sun protection without potentially impacting your health but to also ensure you're using kind-to-the-planet formulas, too, with sunscreen ingredients that are reef-safe.
Some chemical sunscreens can be super harmful to coral reefs, and there are a number of ingredients, including oxybenzone and octinoxate, that have been banned in Hawaii for their environmental impact. When sunscreens with these specific ingredients wash off the skin, they enter the waterways and harm marine life and coral reefs. A big no-no in our books.
So, instead, look out for the best and safest sunscreen ingredients: zinc oxide and titanium dioxide. They are coral reef-friendly, offer safe and effective protection from UVA and UVB rays, and are FDA-approved. Opt for lotions and creams over sprays and mists to avoid inhaling the product. To avoid a white cast with mineral SPFs, go with tinted formulas that offer both broad spectrum protection and a healthy glow—it's a win-win!
And, remember, SPF is for life, not just hot, summer days. Even on cloudy days, sunscreen application should remain firmly in your morning skincare routine with sunscreen ingredients that protect against UVA and UVB rays.
Ciara is a health and wellbeing expert and meditation practitioner. She is the former deputy editor of Red magazine and former digital health editor at womanandhome.com—and has covered all things health and wellbeing from skincare and fitness to sleep and relationships. She's always on the lookout for new health trends, innovative fitness gadgets and must-read wellness books.