Follow this rosacea skincare routine to soothe sensitive skin and banish redness
With this rosacea skincare routine, you can get one step closer to soothed skin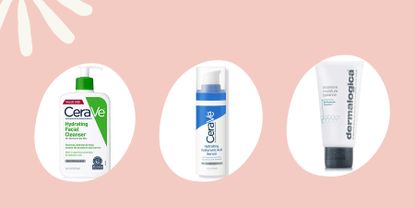 (Image credit: Future/Canva)
In order to perfect your rosacea skincare routine, you need to streamline your approach and prevent breakouts that occur through using aggravating products. To keep redness and irritation at bay, gentle products are a must, which is where this definitive soothing skincare routine steps in to help.
As with all sensitive skin types, the right routine and being gentle with your application will make a world of difference. That includes picking out the best moisturizer for dry skin that really suits you, as well as preventing further irritation by taking on a skincare routine for acne-prone skin.
If that's all starting to sound a little overwhelming, then remember that the basic paradigm of rosacea skincare is finding products that specifically suit you, sticking to your moisturizing, and working to prevent irritation.
Strip it all back to basics with this simple routine, and remember to always test products out if you're prone to stinging or breakouts.
Rosacea causes, triggers and diagnosis
During a routine facial, dermatologist Dr. Ifeoma Ejikeme, aesthetic doctor and medical director of Adonia Medical Clinic, quickly spotted the classic signs of rosacea.
My flare-ups—now I can identify them—aren't as intense as those with a more chronic condition. But eating spicy foods, alcohol, and caffeine—essentially all the fun things in life—definitely make them worse. As does spending time in the sun, even with one of the best sunscreens for face on.
Rosacea is a common skincare condition that can affect anyone and flare-ups often lead to red, blotchy skin that feels inflamed. In more severe cases, this can also lead to swelling and pimples, not to mention super sensitive skin and sometimes stinging.
While rosacea is an extremely common skin condition, it's also one of the trickiest to treat, as the root cause isn't fully understood. "The cause of rosacea is not yet certain; theories include bacteria that live in the colon, an allergy to a natural mite (demodex mite) that lives in our skin, unstable blood vessels, genetics, and sun exposure," said Dr. Beatrice Mollina, founder of Medikas. "What we do know is that something irritates the skin, leading to chronic inflammation with intermittent flare-ups."
Without realizing it, I was previously using products that were likely to aggravate my skin, most notably slathering on oil before bed every night, which is a big no-no for rosacea-prone skin. "Skin that has rosacea will feel more sensitive but often has an oily component," Dr. Ifeoma Ejikeme told me. "Oily products and products that clog the pores can really aggregate rosacea."
What to look for in rosacea skincare products
Sensitive skin doesn't need a myriad of ingredients, in fact for an effective rosacea skincare routine it's better to stick to more natural formulas, like the Weelda Skin Foof moisturizer, for example.
"Stick with gentle, water-based products and products, which are non-comedogenic. Ensure you wear a non-comedogenic SPF," Dr. Ejikeme told us. "You could speak to your healthcare professional or skin expert about adding in professional ingredients such as azelaic acid to reduce redness and, when needed, prescription options are available for more inflamed skin. But start off with simple formulas."
French pharmacy beauty products fit the bill perfectly here, with brands like La Roche-Posay, Bioderma and Avène often touted as being good options for rosacea-prone skin. "The main ingredients to look for within skincare products are botanicals, antioxidants, and natural plant extracts along with amino acids," KerryLou Herbert, a senior aesthetician at Omniya Clinic, told us. "These all help to restore and support the skin's barrier and reduce irritation and inflammation which leads to flare up, by fighting against environmental factors that can worsen the condition." And remember, while oil-based products may be moisturizing, they're likely to aggravate rosacea.
"Rosacea-prone skin is sensitive skin," says Dr. Ejikeme. "It is important to be gentle with it and stay away from products that will strip the skin." This means watching out for abrasive formulas and looking out for super-gentle, natural ingredients that are non-irritating, hypoallergenic, and non-comedogenic (a fancy way of saying oil-free - I swear by Origins' GinZing moisturizer for a daily pick-me-up, sans oil).
Best rosacea skincare regimen: a four-step rosacea skincare routine
While rosacea itself has no cure, it's a condition that can react well to the right rosacea skincare routine. There are two golden rules when it comes to catering for sensitive skin; keep it simple and keep it consistent. Our skin responds well to a routine, in fact, studies have shown that sticking to a regular skincare routine is more important than the formulas of products. In the interest of consistency, I've found using the same cleanser, serum, and moisturizer morning and night leaves my skin feeling calmer, though this is by no means a one-size-fits-all approach.
Your first step after removing makeup, dirt, and grime should be to relieve irritation before moisturizing. "Calm the skin with skin-soothing ingredients such as hinokitiol, sea whip, and aloe," suggests Dr. Beatrice Mollina. As with any daytime skincare routine, the final step should always, always be a reliable SPF, like the Kiehl's Ultra Light Daily UV Defense Gel. Rosacea-prone skin is much more sensitive to the sun.
Step 1: A gentle cleanse
"A gentle cleanser that contains calming and soothing ingredients is best for rosacea," KerryLou Herbert told us. "You would avoid any cleanser that is too abrasive or stimulating to the skin that would potentially worsen the redness." Brands like CeraVe offer a gentle approach to cleansing, with ingredients that help repair the skin's barrier function. I love CeraVe's Hydrating Cleanser, which can be used as part of a entire CeraVe products skincare routine, for consistency.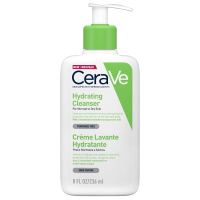 CeraVe Hydrating Cleanser
RRP: $15.95/£9.50
From CeraVe, one of the most popular skincare brands on TikTok, this silky cleanser removes dirt and grime, while keeping skin hydrated. The texture is more like a lotion, rather than a foam, which helps to keep skin feeling soft and smooth.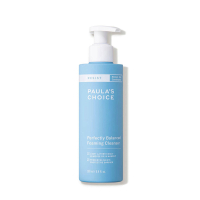 Paula's Choice Perfectly Balanced Foaming Cleanser
RRP: $20.00/£42.00

Paula's Choice is another brand that has skyrocketed in popularity thanks to viral TikTok fame. These products are a tonic for sensitive skin, and this cleanser, with its emphasis on gentleness and balance, contains aloe and sunflower seed oil for all the soothing properties you need.
Step 2: Soothing serum
Now that dirt, grime, and dead skin have been washed away, it's time for the active ingredients. As serum penetrates the dermis deeper than a moisturizer, many argue that this is the step of your skincare routine where spending a little more will reap the most rewards.
When looking for a serum for rosacea skincare, active ingredients like niacinamide, ceramides, and hyaluronic acid are a winning formula for soothing sensitive skin. CeraVe's Skin Hyaluronic Acid Serum also contains three essential ceramides, to boost barrier function.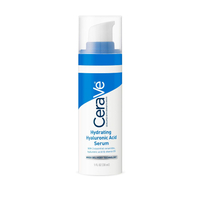 CeraVe Hydrating Hyaluronic Acid Serum
RRP: $23.99/£17
CeraVe is a hero brand for dry and sensitive skin thanks to its gentle products. This hyaluronic acid-packed serum will smooth and hydrate skin, and is helpfully fragrance free, to help avoid breakouts.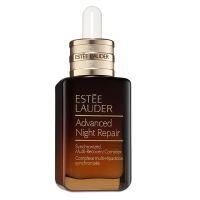 Estee Lauder Advanced Night Repair Serum
RRP: $75.00/ £94.00 for 100ml
If you are looking for a serum to add to your night-time rosacea skincare routine, then this serum might just be your savior. Praised for years thanks to its transformative powers, it contains hyaluronic acid for that essential boost of hydration that you need.
Step 3: Barrier-boosting moisturiser
Learning how to choose a moisturizer to soothe your skin is key for an effective rosacea skincare routine. "Maintaining the skin's natural barrier is crucial to preventing further moisture loss and improving cell turnover," Dr. Mollina explains. "Choosing the right moisturizer depends on whether there are any other skin factors to consider but all will help protect and support the skin's barrier function which will provide healthy skin and help normalize."
Dermalogica Intensive Moisture Balance helps combat dry skin by restoring lipid balance to depleted skin for better barrier performance.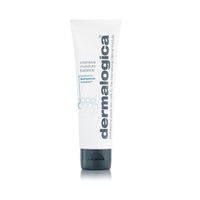 Dermalogica Intensive Moisture Balance
RRP: $44.00/£39.00
This hydrating moisturizer is kind to your skin's barrier. It also contains a prebiotic, which helps rebalance the skin's natural microbiome.
Step 4: High factor SPF
It's important to choose the right SPF for your rosacea skincare routine as well. "Choose mineral-based broad-spectrum sunscreens with zinc oxide and titanium dioxide, which keep the skin cooler than chemical sunscreen ingredients by reflecting UV rays," Dr. Mollina told us. "Choose a lightweight non-comedogenic sunscreen that provides powerful broad-spectrum protection against harmful UVA and UVB rays."
For me, Super Fluid Daily UV Defense SPF 50 is a great all-rounder, with extra protection against pollution.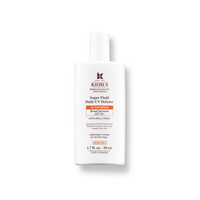 Kiehl's Super Fluid Daily UV Defense SPF 50+
RRP: $40.00/£30.00
This nifty sunscreen is really hard working —not only does it provide factor 50+, but it also helps protect skin from environmental aggressors including UVA/UVB rays and pollution.
La Roche-Posay Anthelios AOX Daily Antioxidant Serum SPF 50
RRP: £34.99/$23.70
If you hate the feeling of sunscreen on your skin, then this ultra-light texture will make this La Roche Posay buy worth it.
Lauren is deputy editor at woman&home.com and became a journalist mainly because she enjoys being nosy.
As well as keeping up with the latest news and most-talked-about TV shows, Lauren loves helping people share their stories, bringing experiences and adventures to life online. A big fan of adventure herself, she also loves sharing tips on where to find the best places to eat, drink, and be merry off the beaten track. Lauren has written a series of travel guides for London hotels and loves sharing her insights into a destination's cultural and culinary offerings. At the weekend, you'll usually find her hanging out with her pet cat (or anyone else's pet she can get her hands on), escaping to the countryside, or devouring a good book. You can mainly find pictures of her cat (and a few humans for good measure) on Instagram at @laurenkatehughes.