The Taylor Swift workout routine takes a fun approach to fitness
The Taylor Swift workout might be exactly what you need if you're looking for a fitness routine that's more laidback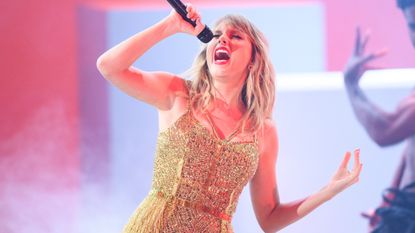 (Image credit: Image Group LA/Getty)
Taylor Swift is a mega-star with fans all over the globe—and one of the things her fans seem to love about her is how warm and genuine she seems to be. Unsurprisingly, her approach to fitness is just as laidback and relatable as the rest of her personality. In fact, the Taylor Swift workout is both achievable and realistic.
While it's helpful to have one of the best yoga mats and some of the best dumbbells for women, if you plan to mimic Taylor's regime at home, gear and gadgets are surprisingly not essential. For the most part, her workout plan is about having some fun and getting in movement whenever and wherever you can.
All about the Taylor Swift workout routine:
1. She favors dance based workouts
Taylor trains at Body by Simone, a New York workout studio run by trainer Simone De La Rue. She does dance-based workouts, combining cardio-based high-intensity interval training (HIIT), and bodyweight exercises. Simone also utilizes yoga stretches, to tone the body and improve flexibility.
This means that Taylor's workout can be easily done at home without any equipment—though having some of the best resistance bands to hand can increase the intensity of a lot of these moves, if you fancy it.
Here's her workout routine, courtesy of Simone:
jumping lunges
pushup shoulder taps
side plank oblique crunch
leg kickbacks
explosive jumps
side leg lifts
leg-only back bows
arm-only back bows
back bows (both)
side torso stretch
cat cow
downward dog
arm reach stretch
Since dancing is how she spends so much of her time on stage—and, given that performing is what she needs to stay in such good shape for—it's no surprise that dance-based cardio is how Taylor works out to prepare for it all.
2. She enjoys long scenic runs
Swift's approach to fitness is pretty relaxed, and it said that she often enjoys a nice long, meditative run to stay in shape. Not only does running provide a valuable cardiovascular workout, and help burn calories, but she also likes to use it to stretch her legs after a long flight. And, it's her favorite way to get out and explore a brand new city.
The star told WebMD: "For me, running is about blasting a whole bunch of new songs and running to the beat. It's also good because it makes me find a gym wherever I am. I'm very much out in the world, and I love exploring the places we go when we tour. It's important for me to live a full life."
Essentially, the 32-year-old likes to utilize flexible workout methods that she can do from anywhere since she's constantly traveling. Most of her fave exercises can be done from home, at the gym, or in a hotel room.
3. Taylor follows a flexible, intuitive diet
Continuing with her relaxed approach to health and fitness, Taylor's diet is also not a restrictive one. She likes to keep rules to a minimum and embrace intuitive eating, with the knowledge of what her body needs at different times. While she doesn't have many major restrictions, she does have a couple of guidelines she tries to follow:
1. She eats mostly healthy throughout the week
During the week she tries to make healthy meals and eat well. She's on the go much of the time, as she explained to WebMD, so she reaches for simple meals like yogurt, sandwiches, and salads. She enjoys cooking, too, which makes it easier to eat healthy, home-cooked meals. Some of her favorites include spaghetti with meatballs, chicken fajitas, and her mother's brisket.
Other meal staples include simple but healthy dishes like a buckwheat crêpe with Parmesan cheese topped with an egg, and grilled chicken breast with garlicky green beans and veggies for dinner. Her favorite snack tends to be veggies dipped in hummus, a classic.
2. She avoids drinking soda
One of the worst habits for maintaining a healthy weight is drinking soda. It's far too easy to down several sugar-filled drinks, so Swift has said she tries to steer clear of soda and other sugary drinks.
3. She lets herself indulge on the weekend
To avoid depriving herself and feeling like she's missing out, Taylor sticks to her healthy diet during the week but indulges on the weekends.
The songstress confessed to WebMD: "I like comfort foods. I love a burger and fries, I love ice cream so much, and I love baking cookies. Actually, I love baking anything."
She also explained that her coffee choices (Starbucks, always) vary depending on the day: "skinny vanilla lattes on weekdays" and "spiced pumpkin lattes on weekends. The point is, I'm never cutting out what I love, which is Starbucks," she said.
4. She downs plenty of water
A fitness routine isn't complete without healthy habits overall, and drinking water sits at the top of that list. To maintain her voice and stay in tip-top shape, Taylor told Bon Appetit that staying hydrated is vitally important for her.
She explained: "I have so much water in my dressing room—because I drink, like, ten bottles of water a day. That's pretty much all we have in there."
Amy Hunt is a lifestyle writer and editor, and was previously Lifestyle Channel Editor at womanandhome.com, having been with the brand since 2015. She is passionate about everything from entertainment to books, to homes, food and wellness. When she isn't editing, researching or writing articles, he's busy burying her nose in a gripping thriller, practising yoga, or buying new homeware.