The best Love Island 2021 memes so far
The only thing better than a new season of Love Island is the memes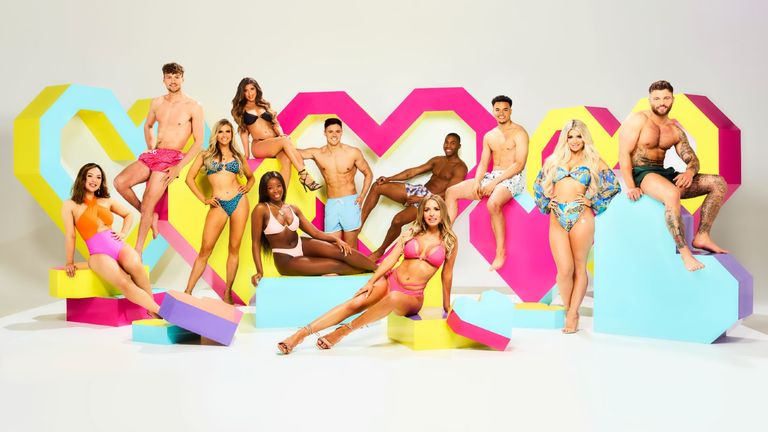 (Image credit: ITV / Lifted Entertainment)
Love Island 2021 is finally here, and now we've been introduced to the Love Island cast of the 12 new singletons, it's time to sit back and enjoy the memes.
Never is Twitter on better form than during a new series of Love Island and boy have we missed it over the last year. So while we prepare ourselves for a summer of love, the most memorable moments, heartbreak, and dramatic re-couplings—here are the best memes of Love Island 2021.
The best Love Island 2021 memes
Remind you of someone?
First of all, let's start out with a bang. This Twitter user deserves an award for really making us laugh out loud.
They have perfectly referenced perhaps the most iconic TV moment in history, drawing comparisons between Hugo and season 5's Curtis Pritchard.
For those who may not remember, when asked by his 'half girlfriend' Amy Hart why he never stayed in bed to cuddle her in the morning, he said: "I want to be the person that gets up and makes everyone a coffee so everyone's ready for the morning." Clearly, fans feel similar energy from PE Teacher Hugo.
Eye contact is everything...
Fans immediately picked up on the girl's obsession with eye contact. Apparently, the key to getting people to step forward for you is starring deeply into their eyes, who'd have thought?
Toes: Yay or Nay?
The most controversial and bizarre moment of the series so far, is courtesy of Jake, plumber and self proclaimed toe lover. In a game of dares, Toby had to suck Kaz's toe and fans took to Twitter to make a meme of Jake's disappointment at not getting the toe dare.
He also very strangely took a video of the moment and then asked what it tasted like —let just say that also gave a lot of content for the memes that followed.
One user wrote: "Jake was really zooming in and out n getting all the angles for that toe sucking."
We're just glad we weren't the only ones not enjoying all this toe talk.
A picture paints a thousand words
The next meme-worthy moments were provided by Faye—the face she made while listening to Newcastle's Brad was priceless. Clearly, she wasn't the only one confused by what he was on about.
Twitter users couldn't get their heads around it either…
'We've got a voice note!'
Now, let's talk about that voice note. Where was the 'I've got a text'? Fans were not sure about the new use of voice notes, especially all the dramatic pauses.
Fans weren't sure what to make of it, but maybe it will grow on us.
Love Island not only gives us an hour of drama and 'grafting' but hundreds of memes to scroll every day—it really isn't summer without Love Island and we can safely say this will be us for the next eight weeks:
The Casa Amor Betrayal
And just like that, we've got a horrible pit in our stomach. Any Love Island fan will remember these iconic/devastating post-Casa Amor recouplings when Amber, Georgia and Shaughna were all blinded-sided when the men they were coupled up with in their respective seasons of the show, returned to the villa hand-in-hand with another woman. Ouch!
When Hugo was left out
There may not have been any real heartbreaks in the villa yet but one moment that broke all of our hearts was when Hugo was the only boy not to get picked by any of the girls for one of the 'sexy' challenges. Bless him, we love you Hugo!
Will they split the prize money?
In every season of Love Island, the winning couple has historically split the £50,000 cash prize with their partner, choosing love instead of greed. However, from what we're seeing on this season so far, none of the couples seem to have a genuine romantic connection that appears deeper than forcing yourself to fancy who ever is in there because let's face it, it's slim pickings for the girls! Could this be the season someone switches things up and takes the winnings for themselves? It would make TV gold!
It's all about that PLT partnership
When new girl Lucinda and Brad became the couple the public voted as the least compatible, they were at risk of leaving the villa, hence Lucinda's facial expression in the picture. Viewers aren't convinced that the 21 year-old fashion boutique owner is smitten by Brad, so naturally, there must have been other things running through her mind when she found out she could be dumped from the villa so soon...
Walk the walk...
`When now ex-islander Rachel walked into the villa... it was quite the walk. The moment had Twitter in a frenzy after some viewers took a hilarious screen shot and memes went viral. Since coming home, Rachel has been a great sport, addressing how funny the meme is and explaining that her feet were tired from walking in heels all day. Bless her!
Hurray for Hugo!
When new girl Georgia Townend said she had her eyes on Hugo, Twitter was quick with the memes about the teaching duo...
Oh Toby...
Twitter loves poking fun at Toby for his inexperienced nature. His go-to excuse for everything seems to be "I've never done this before" or "I don't know" so this little brother-esque meme feels pretty fitting...
Naomi is a trainee news writer who writes for My Imperfect life and Goodto.com.
Naomi writes about a range of topics from fashion trends and skincare to entertainment news.