Faye Winter: everything you need to know about the Love Island UK contestant
She was a hot commodity with the boys on day one of Love Island but who is Faye Winter? Here's what we know about her so far...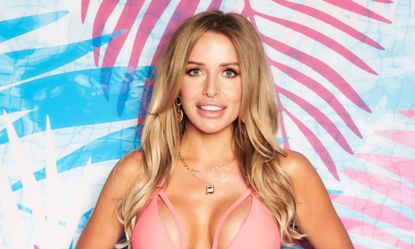 (Image credit: ITV)
Love Island is back and in full swing, and while we're only now just getting to see some romance, we have been getting to know some of the new Love Island cast.
From fashion influencer Kaz Kamwi to Scottish model Shannon Singh (albeit briefly), the girls are carrying season seven so far. One girl that was particularly popular among the guys on day one was Faye Winter. The islander was the most picked in the initial coupling but ended up with construction worker, Brad, in her first couple of the season. However, things were shaken up in the villa with the arrival of bombshell Chloe... until Teddy Soares came into the picture.
But before we get into that (we can't wait for Casa Amor!!) let's get better acquainted with this year's OG gang—including Faye—because while we're not sure how long Love island will last exactly, we do know that we'll at least be spending the next eight weeks with the hot singletons, hoping for juicy drama, lasting couples and all the other bits that make for memorable Love Island moments.
So, here's everything you need to know about Faye Winter...
Who is Faye Winter?
Faye is one of the girls in the villa this year, who got in a couple with fellow Islander Brad McClelland on the first day. She is from Devon (where there are "no fit men") and has described going on Love Island as "like going on your first date but times 50".
How old is Faye?
Faye is 26-years-old.
What is Faye's job?
Faye is a lettings manager, who describes her team as "amazing". Devon's very own Selling Sunset, perhaps? She certainly thinks so. "I go out and do valuations, win business for the company and I'll do the odd viewing and find tenants. My main role is the sales side of things. I absolutely love it! I've actually only taken a sabbatical from work because, in my ideal world, I'd love to go back to work," she said.
"I try to make it as Selling Sunset as possible. I'm definitely there in the mini dresses, boobs out, bum out, turning up and you can see the wives say to their husband, 'You're staying outside.' It's so fun."
Right now, Faye is on a sabbatical from work and her bosses are supportive of her choice to go on Love Island. But something tells us she won't need to go back to work after the summer...
What is Faye looking for?
If you're wondering what brought Faye to Love Island, a year of being locked indoors due to the pandemic is definitely among her reasons. "In the last year, we haven't been able to experience anything. I'm open to anything. The opportunity came up so why wouldn't I? I'd love to meet somebody, what better way to meet somebody than in the sun—amazing," she said.
But what does she want from a partner? Looks-wise, she likes them tall. Preferably 6ft or above, even though her ex-boyfriend was just 5ft 7, so sounds like she could be swayed.
"Someone that will put me in my place. Someone that makes me laugh. But also someone that takes my banter. I'm like a 5-year-old in a playground, if I like you, I will make a mockery of you and laugh and joke. That is my really terrible flirting skills. I need someone who can take that," she explained on the show.
"I'm not going to commit to anything as it could be used against me," she said when asked if there was anything she would not do in the villa. That being said, she is cautious of her family who is watching at home. "I'm very aware that me and my sister are in [our parents] will and I do still want to have a 50/50 share!"
Well, one thing's for sure—anything can happen in the villa!
Sagal is a journalist, specialising in lifestyle, pop culture, fashion and beauty. She has written for a number of publications including Vogue, Glamour, Stylist, Evening Standard, Bustle, You Magazine, Dazed and Wonderland to name a few.