The My Imperfect Life guide to: New York City
From bars to brunch, shopping to sightseeing, here's where we love to spend time in NYC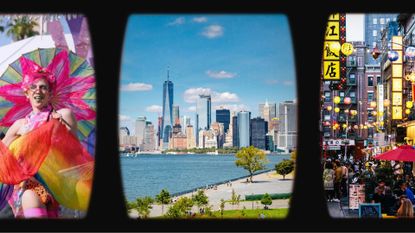 (Image credit: FilmMagic/Getty/Getty)
Don't call it a comeback! After two years of being an epicenter of the COVID-19 pandemic, the ever-resilient New York did what it always does: got back up, brushed itself off, and kept on kicking with some of the best restaurants, hotel, culture and attractions the world's got to offer.
From brunch pancakes to boutique hotels, Basquiat exhibits to burlesque extravaganzas, here's your guide on what to see, where to stay and what to do in New York City, the My Imperfect Life way.
What to do in New York City: The MIL guide
Stay here: The Ludlow
There's a hotel for every personality, pace and purse in NYC's five boroughs, whether you want to make like a Gossip Girl character and #TreatYourself to old-school New York elegance uptown at The Carlyle or go for an artsier, more affordable atmosphere across the river at Long Island City's quirky The Paper Factory, fittingly set in a 100-year-old, well, paper factory.
The Ludlow Hotel is like the midpoint of the two: a quintessentially New York lodging that mixes grit and glamour, edginess and ease. It's set smack in the exceedingly walkable Lower East Side, full of street art, pastrami delis, music venues and tattoo parlors, but if you need a restful reprieve from all of the hustle and bustle of downtown, an in-room spa treatment, a martini in front of the lobby's roaring fireplace and some quiet time in the hotel's trellis-shaded courtyard garden should do the trick, no?
Learn about: Jean-Michele Basquiat
One of New York's homegrown heroes, the Brooklyn-born Jean-Michel Basquiat—who meteorically rose to prominence in the '80s, only to succumb to a heroin overdose at age 27 in 1988—is an artist shrouded in myth. A bit of that mystery has been unpacked by the people who know him best via Jean-Michel Basquiat: King Pleasure, an exhibition curated by the family of the late artist, held at Chelsea's historic Starrett-Lehigh Building.
The intimate collection includes more than 200 never-before-seen and rarely shown works from Basquiat, as well as recreations of meaningful spaces such as his childhood home in Boerum Hill and the Great Jones Street Studio out of which he worked. Tickets go for $35 during weekdays or $45 from Friday through Sunday, or skip the line with a $65 fast pass.
Brunch here: Chez Ma Tante
New York City is a premier brunch destination, and the pièce de résistance of NYC brunch culture (aside from the endless Bloody Marys, of course) is the bougie pancake, fashionable flapjacks gussied up in housemade butter and tricked-out syrups, basically begging to be Instagrammed before you take that glorious first bite. And the versions at sleek Williamsburg café Chez Ma Tante—pillow-soft on the inside, golden-brown on the outside, with craggy, caramelized edges clinging to droplets of rich clarified butter—are the top of the stack.
Mosey around: Chinatown
If it's sensory overload you're after, skip the blinding lights and wayward Elmos of Times Square and head downtown to Manhattan's Chinatown, the largest Chinese enclave in the United States. (FYI: NYC has three Chinatowns in total, in Flushing, Queens, and Sunset Park, Brooklyn, as well as Manhattan.)
A cacophony of sounds, colors, smells and tastes, the vibrant neighborhood is jam-packed with dim sum dens, souvenir shops, bubble tea parlors, art galleries, family-run food markets and more. Our idea of a perfect Chinatown day? Delving into the history of the famously curved Doyers Street, picking up some yummy pork buns for lunch, popping over to Columbus Park to peep the elders playing mahjong, and browsing the "designer" goods you can find down Canal Street.
Drink this: A Speakeasy Cocktail
You'd think the Roaring Twenties were alive and well in New York, given how many speakeasies the city boasts, tucked behind telephone booths, hidden inside corner bodegas and submerged beneath subway platforms. But, luckily, it's the 2020s, not the 1920s, meaning that though the digs might be fashioned to look secretive, there's no fear of your fun getting ruined by a raid.
Instead, you can relax with an expertly-made "secret" sipper at a classic like PDT (that's Please Don't Tell, natch), a neo-speakeasy icon hidden behind a phone booth outside East Village hot-dog joint Crif Dogs, or a newcomer to the genre like The Cactus Shop, a margarita-sloshed Mexican cantina concealed by a Williamsburg plant store, or Key & Heels, an Upper East Side cocktail lounge camouflaged as a key cutter-slash-shoe repair shop.
Instagram this: Roosevelt Island Tram
Everyone and their mother is already taking the same NYC bridge photo: crowding DUMBO's cobblestoned Washington Street for a snap of the Manhattan Bridge or blocking pedestrian traffic while they pose in the middle of the Brooklyn Bridge. Trade both overdone backdrops for one of the best—and cheapest—views in all of New York aboard the Roosevelt Island Tramway.
Attached to the Queensboro Bridge, the cable car gives you an aerial eyeful of the Chrysler Building, the Empire State and the eastern side of the famous New York skyline. It costs only a swipe of your MetroCard and the trip is only four minutes long—more than enough time for an impromptu Instagram photo shoot!
Party at: House of Yes
Where's the party at? Brooklyn, duh. Specifically at House of Yes, a modern-day bacchanal of circus performers, electro DJs, aerial artists, marching bands, carnival games, raunchy films, tarot card readers and much more, all tucked into a former ice warehouse in Bushwick. Whether you're looking for body-positive burlesque, drag-queen cabaret, an Afrobeats dance bash or a ketamine-themed musical, this is the newfangled funhouse for you.
Grab dinner at: Via Carota
We'll be real with you: usually, the restaurants known for their celebrity sightings have crap food. Not Via Carota: the walk-in-only West Village trattoria from beloved chef power couple Jody Williams and Rita Sodi offers up not only DeuxMoi-worthy peeks at famous folks like Timothée Chalamet, Maggie Gyllenhaal and Andy Cohen (with a side of John Mayer), but also some of the finest Italian dishes in all of New York City. Order up some grilled artichokes, a little octopus with pesto, a pasta "for the table" (tagliatelle dotted with prosciutto and peas, maybe?) and a perfect spritz, and let the people-watching begin!
Shop here: Brooklyn Flea
Yes, you can shop the department stores of Fifth Avenue or the boutiques of Soho, but if you want to bring home a unique ensemble as a stylish souvenir of your New York stay, the Brooklyn Flea is where it's at.

New Yorkers are famously fashionable people, so what better way to absorb some of that city style than by thrifting vintage clothing, cool collectibles, design pieces, local art and more, straight from its residents and creators. Every weekend from April through December (the Chelsea Flea operates year-round), you can comb through throwback records, pick up one-of-a-kind statement jewelry, discover new treasures and trinkets for your apartment and munch on delicious snacks—all in the same shopping spree!
Don't miss: Governors Island
The tourists are all going to Little Island, the new artificial island attraction off Manhattan's Hudson River Park, but locals are partial to Governors Island, the publicly accessible, 172-acre isle located in the heart of New York Harbor.
An easy-peasy ten-minute ferry ride from Lower Manhattan—which is free on Saturdays and Sundays before noon—the recently renovated Governors plays home to oyster restaurants, lavender fields, art galleries, outdoor movies, hammock groves, polo matches, grazing sheep, overnight glamping (think of sunrise with a Statue of Liberty view!) and more. It makes for the perfect day—or overnight—trip that you barely have to travel to.
Want even more Gotham goodness? Add these TV-inspired location guides to your NYC "to see" list: And Just Like That restaurant locations, Succession filming locations and our "Where is 'Mrs. Maisel' filmed?" breakdown.
Christina Izzo is the Deputy Editor of My Imperfect Life.
More generally, she is a writer-editor covering food and drink, travel, lifestyle and culture in New York City. She was previously the Features Editor at Rachael Ray In Season and Reveal, as well as the Food & Drink Editor and chief restaurant critic at Time Out New York.
When she's not doing all that, she can probably be found eating cheese somewhere.