Thursday dating app: what you need to know about the one-day-a-week app
The Thursday dating app is unique in its concept, and aims to help take the 'boring' back-and-forth out of dating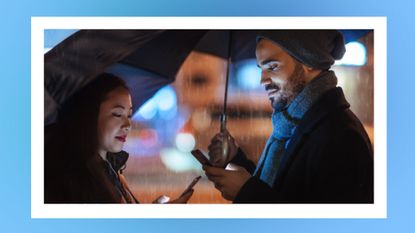 (Image credit: Getty Images)
What is the Thursday dating app? If you've heard the name but aren't exactly sure what it's all about, we reckon it's time to get on board with this unique dating app. Launched in 2021, Thursday offers a pretty unique dating experience. The app differs from the rest of the best dating apps on the market, because unlike traditional 'swipe-right-anytime' apps like Hinge vs. Bumble, Thursday operates just one day a week—on Thursdays—with the aim of cutting through the back-and-forth slog of direct messages.
While we're always open to online dating tips, and are always keen to discover ways to make meaningful connections, it can be exhausting (and demoralizing) to be on the prowl for 'the one' 24/7. And according to Jaime Bronstein, relationship expert and author of MAN*ifesting: A Step-by-Step Guide to Attracting the Love That Is Meant for You, we don't have to treat dating like a job; which is how relentless dating app usage can sometimes feel.
"There's a happy medium [when working for a relationship]," Bronstein previously told us. "If you have this desperation energy and you're too focused on the same thing, then usually, it's fear-based." Perhaps this whole one-day-a-week dating thing isn't such a bad idea after all?!
What is the Thursday dating app?
So what is the Thursday dating app, and how does it work? Every other day, the Thursday dating app lays dormant—it only becomes active on its namesake day, after midnight, showing members potential daters nearby. It's worth noting though that the app is only available to New Yorkers and Londoners, too, so is only right for people close to these cities.
Users then have 24 hours to match, chat, and set up an IRL meeting with a said suitor. For those who are ready to hit the ground running, there are also exclusive in-person members-only events on Thursdays, too, so you can really end the week on a high note...and potentially find your soulmate!
The thought behind the app is that modern-day dating is already an exhausting enterprise, with so much time and energy being funneled into it and results that don't always match all of that effort.
"It's a fact: people are spending too much time on dating apps," the app's co-founders say on Thursday's website. "Not only is the whole experience underwhelming, but pressure to find 'the one' is boring. When did being single become a thing to be ashamed of? That's where Thursday comes in."
Spontaneity—and speed—are the name of the Thursday game. The goal is to "bridge the gap between online dating and offline experiences" and not waste time doing so.
And you really do only have 24 hours to make a move, as matches and chats will disappear when the clock strikes midnight on Friday. We reckon there's something quite exciting about the concept too—so it's time get a move on, Cinderella!
How does the Thursday dating app work?
Like on any good dating app, first you need to set up a user profile. Along with the customary, carefully chosen pictures and the get-the-conversation-going profile questions and interest tags (gallery hopping, music festivals, and the like), the Thursday dating app also requires users to upload a photo of their passport or driver's license when they join, to verify their identity and make sure that no catfishing occurs. Clever!
Once verified, users are "locked out" of using the app until Thursday rolls around, during which they can see fellow users pop up on a map of their chosen area. (Your full location is never revealed for safety purposes.)
You can explore their profiles, swipe right, and start a chat from there. Users can match with up to 10 suitors each Thursday, so there's plenty of space to explore lots of different options, despite the fact that you can only use the app one day a week.
The Thursday dating app also has an Instagram Stories-like feature that allows daters to direct-message short video clips to potential matches. Like Stories—and everything else to do with Thursday dating—those are automatically wiped after 24 hours.
Who uses the Thursday dating app?
According to DatingScout, this dating app has a fair few members despite being newer to the game than the likes of Tinder and Bumble! Reportedly, there are around 20,000 members on the app, with a fairly event split between men and women.
And while there are people from every age range reported to be on the app, it appears that its most popular demographic is those aged between 25-34.
This was somewhat confirmed by NewsShopper, who sent a reporter to a Thursday dating event. He reported that: "There was a healthy mix of students, graduates and those living their twenties to the full before it is too late."
Whatever your age, there's no doubt that Thursday might be a better choice if you're looking for more of the social interaction out of your dating journey, given that you're guaranteed to meet people in person at their mixer event, if you fancy it.
Where can you use the Thursday dating app?
Technically, you can use the Thursday dating app anywhere in the world. But for now, the London-based digital platform is only operating in its home city and New York.
However, singles in Dublin, Cardiff and Glasgow in the UK will reportedly also be able to access the app in the near future, with European cities such as Berlin, Paris, and Amsterdam to follow soon thereafter. We'll be sure to share any and all updates here!
And, if you do feel like branching out into dating on the occasional Tuesday or Wednesday, have a look at other 2023 dating trends the experts say are continuing to take over this year. Or, perhaps you're debating the pros and cons of Tinder vs Bumble? If so, our dating expert has revealed which option you might prefer...
Christina Izzo is the Deputy Editor of My Imperfect Life.
More generally, she is a writer-editor covering food and drink, travel, lifestyle and culture in New York City. She was previously the Features Editor at Rachael Ray In Season and Reveal, as well as the Food & Drink Editor and chief restaurant critic at Time Out New York.
When she's not doing all that, she can probably be found eating cheese somewhere.