Tinder vs Bumble—which dating app is best for you?
If you're braving dating apps, the decision between Tinder vs Bumble is probably one you've debated over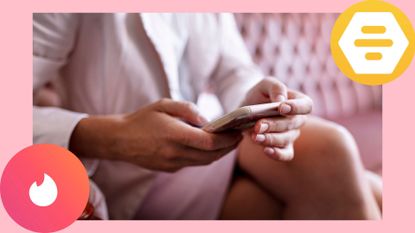 (Image credit: Getty; Tinder ; Bumble)
It's a clash of the love titans: Tinder vs Bumble, which is the dating app for you?
In recent years, more and more of us have taken to finding romance and connection through our phones, thanks to the best dating apps available for our perusal. Tinder and Bumble are two of the most popular options, but among fellow digital matchmakers like Hinge and Thursday, which one should you actually bother downloading?
Both Tinder and Bumble serve one purpose: to help you find your "soulmate." And while they share some similarities, they also have striking differences, such as gender range, messaging options and age ranges. These differences change the user experience, and some are notable enough to affect the way in which you might find love.
So, which dating app wins in the Tinder vs Bumble debate, and which might be more suited to you and your dating preferences? Here is a close comparison of the two apps and our verdict to help you decide the app worth your attention...
Tinder vs Bumble—how do the apps compare?
1. User profiles
Your profile can be a make-or-break factor in the world of online dating, so it's one of the most important aspects of any app. Many require their users to fill in long forms and provide extensive information about themselves to help them find their match. This is exactly what both Tinder and Bumble do, though there are some differences in the way they allow you to portray yourself via your profile.
Tinder asks for the basics, including your photo, name, gender (and sexual preference), age (and age preference in a partner), and search radius. It also asks for contact information, such as your email and phone number.
Bumble also asks for the same information, with a few exceptions—it is ever so slightly more accommodating to different gender preferences and identities. For example, on Bumble, you can type in your own gender identity and sexual preference, but on Tinder, you can only type in your own gender identity and not your sexual identity. However, both apps do have a list of both sexual orientation and gender identity to choose from.
Whatever app you choose, it is always advisable (and one of our biggest online dating tips) to keep your profile short and sweet to avoid overwhelming a potential match with too much information!
2. Privacy and security
The online dating world is fun and exciting, but it certainly has its shortcomings. Some users—women, in particular—can be concerned about creepy people following or messaging them online. While some apps are sloppy with security, Tinder and Bumble both do a good job of keeping their users safe.
Tinder requires both users to like each other's profiles before they can begin communication. However, one user can also decline the gesture if they so wish, meaning you can't get unsolicited messages.
Bumble also requires both users to make a connection before starting communication. However, Bumble is arguably more woman-friendly, as women users are the only ones who can actually start a conversation, ensuring once again that they don't receive messages from a person they don't want to talk to. This was a deliberate move from the founder Whitney Wolfe Herd, who want to create an app that was geared more toward women.
While both apps also offer their users guidelines on how to choose and approach the right match, it is still advisable to take your own security precautions when dating online, such as never revealing your exact location.
3. User interface
Both Tinder and Bumble can be used on your smartphone or via your desktop platforms, so you can browse on your laptop or iPad, too.
The smartphone apps look and feel sleek, and their simple user interface makes both of them very easy to use and navigate—so if confusing technology is putting you off, you needn't worry about that with both Tinder and Bumble. For example, users can easily switch quickly between different user profiles and explore individual profiles in more depth if they wish.
Tinder also goes one step further by offering a stealth mode, whereby the application is designed to look like an Excel file, for users who might be having a browse at the office...though that wouldn't be our top piece of relationship advice!
4. Communication options
Both Tinder vs Bumble offer multiple communication methods, but as you may have suspected, in-app messaging is usually the preferred option.
On both apps, you can only message people that you have "matched" with (e.g. you have both liked each other's profiles), and as mentioned, on Bumble, only women can message first. If you prefer women messaging first, Bumble may be for you—but if you'd like the option for either party to message first, you might prefer Tinder.
Other communication alternatives include voice calls and video calls, as well as voice notes in messages. These are optional though, and many people only choose to share their phone numbers with people they've been talking to for a little while. And of course, if two users match, they can meet up for a date and get to know each other in person—which is the overall purpose of both Tinder and Bumble.
5. Premium offerings
Many dating apps are free, and anyone over the age of 18 can join. However, some features are advanced, and only available to users with premium accounts. Tinder and Bumble both have premium subscriptions with features only available to users who pay extra.
On Tinder, there are actually three premium options: Tinder Plus, Tinder Gold and Tinder Platinum:
Tinder Plus offers a range of features, including a free monthly boost, unlimited likes, no ads, a global audience, and even the ability to change your mind on a swipe.
Tinder Gold offers all that and more, including the option to access a list of ideal recommended options and to see the people who already like you before swiping right.
With Tinder Platinum, you get everything from the Gold level, plus the ability to message before you make a match and see old likes you've sent. Platinum is only available as an upgrade to Tinder Plus and Tinder Gold subscriptions though.
Bumble has just one premium option, called Bumble Boost. This option offers a range of additional features, including the ability to extend matches and reconnect with expired matches. However, the premium option will not give your profile an actual boost, extending it to more users, despite its name.
So in the Tinder vs Bumble debate, Tinder undoubtedly wins out if you're looking for extra features.
6. The people you'll meet
Though both apps are very popular, the range of people you can expect to meet on each can vary. As of January 2021, Bumble had reportedly 42 million active monthly users, and Tinder has been downloaded over 430 million times, so there is arguably a wider base of users to meet on Tinder.
The age range also varies slightly. Tinder initially had a reputation as somewhat of a hookup app, meaning that their users tend to be younger; in fact, 50% of their members are said to be between 18-25, so it may feel like a better option for the younger generation. That doesn't mean there aren't plenty of 25+ on the app, though! And with so many users, there's no doubt you'll meet someone in your age range.
Fifty percent of users on Bumble on the other hand are between the ages of 18-30, meaning their database tends to skew slightly older. Bumble also tends to be seen as an app for more serious relationships, given that women need to start the conversation first, and that their users tend to be older. But again, it pays to be wary of generalizations—many people have found both serious relationships and casual hook-ups on both Tinder and Bumble.
Both apps differ quite vastly when it comes to the ratio of men vs. women on their apps though too. On Tinder, there are said to be twice the amount men as there are women, whereas the ratio on Bumble is reportedly about 50/50. It means that while there's more choice for straight women or gay men on Tinder, there's a pretty even chance for every sexual preference on Bumble.
Location plays a part too. Bumble allows users to set their preference to "nationwide," so they can get chatting with anyone in their home country, while Tinder has a limit of 100 miles.
Verdict—should you go for Tinder or Bumble?
The dating app you end up using will depend on what you're looking for from your experience, but using either Tinder or Bumble will exponentially increase your chances of finding your ideal match.
For some, Tinder may have the edge over Bumble because of its vast user base and exciting premium options—while others will prefer the fact that conversation is led by women on Bumble, and that the split of men to women is more even.
Both apps have a certain reputation—Bumble's as a means for finding a more serious relationship, and Tinder's for a more casual meet-up—but we'd argue that there's an equal chance of finding what you're looking for on both apps, as long as you're open and honest with anyone you chat with.
Tinder vs Bumble—the decision is yours!
Amy Hunt is a lifestyle writer and editor, and was previously Lifestyle Channel Editor at womanandhome.com, having been with the brand since 2015. She is passionate about everything from entertainment to books, to homes, food and wellness. When she isn't editing, researching or writing articles, he's busy burying her nose in a gripping thriller, practising yoga, or buying new homeware.