Does Tokyo from 'Money Heist' appear in season 5 part 2?
Have we seen the last of Tokyo from 'Money Heist'? Here's how the beloved character will factor into the final episodes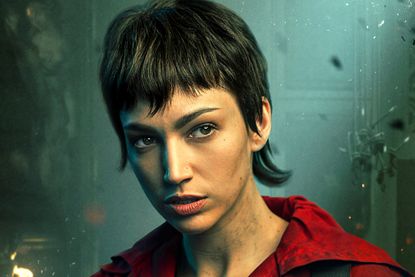 (Image credit: Netflix)
The final half of the last season of Netflix's Money Heist (also known as La Casa de Papel) has finally been released, bringing the beloved crime series to an end.
*Warning: Spoilers ahead!*
The final episodes follow The Professor (Álvaro Morte) and the rest of the thieves as they continue to try and pull off a heist in the Bank of Spain after it was revealed that fan-favorite Tokyo (Úrsula Corberó) is the one who dies in Money Heist season 5.
Nobody saw Tokyo's death coming—she'd been our day-one narrator and been integral throughout the entire series. So even though the showrunners said she would still be a part of the final season, we were a little unsure as to how. Would it be a flashback situation like with Berlin or something different?
My Imperfect Life did a little digging and is happy to share with you Tokyo fans how the character remains a part of the hit Spanish-language series through its final episodes.
How was Tokyo from 'Money Heist' killed?
In season five part one, Tokyo was killed during an invasion of special forces, which resulted in her being shot multiple times. She knew she was going to die anyway so ended up blowing herself up in order to take several of the special-forces soldiers down with her.
It was a pretty brutal death for someone who has been in the show since it first began in 2017. Even though she was a little bit of an unreliable narrator we are going to miss, we are very happy to hear that she was still be making an appearance from beyond the grave in the new episodes.
Is Tokyo really dead in 'Money Heist'?
We know from the death of Berlin in season two that, even in death, big characters still play an integral part of the show's plot. This is definitely the case with Tokyo, as we quickly discover that she is still our narrator in the new eps!
We also witness a very moving scene in the last episode of season five part two—we see her share another farewell with Rio (Miguel Herrán) from beyond the grave. We see as Rio bends down, they can still feel Tokyo's spirit in the room where she died.
As Rio has this moment, we hear Tokyo talking about how even after you've left this life, your spirit lingers for a little bit in the real world, which allows her to tell Rio that she is okay. This also leads to the moment where we may have shed a tear, as Rio tells Tokyo's spirit that a door will always remain open to her in his heart.
Yes, you guessed it—it's a reference to the discussion Tokyo and Rio had during the first heist in the Royal Mint of Spain in seasons 1 and 2, where Tokyo tells Rio about how her mother made up a story about a small door drawn on the wall in chalk and how if Tokyo was scared, she could open the door and her mom would be right there. Sorry, don't mind us, just sobbing over here!
Tokyo is very much a lingering force in the final season, as even later on in season 5 part 2 she helps Stockholm (Esther Acebo), who is still suffering from PTSD after shooting Arturo Román (Enrique Arce). Tokyo leads Stockholm to the service lift where one of the surviving members of the special forces is hiding. It's actually a really sweet moment, as when Stockholm looks inside for a brief second, she believes the soldier is in fact Tokyo.
We also see Tokyo through flashbacks, as we have also seen Berlin (Pedro Alonso) and Nairobi (Alba Flores) since their deaths.
We continue to see Tokyo in the classroom with the other thieves and The Professor while coming up with the Bank of Spain heist as well as other moments, which may or may not include her dancing alongside our favorite band of criminals.
Money Heist seasons 5 part 2 is out on Netflix now.
Liv is a freelance journalist currently studying English at university. She loves covering everything from entertainment and politics to lifestyle and travel. As well as writing for My Imperfect Life, Liv has bylines in The Times, HuffPost, Den of Geek, Bustle The Metro and The Bookseller.