Who dies in 'Money Heist' season 5?
We hope you're caught up because this is who dies in 'Money Heist' season 5. Spoilers ahead!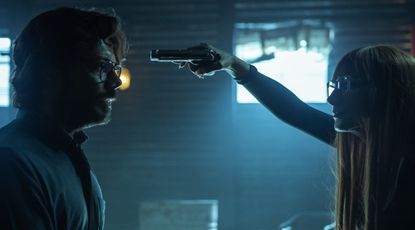 (Image credit: MANOLO PAVÓN/NETFLIX)
Netflix hit crime series Money Heist (La Casa de Papel) is reaching its end as the second half of the final season just dropped on Netflix on Friday, December 3. The first five episodes ended back in September with the answer to "Who dies in Money Heist season 5?" and it was a massive twist that not even us here at My Imperfect Life saw coming.
Money Heist follows a group of criminals who pull off daring heists at the Royal Mint and the Bank of Spain. The Netflix show has drawn in millions of viewers over five seasons as fans are eager to watch every twist and turn that's thrown at their favorite criminals.

Season five is no exception as the hit crime show saw the life or death of a fan-favorite character change forever. Whose deaths are we hinting at? To catch you up ahead of the final episodes, here is everyone we lost by the end of La Casa de Papel's season five part one.
*It goes without saying but there are major spoilers ahead!*
---
---
Does Tokyo die in 'Money Heist' season 5?
Unfortunately, yes, Tokyo dies.
How does Tokyo die in 'Money Heist'?
Season five's heist focuses on the Bank of Spain and as the codenamed group decides to split up, Tokyo, Manila, and Denver are left to keep the military away. This results in Tokyo trying to pull off some superhero moves that don't really go to plan and result in her being shot not once, not twice, but a whopping five times in both her arms and legs.
That doesn't automatically lead to narrator Tokyo's death though, because as the trio is trapped with only the dumbwaiter as a way out, the five bullets in Tokyo's body make it a little difficult for her to escape easily. As Manila and Denver manage to make it down the dumbwaiter and leave Tokyo behind, the military close in and Tokyo realizes her fate.
She manages to say goodbye to Rio and the Professor as she embarks on a suicide mission to shoot as much of the military as possible to give the group enough time to try and escape. In Tokyo's final act she pulls out a grenade and dies among her adversaries.
Is Tokyo the only 'Money Heist' character that dies in season 5?
Nope, alas, there are a few more casualties on the show:
1. Gandía
To be honest, we saw this one coming a mile off. The head of security at the Bank of Spain (José Manuel Poga) narrowly escaped with his life at the end of season 4 after he was knocked out by his own crew while they were out for revenge for Nairobi. But it's season 5 where he meets the end of his stick as he turns over Tokyo's body to find the grenades, and receives the full brunt of the explosion.
A lot of fans thought this was a fitting end for Gandía as it meant that Tokyo, who was closest to Nairobi, also took out her killer.
Tokyo died But took gandia with her #MoneyHeistSeason5 #LCDP5 #LaCasaDePapael pic.twitter.com/eEMawKGiuwSeptember 4, 2021
See more
Tokyo died in Glorious happiness😋But Gandia died in Painful Hell🔥#MoneyHeist #MoneyHeist5 pic.twitter.com/iPAg9hXRqMSeptember 4, 2021
See more
2. Arturo
This death was something Money Heist fans had actually been wanting for a long time and it looks like their wish was finally granted?
If Arturo doesn't die in the new season of Money Heist. I will personally go kill him idcSeptember 2, 2021
See more

Bank of Spain director Arturo Román (Enrique Arce) met his death at the hands of his former lover and secretary Stockholm (Esther Acebo) as she shot him multiple times and he was declared dead.
However, Stockholm did feel guilty that she had killed Arturo and tried to bring him back but whether or not it was too late is yet to be seen as at the end of season 5 part 1 Arturo is in critical condition. Does this mean he's dead dead? You'll just have to watch the final episodes to find out!
Me after finishing #MoneyHeist thinking how TOKYO died while mfing ARTURO survived: Lemme do the fvking JOB!!! 🤬 pic.twitter.com/RVM0UThCdsSeptember 3, 2021
See more
Monica shot Arturo then brought himback to life #MoneyHeist pic.twitter.com/cTx2W9bBbySeptember 3, 2021
See more

All of the seasons of Money Heist so far are currently streaming on Netflix, if you need to binge before digging into season 5 part 2.
Liv is a freelance journalist currently studying English at university. She loves covering everything from entertainment and politics to lifestyle and travel. As well as writing for My Imperfect Life, Liv has bylines in The Times, HuffPost, Den of Geek, Bustle The Metro and The Bookseller.