Is Money Heist in English? What to know about watching the hit crime series
Are subtitles and dubbed voices in your future or is Money Heist in English? Here's what viewers need to know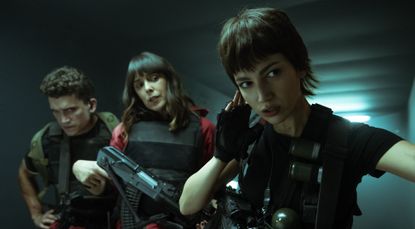 (Image credit: TAMARA ARRANZ/NETFLIX)
The second half of the final season of La Casa de Papel, known in the United States and the United Kingdom as Money Heist, is finally available to watch on Netflix and curious viewers are wondering, "Is Money Heist in English?"
Money Heist, which is one of the most-watched series ever on the streamer, is about a group of criminal masterminds who pull off a daring heist at the Royal Mint.
The much-loved show has drawn fans in across five seasons with its powerful plot but what language the show is in and should be watched in is a big debate among viewers. Is Money Heist in English? Is it in Spanish? My Imperfect Life has all the intel!
---
---
So, is 'Money Heist' in English?
The short answer is no. Money Heist is a Spanish-language television series, featuring an entirely Spanish cast. However, the show has been dubbed over in several languages, which led it to be the most-watched non-English language series on Netflix.
Why is it in Spanish? La Casa de Papel or Money Heist first aired in October 2017 on the Spanish TV channel Antena 3. Believe it or not, the show was actually a flop when it premiered in Spain, as by the time the second half of the 15-episode first season aired the viewership and enthusiasm for the show had declined.
However, that decreased viewership did not stop Netflix from acquiring the global streaming rights for the series a month after it aired, allowing them to dub the series for international distribution and help it become the worldwide phenomenon it is today.
What languages can you watch 'Money Heist' in?
Along with its native Spanish, viewers can watch the crime series dubbed in English, French, Polish and Brazilian Portuguese. If you're not down with dubbing, you can watch the show in Spanish and simply turn on subtitles, which are available in English, European Spanish, French, Polish, and Arabic.
Who are the 'Money Heist' English voice actors?
Curious as to who the folks are behind those now-familiar voices? Here are all the voice actors you'll hear in the English-dubbed version, in alphabetical order:
Alberto - Bob Buchholz
Alison - Reba Buhr
Angel - Keith Silverstein
Ariadna - Erika Harlacher
Arturo - Brian Beacock
Berlin - Chris Smith
Denver - Doug Erholtz
Helsinki - Jamieson Price
Maribi - Barbara Goodson
Mercedes - Johanna Luis
Monica - Anne Yatco
Moscow - Michael Sorich
Nairobi - Cherami Leigh
Oslo - Joseph Whimms
Pablo - Bryce Papenbrook
Paula - Hannah Swain
Prieto - Pete Sepenuk
Professor - Todd Haberkorn
Raquel - Cindy Robinson
Rio - Johnny Bosch
Suarez - Kyle McCarley
Tokyo - Cristina Valenzuela
What do fans think of 'Money Heist' in English?
When it comes to the dubbing of Money Heist, in 2019, Netflix made a conscious effort to make foreign content on the platform sound less awkward. This followed viewers' complaints about the English voices that dubbed the first and second seasons and saw Netflix redub those first two editions with a new voice cast, who also dubbed seasons three and four.
Netflix reported in 2019 that 72 percent of its American viewers preferred to watch Money Heist with dubbing rather than subtitles. However, even with all of the changes made, voice dubbing simply still isn't popular with some viewers. Several fans have taken to social media to complain about the dubbing, saying: "If u watched money heist in English then u didn't watch the show. Dubbed is always garbage"
if you're watching the dubbed version of money heist please block me😌 respectfully😌September 3, 2021
See more

Money Heist isn't Netflix's first Spanish-language series; it is in fact Club de Cuervos, a 2015 Mexican dramedy. Its popularity prompted Netflix to invest in other Spanish-language series such as the prep-school thriller Elite, which aired in 2018 and has been renewed for a fifth season. Other non-English language hit series are also Lupin, a French mystery thriller, and the Mexican series Who Killed Sara?
Álvaro Morte, who plays the ringleader known as the Professor in Money Heist, told Variety that he only fully understood the show's popularity after learning that some viewers had learned Spanish to overcome the language barrier. He proudly stated to the magazine: "I've heard that people around the world started studying Spanish because of Money Heist, just because they wanted to hear our real voices."
Even though Netflix doesn't often release streaming numbers, after Money Heist season 3 dropped, the streamer announced that the latest installment had been watched by more than 34 million households, breaking a record for a non-English title. At 65 million viewers, this means that Money Heist has drawn in even more viewers than the controversial Tiger King!
Liv is a freelance journalist currently studying English at university. She loves covering everything from entertainment and politics to lifestyle and travel. As well as writing for My Imperfect Life, Liv has bylines in The Times, HuffPost, Den of Geek, Bustle The Metro and The Bookseller.