Is 'Money Heist' based on a true story? Here's what inspired the Netflix crime series
It's certainly convincing, so many fans are wondering, 'Is Money Heist based on a true story?'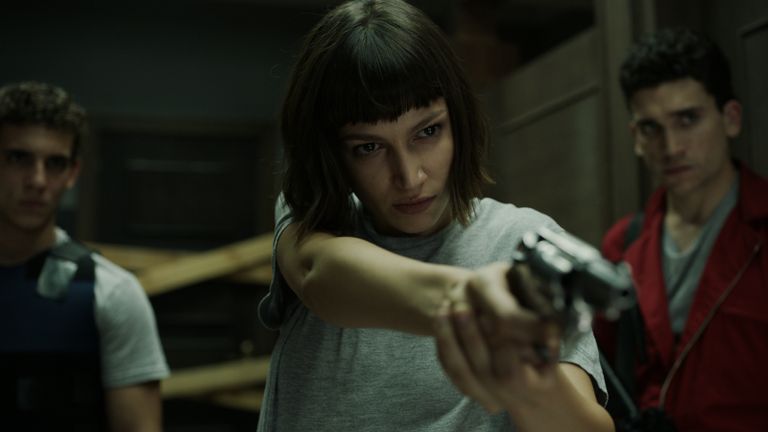 (Image credit: Netflix)
By Danielle Valente , Christina Izzo published
The Spanish Royal Mint is in jeopardy, and fans are asking, "Is Money Heist based on a true story?"
After an explosive rise in popularity on Netflix, the crime series focused on the Madrid institution has been a serious topic of interest for TV fans. But what's fact and what's fiction in this binge-worthy show? We'll help you break it all down.
(Warning: there are spoilers ahead, so proceed with caution if you're not caught up!)
---
---
Is Money Heist based on a true story?
The engrossing series, which originated as La Casa de Papel in Spain in 2017, focuses on a group of robbers who are attempting to carry out a heist of the Royal Mint. The premise doesn't seem entirely implausible, so many are wondering where the thriller received its inspiration.
Is it based on a true story? Well, yes and no: Although Spanish TV producer Álex Pina created the fictional show to hook a global audience—which he has, despite the Spanish premiere initially being less than favorable—he has a few nods to real life that makes things seem more convincing, according to Express. The gang's signature red jumpsuits and Salvador Dalí masks are all IRL references to socialism and going against society.
But what about the robbery itself? Is that something that's ever happened, even if it hasn't been attempted by the gang we've come to know in the show? According to The Sun, there haven't been any robbery attempts on the Royal Mint in real life, though actual capers like the Isabella Stewart Gardner Museum heist and the Antwerp diamond heist have likely inspired Money Heist in some way.
Where was Money Heist filmed?
The show might use real-life locations in its script, but its filming locations have been slightly altered, according to Distractify. The majority of the series has been filmed in Spain, but The Spanish National Research Council is used in place of the Royal Mint.
Throughout the series, you'll find the actors across various European cities. The outlet further reports that the underwater vault scenes were filmed in the UK, while part 3 takes place throughout Panama, Thailand and Italy.
With such a compelling storyline and great locations, it's so surprising to think that the show was originally a flop in 2017 when it hit the Spanish TV channel Antena 3. Thank goodness for Netflix swooping in to save the day, right?
Heist TV shows and movies to watch
If it's more exciting robberies you're after, Netflix has plenty of heist-focused TV shows and movies you can add to your streaming list. Here are three to start with:
1. Heist
Across six episodes, this true-crime documentary series tells the stories of "three of the biggest heists in modern American history, as explained by the people who pulled them off." One subject is Heather Tallchief, who at 21 years old ran off with $3 million from a Las Vegas casino.
2. Lupin
Though not based on real life, the French heist series is a winner with fans, who have turned the show into an international juggernaut. The series is centered on Assane Diop (played by Omar Sy), a charismatic thief inspired by Maurice LeBlanc's Arsene Lupin books.
3. The Great Heist
This Colombian mini-series follows the 1994 real-life robbery of the country's El Banco de la Republica, when a band of criminals escaped with a whopping $33 million. You'll have to see it to believe it.
Danielle is a writer for My Imperfect Life, where she particularly enjoys covering lifestyle and entertainment news. She was previously the editor of Time Out New York Kids and a news editor at Elite Daily. When she's not working, you can find her reading a good book and enjoying a cup of coffee. Follow her @dvwrites.