Your weekly horoscope is here: April 4 – April 10
Welcome to this week's horoscope! It's time to get the romance on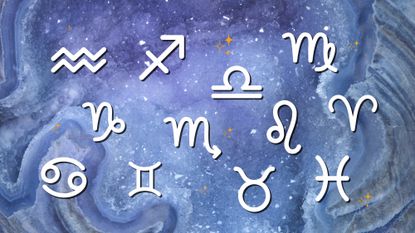 (Image credit: Future)
Welcome to your weekly horoscope! The week ahead comes with speed as the cosmic messenger, Mercury, spends its last week in Aries (it enters Taurus on April 10). Communication will be fast, filling up your phone and inbox with messages, plans, and perhaps even new proposals and opportunities.
Monday brings an incredibly impactful transit as active Mars meets with stern Saturn. This aspect can either make us angry or ambitious, so err on the safe side by channeling any fire lighting up inside towards your goals.
The best news of the week is brought by Venus, the lover of all things pleasure. Since early November of 2021, Venus has been traveling in a tough spot in the sky. And as she enters Pisces, her absolute favorite sign to be in, on Tuesday, she sets us up for a month full of love and romance. Like the April horoscope suggest, it's a time for love—whether single or taken, this is your time of the year to either embrace more romance or manifest love into your life (check out your love horoscope for 2022)! While this is the big job that she has, Venus also rules art, pleasure, and social interactions, so there's really no limit to the goodies she can bring our way while she's swimming in the waters of this dreamy, compassionate sign.
Lastly, do be advised that the cosmos brings intensity to our conversations at week's end, so think before you speak!
Weekly horoscope: what does this week have in store for you?
Aries
You have a golden and productive week ahead of you, Aries. Mars meeting up with Saturn this week means investing your precious time on something that will withstand the test of time. If you're signing a contract or taking a relationship to the next level, know that it will most likely be long-term. With Mercury in your sign, your words have power, just make sure to use your fire wisely over the days ahead!
Taurus
This is a week to focus on work, as Mars and Saturn activate your tenth house of work and public visibility. If you have a deal to sign or a project to finish, this combination lends you endurance. Then as Venus enters your eleventh house of community, it's time to network, baby—not only this week, but for the rest of the month. You could end up meeting people who could not only be fun but who could help you reach your goals, too.
Gemini
Your ruler, Mercury, makes positive connections with Mars and Saturn this week, igniting your inner fire. It's definitely a week to assert yourself, especially in the realm of career. But because Pluto is also involved, it's vital that you watch your actions and words to not come off as ruthless, Gemini. Luckily, Venus entering your sector of public visibility smooths out your approach so you can make the best of the week ahead.
Cancer
This is a week to be a little careful with your interactions, Cancer. Communication will be speedy, and things will run smoothly, but at the end of the week, a partnership could become intense and even turn sour. So, definitely take your time before you speak and act. The Moon is in your sign on Friday and Saturday, making these days ideal have a self-care day and even taking a weekend trip. Some hours on the beach or by a lake could do wonders for you!
Leo
This is one of the most powerful weeks of the year to focus on YOU, Leo. Take a day off, focus on a passion project, or buy yourself an item you've been wanting for a while. The Moon will also be in your sign over the weekend, putting you in the spotlight. If you don't normally like receiving attention, it would be good to embrace it this time around. If you're a Leo who likes to shine, eat the world and have fun doing it!
Virgo
As lover Venus enters your seventh house of partnerships, you receive some serious luck in the romance department. If you already have a partner, it's time to plan a weekend getaway in the next couple of weeks. If you don't and wish for one, there is no better time to put yourself out there while the stars are working in your favor. If none of those apply, surrounding yourself with more art and beautiful things does the trick!
Libra
This week marks a big shift for you as your ruler, Venus, becomes incredibly strong. If you have been feeling down lately, this powerful shift should pick your spirits back up in no time, Libra! This also grants you star power to channel in whichever endeavor you like, whether that's a partner, a new job, or even more friends. The energy rarely gets better than this, Libra, so what will you manifest for yourself?
Scorpio
Monday is a powerful day to sign professional deals and contracts and even plan a home renovation as Mars and Saturn activate your sector of home and career. However, do keep in mind that communication will be fast and furious, especially towards the end of the week. If someone provokes you, Scorpio, don't fall into their trap, as they could make you look bad. Good thing you are a master at seeing right through people!
Sagittarius
As Venus joins your ruler, Jupiter, in Pisces this week, the universe is setting you up for big success. The next four weeks set the perfect terrain for you to chase your goals—regardless of their nature. If you are not sure where to pour this magnificent energy, connect to your intuition as this planetary combination will not only enhance your sense of spirituality, it will also thin the veil so you can connect with your ancestors.
Capricorn
Go for it, Capricorn! At the beginning of the week, Mars injects you with firepower as it meets with your ruler, Saturn. Use this ambitious energy wisely to assert yourself or create a strategy that will help you attain a long-term goal. Do keep an eye out for intensity in your communication this week as Mercury clashes with Pluto in your sign. If someone confronts you, it's best to take the high road and not partake in their drama.
Aquarius
Driven Mars meets with stern Saturn in your sign, so you should feel a rush of energy building up inside of you as you enter the week. You will have great patience and stamina at your disposal, so channel it wisely to complete a difficult or long-term task. Communication gets distorted at the week's end, so don't believe everything you hear. If a secret gets unveiled, it might be better to wait for another week to share your feelings about it.
Pisces
As lover Venus enters your sign this week, you should be feeling a deeper pull to spend more time connecting to your intuition and the world of dreams. Follow that path, Pisces. It's in this magical space where you can find an enormous amount of inspiration, this is especially true if you're a creative. You also receive magical manifestation powers for the next three weeks, so don't forget to use this influence wisely by applying it to a goal or a cherished dream.
Cute astrology-themed gifts
Brand
Colour
Price
Refine ☵
Sort By
Athena Antares is a traveling writer, astrologer, and mystic who believes in adding a touch of magic to everyday life. She has written horoscopes for numerous lifestyle publications and has dived deeply into astrological magic and manifestation spell work. In her spare time, Athena enjoys exploring new places, spending time in nature, and reading charts for her worldly clientele.