Your weekly horoscope is here: February 7 – February 13
A new weekly horoscope brings forward a very welcome post-retrograde calm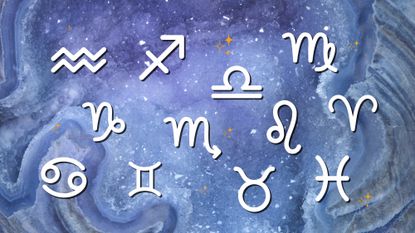 (Image credit: Future)
A relatively mellow week is in store for us, with only one intense astrological aspect forming in the sky. With Mercury now direct, all delays and tech issues should begin to fade away. However, last week's connection between Mercury and Pluto reaches a climax, as these two planets meet on Friday. Expect conversations to take a deep and serious tone, making this a good time to get to the bottom of troubling issues.
The best news of all is that from this week on, there will be no planets in retrograde in the sky. This happens only once a year, and in 2022, it will last until April 29. This means that for the most part, there is only forward movement, as we are bound to run into fewer delays and obstacles. However, it's important to note that there are also no planets in fire signs. Fire is the element that energizes us and prompts us to act. So, while manifestation will be very possible for the next few months, we will have to channel our inner fire in order to go after our goals.
Luckily, Tuesday's Mars-Uranus trine can create that spark, gifting us courage and allowing us to take a few risks. This twice-a-year positive connection between the planet of action and the planet of liberation is an amazing opportunity to try something new, and even break from whatever feels boring or stale.
---
---
Weekly horoscope: what does this week have in store for you?
Aries
Since your ruler Mars is the star of this week's show, you're one of the best-positioned signs to take advantage of this week's Mars-Uranus connection. As it will be linking your career and money sectors, it could spell a raise as well as the opportunity to move to a higher job position. This is one of your best chances of the year to make headway, so take advantage of opportunities that come to you around this time.
Taurus
The very beginning of the week is an amazing time to plant the seed of something new and exciting. The Moon will be in your sign while forming a strong and fortunate connection with Mars in Capricorn. It's time to think big, Taurus, and take a risk that will open your mind to new and amazing possibilities. 2022 will be like no other year before, so take this chance that the universe gives you to see life through a more colorful filter.
Gemini
For you, Gemini, last week's deep and introspective energy spills into this one as the meet-up of Mercury and Pluto reaches its climax. Suddenly, all the situations that came up for you could start making sense. But the biggest news is asteroid Ceres entering your sign, meaning that for the next few months, you could notice a deep need to nurture yourself. Eating healthy, practicing self-care, and monitoring the quality of the information you take in become more important now.
Cancer
It's time to get out of your comfort zone, because the more you do, the more opportunities will show up for you. This is especially true over the weekend when the Moon in your sign will connect to many different planets. If you're looking for some action in the romance department, you could cross paths with a new love interest when you dare to take the road less traveled.
Leo
This is a week to make big and bold career moves, Leo, as both sectors that rule career will be activated in your chart. Something is brewing under the surface, and you will find out what this is as soon as next week arrives. As a fire sign, you've got energy to spare, so don't hesitate to lend some of that shine to someone who, like you, might be looking into making some headway at work.
Virgo
With most of the astrological activity taking place in earth sign pals, you're feeling in your element. In fact, you might be so deeply focused on figuring out something, that you might forget about the outside world. Alternatively, you could also be obsessing about a new love interest, so make sure to keep things light if you're beginning to date someone new. By the time next week arrives, things will begin to feel much lighter.
Libra
This is a very positive week in the sky for you, Libra. This is especially true if the retrograde of Venus was intense for your home life. The Mars-Uranus connection points to sudden but good changes happening in this sector of your chart. And luckily, more healing and nice surprises are on the horizon. Be open to changing your routine and doing things differently at home, as doing so will only make your life easier over the week ahead.
Scorpio
If you're in a serious relationship, Scorpio, this is a fabulous week to focus on improving the communication with your partner. This is especially true if things got intense during the month of January when Venus retrograde might have been stirring up some drama in your communication sector. The same applies if you have a business partner, as the planets will be aiding you in getting your point across when it comes to your one-on-one relationships.
Sagittarius
For many weeks, you've been focusing on getting your financial situation under control. This has required you to unearth some of the negative patterns you had around money. And over the week ahead, the planets really help you create a better relationship with it. If you've been wanting to sign up for financial apps or programs that can help you retain the order in this sector of your chart, this is the time to upgrade your financial tech!
Capricorn
You are the sign that can benefit the most from this week's Mars-Uranus trine, as Mars is currently positioned in your sign, energizing you to charge ahead on your goals. Serendipity is also on your side, bringing synchronicities that could put you face-to-face with folks who can help you along the way. Under this week's astrology, you are most likely to meet them when you're out socializing, enjoying yourself, and having fun!
Aquarius
Juno, the asteroid of marriage and commitment is now in your sign. From now until mid-April, you could feel a newfound need to take certain relationships more seriously. We know, you're not the most committed of all signs—but hosting Juno could and will most likely change the way you connect on a one-on-one level. If you're in a serious partnership, this asteroid's influence could very well spell long-term commitment and a ring on your left finger.
Pisces
For you Pisces, this is a week to focus on community, as the cosmos is pouring all its energy into this area of your chart. Go out and mingle, email people, and express all the things that you're currently going after. Under this week's weather, you could very well run into someone who could assist in making them happen, dear Pisces. Keep your mind as well as the lines of communication open, as serendipity could be knocking at your door.
Athena Antares is a traveling writer, astrologer, and mystic who believes in adding a touch of magic to everyday life. She has written horoscopes for numerous lifestyle publications and has dived deeply into astrological magic and manifestation spell work. In her spare time, Athena enjoys exploring new places, spending time in nature, and reading charts for her worldly clientele.