Your weekly horoscope is here: January 10 - January 16
Mercury retrograde is coming—but never fear! This weekly horoscope will guide you through the whole cosmic mess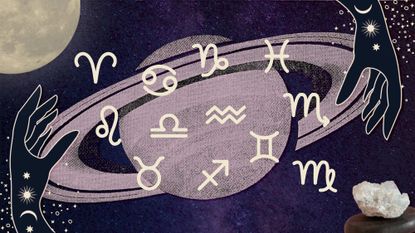 (Image credit: Future)
After last week's helpful vibes, an intense time lays ahead! We are in the last week of Capricorn season, and before the Sun moves to Aquarius, it will form some interesting connections with other power players.
On Monday, the Capricorn Sun makes a friendly connection with Neptune, the planet of fantasy. This is a dreamy and easy influence—however, we must keep our wits about us. Two of the most intense planets, Mars and Pluto, will also be up in this week's astrology mix.

Since Mars represent anger and Pluto is power, we could suddenly find ourselves involved in a tricky situation if we are not careful. "Power" and the many ways we approach it—whether at work or in our most important relationships—is the keyword here, which is a theme we have been working with since Venus retrograde started.
On Friday, January 14, Mercury (the planet of commerce, technology, and all things communication) also goes retrograde. It's not very common to have two natal planets retrograde at the same time, so expect to feel a sudden shift in energy.
While these two retrogrades overlap for the next two weeks, we will feel a deep need to go within. When interacting with the outside world, try approaching things from a different perspective, while also finding out-of-the-box solutions to new-found challenges and situations.
---
---
Weekly horoscope: what does this week have in store for you?
Aries
You're feeling ambitious, fiery, and ready to charge ahead! But since your ruler, Mars, runs into a clash with the master of illusion Neptune, you might be missing important details in the process. If you have an important meeting, talk, or event, spend more time than usual plotting your delivery. This is a week to communicate with more strategy in mind. This is especially true with Mercury going retrograde in your eleventh house of community.
Taurus
Luna's journey through your sign gets up to some tricky business with other planets at the beginning of the week. On Monday and Tuesday, set aside some time to practice self-care. Later on, Mercury's retrograde journey happens in your tenth house of career and public visibility. For the next three weeks, your image may need some polishing and you may have to resolve differences of opinion on your status. However, attending to these stumbling blocks will create smooth sailing down the road.
Gemini
Free your mind and the rest will follow, Gemini! This week marks such an important moment in time for you. As your ruling planet, Mercury, goes retrograde, you could be downloading an amazing amount of information in the form of ideas. While kind of strange and different, these ideas could eventually turn into something meaningful. Embrace the slower cosmic pace the next three weeks provide so you can explore the newfound and out-of-the-box inspiration that is available to you.
Cancer
Last week's themes spill into this one as the Sun's light illuminates the need to deal with some power struggles within an important relationship. Whether it's romantic or business, there seems to be an issue that needs to be addressed. By any means, protect your heart—but do not hide from facing this situation head-on! Doing so will lead you two to experience a new beginning in the way you relate to one another.
Leo
You have an interesting week ahead as your ruler, the Sun, merges with asteroid Juno. You seem to be ready to commit to someone or are getting closer and closer to sealing a deal. However, because sneaky Pluto will also be part of the mix and Mercury is going retrograde, make sure you cover all your bases. Ask questions, read the fine print, and make sure you know what you're getting yourself into.
Virgo
It's that time again, dear Virgo. Your ruler, Mercury, begins its first retrograde of the year this week. Since this happens in your sixth house of work and daily routine, expect surprises, tech issues, and misconnections. While these might be annoying, try seeing them as blessings in disguise. Sure, you will lose time and your productivity might stall. But this can be a great opportunity to move through life a little slower for the next few weeks.
Libra
Keep a low profile, Libra. Communication gets tricky over the days ahead, so be mindful of your exchanges. There seems to be intensity in the way you communicate, which can be distorted by the presence of Neptune in your sixth house of work and daily routine. At the beginning and the end of the week, be careful with what you post on social media, as some of your words and images can be easily taken out of context.
Scorpio
With Mercury retrograde happening in your sector of home and family, there seems to be something about the foundation or stability of your nest that needs to be looked at. Alternatively, there might be a disconnect with your partner, roommate, or someone you live with. The next three weeks will be about diving to the heart of the matter to get it resolved. Good thing you're a master at diving into the deep, Scorpio!
Sagittarius
This could be a confusing week when it comes to interactions, Sags. For starters, Mars in your sign clashes with Neptune in your fourth house of home and family. This can cause misunderstandings, so think twice before speaking, as you could hurt someone close to you. Later in the week, Mercury goes retrograde in your sector of communication. The next three weeks may well mark a lot of ebbs and swirls in the social fabric you move in.
Capricorn
Venus retrograde in your sign has been delaying things at work or with a certain project. And as Mercury joins the retrograde party, you might begin to lose a little bit of your patience. At a deeper level, these two retrogrades are helping you figure out your next steps for the year ahead. Take this opportunity to really think about what you want to focus your precious energy on. In about three weeks, you will gain so much clarity, that you might even amaze yourself.
Aquarius
Mercury goes retrograde in your sign this week, Aquarius. Expect surprises, unexpected messages, and your devices to go haywire. However, at a deeper level, it's an exciting time for you. So much has been changing for you since the past year, and this transit is a special point in your journey of transformation. This begins a three-week period during which you can redefine the way you project yourself to the outside world.
Pisces
Try keeping a low profile over the week ahead, Pisces. As intense Mars clashes with your ruler Neptune, some haters could suddenly show up out of the blue to gossip or throw shade at you. Protect your energy with visualization and healing crystals. Alternatively, you could feel guilty for relationship drama that happened in the past (hello, double retrograde!). Remember that you can't change what previously happened—all you can do is learn from it.
Athena Antares is a traveling writer, astrologer, and mystic who believes in adding a touch of magic to everyday life. She has written horoscopes for numerous lifestyle publications and has dived deeply into astrological magic and manifestation spell work. In her spare time, Athena enjoys exploring new places, spending time in nature, and reading charts for her worldly clientele.