Your weekly horoscope is here: January 17 - January 23
"Expect surprises, big shifts, and unexpected blasts from the past (hello, Mercury retrograde!)"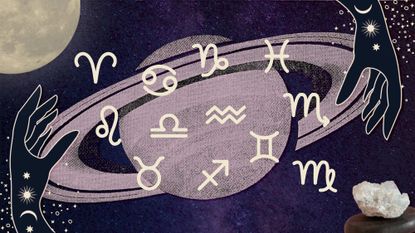 (Image credit: Future)
A very exciting week is upon us! As soon as Monday arrives, we welcome what is arguably one of the most powerful lunar events of 2022.
This week's Full Moon is the perfect opportunity to leave the past behind so we can move forward with more authenticity. Since it's happening in water sign Cancer, we are bound to feel sensitive—but it is in this deeply emotional space where we can get the release we are looking for.
This week also brings the arrival of Aquarius season exactly as Uranus, the planetary ruler of this sign, wakes up from its five-month retrograde. Expect surprises, big shifts, and unexpected blasts from the past (hello, Mercury retrograde!). As you go through your week, keep an open mind to whatever the universe brings. Expect resistance to be your first reaction—but know that the more you go with the flow of life, the more you will make of the season ahead.
Sunday is a special day, as it brings the merging of the Sun and Mercury retrograde, which could bring a huge "aha!" moment concerning the negative patterns that are holding us back from reaching our full potential. So, if you've been looking for some answers from the cosmos, this is the time to sit in silence and listen to the goodies the day has for us!
---
---
Weekly horoscope: what does this week have in store for you?
Aries
For you, Aries, this week's Full Moon hits home! It will most likely illuminate the need to balance your work with your family or private life. Over the week ahead, try spending less time working—otherwise, you run the risk of over-extending yourself. On a more positive note, the beginning of Aquarius season marks the beginning of a month-long period in which you can really focus on networking and growing your presence in a community of your choice.
Taurus
You are heading into an exhilarating week, Taurus. As eccentric Uranus wakes up from its nap in your sign, you might suddenly feel the need to do something fun and wild! Go ahead and listen to that call because… why not?! As the Sun enters Aquarius, your tenth house of career and reputation get lit. The next four weeks are ideal to make huge strides at work, making it ideal to go after your most precious goals in this department.
Gemini
This week's Full Moon is happening in your second house of money and values. This could bring the end of financial effort—or alternatively, the need to look at the balance of give-and-take within a crucial relationship. As the Sun enters Aquarius, you're about to feel more in your element, as the energy for the month ahead will be about expanding your mind and absorbing life through knowledge, culture, and information.
Cancer
Monday brings a Full Moon in your sign, dear Crab! This means it's your yearly opportunity to get in touch with your feelings and really dive into your rich and beautiful emotional side. Since this moon will activate the transformative energy of Pluto, it's a more than ideal time to get rid of what no longer serves you. This applies to people, feelings, and material things that no longer resonate with you. Clean house—because there are better things on the horizon!
Leo
As Aquarius season arrives, so does a month-long period in which one-on-one connections will be important for you. If you've been wanting to work with a coach, trainer, or spiritual guide, this is the best time of the year to begin! On a deeper note, this Full Moon is happening in your sector of the subconscious mind, clearing out negative patterns and behaviors. At the beginning of the week, spend some time alone, as this lunation might give you an overwhelming need to fly solo.
Virgo
For you, Virgo, Aquarius season is all about working on formulating a routine that works for you. Combined with Mercury retrograde in this same part of your chart, you're learning all the tricks that you need to implement to get your life functioning for you—and not the other way around! This week's Full Moon is happening in your eleventh house of partnerships, which might translate into a friend needing your help. Good thing you have a kind heart!
Libra
Aquarius is your pal, so you can expect to be in your element over the season ahead. In fact, the next four weeks are an amazing time to be creative, have fun, and not worry so much about the rest. The Full Moon this week happens in your sector of public visibility, which could put you in the spotlight if you've been craving some attention from friends or the world around you.
Scorpio
Wow, Scorpio, what an interesting week! Uranus waking up from its nap could mean surprises within your most important bonds. Be open and willing to go with the flow—because it could not only be fun, it could bring you a blessing in disguise. The Full Moon has a philosophical tone for you. It brings you the opportunity to abandon some old and stale beliefs about life, love, and even success. Life is changing and you are evolving—so don't be afraid to also change your mindset for the better!
Sagittarius
For you, Sag, the Sun in Aquarius means a month in which you will focus on communication in all its forms. If you've been wanting to launch your blog, podcast, or a media project, the next few weeks are ideal for getting all your ducks in a row. Once Mercury goes direct on February 3, you will be more than ready to show the world your masterpiece.
Capricorn
Birthday season is now over, but that might actually be a sigh of relief. It's been an intense month, so it should help things settle for you once the energy of the Full Moon starts fading. This lunar energy will be illuminating issues within a partnership, romantic or business. Don't be afraid to have tough conversations, as doing so will set you up for success in the months ahead. Strike a balance, Capricorn.
Aquarius
Happy birthday, Aquarius! As the bright light of the Sun illuminates your sign, you are heading into a four-week period in which the cosmos encourages you to grow, expand, and think about your goals for the year. As you enter your birthday month, you are in the position to make an impression on others and to assert yourself in any area of your life. So, what will you do during such a powerful time, Water-Bearer?
Pisces
As the Sun enters and illuminates your twelfth house of the subconscious mind, you're entering a month in which you benefit from spending time alone and releasing old behavioral patterns. Do the work—and get ready for some serious blooming! This week's full moon is happening in watery territory, giving you the opportunity to get back in touch with your creative side. This is the perfect time to dust off that vision board.
Athena Antares is a traveling writer, astrologer, and mystic who believes in adding a touch of magic to everyday life. She has written horoscopes for numerous lifestyle publications and has dived deeply into astrological magic and manifestation spell work. In her spare time, Athena enjoys exploring new places, spending time in nature, and reading charts for her worldly clientele.