Your weekly horoscope is here: January 24 - January 30
Consider this weekly horoscope is "an excellent time to uncover and resolve underlying issues in your partnership"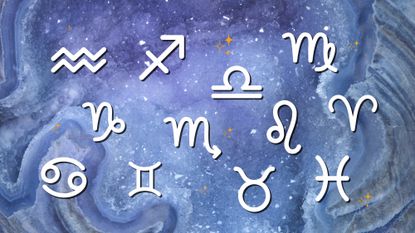 (Image credit: Future)
As we get ready to close January (and get ready for our February horoscope), we are on the verge of saying goodbye to an important retrograde (yay!). Venus—the goddess of love, pleasure, and relationships—goes direct on Saturday.
But before that, there is one last call for deep introspection as we integrate all the learnings from the past six weeks. This last evaluation of our closest relationships is performed by Juno, the goddess of marriage and commitment, as this asteroid meets Pluto, the planet of psychology and transformation.
While we are now in Aquarius season and the electricity in the air and the unexpected turns of events continue, there is still a deep focus on the sign of Capricorn. Two planets, Mercury and Mars, will enter this ambitious zodiac sign at the beginning of the week. While Mars in Capricorn can manifest as an incredibly strong influence to help us succeed, Mercury will also enter this sign while in retrograde motion. For this reason, this is not a time to begin new projects—instead, this combination of energies is best channeled by re-thinking and figuring out our next steps.
As we put on our CEO hats, it's important to remember that we are in Aquarius season, a time of the year in which our focus lies on the process of moving into the future.
---
---
Weekly horoscope: what does this week have in store for you?
Aries
Do you feel the heat building up inside of you, Aries? As your planetary ruler, Mars, enters its absolute favorite sign to be in, Capricorn, you're feeling more than determined. However, don't act impulsively. Instead, use this and part of next week to strategize your master plan. Once Mercury goes direct on February 3, you will be all set and ready to tackle some of your most successful weeks of the entire year!
Taurus
For the past few weeks, you've been in deep introspection mode, and this week, you reach the end of this journey. Venus goes direct at the week's end, bringing a sigh of relief and most likely a break for you. But before that, Mercury joins Venus in Capricorn, which is an influence that could help you integrate all the learnings during this important week. What did you learn about self-love, self-worth, and relationships, dear Taurus?
Gemini
A big week is in store for you as Mercury, your planetary ruler, enters Capricorn in retrograde motion. This is a rare kind of influence, which is bound to feel a bit strange. However, it could really present you with an opportunity for a do-over in the case that a project or idea didn't fully gel. While in Capricorn, Mercury gives you a methodical approach so you can get it right this time! This is how retrogrades can be so helpful.
Cancer
As Mars enters your partnership sector, it could feel like the work you have to put into a certain relationship is never-ending. Hang in there—because Venus is just on the verge of going direct. This is the last push, so try to tackle this week with a smile on your face. A deeper sense of commitment can be reached if some of the most sensitive points of the relationship are explored. By the way, this goes to all kinds of relationships, not just romantic ones.
Leo
As Mars enters your sixth house of work and daily routine, you could suddenly have a lot of energy at your disposal. However, because both Venus and Mercury are still retrograde in this part of your chart, it's not time to charge ahead yet. Instead, get your plan in place, so by the time Mercury goes direct, you are fully prepared and ready to rock! Once all planets are moving forward, you will be making huge strides towards your goals.
Virgo
Since Mercury went retrograde ten days ago, you might have been forced to revise or revisit an old project or situation. Now that Mercury enters Capricorn—a sign you are more in tune with—figuring out your method to solving this situation should be approached with a more fun perspective. After all, you are getting a call from the universe to slow down and bring more joy and creativity into your life.
Libra
The last few weeks could have been a little weird with Venus, your planetary ruler, in retrograde motion. However, you can't deny that all this introspection has brought pretty interesting things to your attention—most likely concerning your home and family life. As Mercury also enters this sector of your chart the same week that Venus goes direct, an aha moment or solution could now be possible. Pay attention to the signs, Libra.
Scorpio
Asteroid Juno, the planetary body that rules commitment, merges with Pluto, your ruler this week. If you're single, this could make you want to merge with someone at a soul level. Be mindful that you will not be satisfied with the relationship if it lacks real passion and desire. So, on-the-surface level connections need not apply! If you're taken, you could desire a deeper union with your partner. If it applies, this is also an excellent time to uncover and resolve underlying issues in your partnership.
Sagittarius
As Venus goes direct in your money sector at the end of the week, a financial situation could be getting resolved. But instead of spending money right away, use this week to integrate all the learnings from the past six weeks and put a plan in place that you can stick to. We get it, Sagittarius, you're not a fan of planning. But since 2022 is set to be a year of abundance for you, the more structures you have in place, the better it will all be—trust us!
Capricorn
With Mercury entering your sign in retrograde motion, a blast from the past could be in the cards for you. Whether it's an ex texting you out of the blue or a past project that needs to be revised, the need to deeply focus on something could be the tone of the week for you. The good news is that Mars enters your sign, heralding a six-week period in which you will ambitiously chase after your goals.
Aquarius
Mercury retrograde leaving your sign could feel like a weight coming off your shoulders. However, for you. the most important cosmic event of the week is the bright Sun forming an energetic square with Uranus, your planetary ruler. While this could initially show up as a surprise or a mini-crisis, it could catapult you to great visibility. Be open and go with the flow, as this is an opportunity that only comes around twice a year.
Pisces
For you, Pisces, Mars entering Capricorn means kicking off a six-week period in which the cosmos will ask you to spread your voice and network. Combined with Jupiter in your sign, Mars in Capricorn can help you soar to new heights. All you need to do is put yourself or your work out there—and let the universe take care of the rest. Use this week to start thinking about connecting with those who could support you, dear Pisces.
Athena Antares is a traveling writer, astrologer, and mystic who believes in adding a touch of magic to everyday life. She has written horoscopes for numerous lifestyle publications and has dived deeply into astrological magic and manifestation spell work. In her spare time, Athena enjoys exploring new places, spending time in nature, and reading charts for her worldly clientele.