Your weekly horoscope is here: January 3 - January 9
It's time to set intentions and smash goals—success is in the stars this week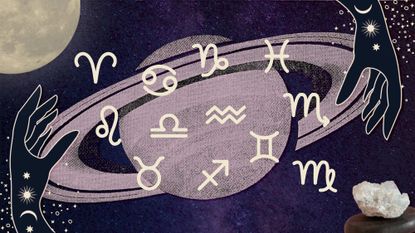 (Image credit: Future)
The astrology of the week ahead has us in full-on rebirth mode!
As we begin the first week of January, we are still under the vibrations of the New Moon in Capricorn. As the first lunation of the year happens in the ambitious sign of Capricorn, it's focusing our attention on themes of goals, career, and maybe even money.
But because it is activating Venus retrograde, it makes the beginning of the week ideal for meditating on success, how we go about it, and our relationship to it. In fact, this entire week is the perfect time to understand any negative patterns and/or preconceived notions around these themes. What does success mean to you? Both, collectively as well as personally, it's time to transform how we approach it!
On a lighter note, we have some dreamy astrological aspects for both romance as well as self-care. From Wednesday to Friday, the Moon will be in the compassionate sign of Pisces, providing easy and dreamy vibes. If a relationship has been under siege, the week ahead could provide some much-needed healing.
This week also brings the rebirth of Venus as the love goddess gets illuminated by the Sun. For us earthlings, this means an absolute reset in the way we approach all Venusian things: love, romance, and pleasure. From now until October, our collective approach to these topics will be more grounded and committed.
---
---
Weekly horoscope: what does this week have in store for you?
Aries
We know Venus retrograde in a sensitive part of your chart has been exhausting—but this week does provide the opportunity to see things from a new perspective. This week's lunar energy activates your career sector, bringing a renewed energy that will eventually release a new beginning for you. What is the universe trying to tell you? Over the weekend, turn off the noise around you and listen up! A moment of clarity is yours for the taking.
Taurus
This week, you get a little break from all the recent Venus retrograde annoyances. You could be receiving help from a friend or acquaintance, so take it while the universe throws you a bone. You've been looking for some answers when it comes to your career or business. And over the weekend, that aha moment arrives. Take time to attune to your intuition to receive this cosmic guidance, Taurus—it holds the keys to your future.
Gemini
You might have noticed a change recently, as Mercury, your ruler, has now entered Aquarius. Over the next weeks, your mind will be super busy. You could be quieter and focused on an important project. While it might require more work on your end, know that it's worth your time and effort. Notice what comes up for you this week, since a long-term trend could be beginning for you now.
Cancer
Sunday's New Moon could have been intense for you, but the good news is that this week's Moon in Pisces brings a healing and restoring energy your way. Over the weekend, Venus retrograde brings a moment of clarity around a key bond. Pay attention to the signs, as they bring signals around how to move forward in an important relationship. Trust that the changes required on your end are a blessing in disguise, dear Cancer.
Leo
Venus retrograde has been bringing shifts to your daily routine—and over the week ahead, you get a glimpse at the changes you need to make in this area of your life. While it might not sound like a lot of fun, this week's lunar energy is ideal for taking care of business, handling details, and increasing your efficiency by re-organizing or simply by working at tasks that help you get caught up in your work. This is especially true if you've recently experienced some delays.
Virgo
You like the earthy nature of Capricorn, so you're in your element, even with Venus retrograde. This week's lunar energy invites you to think about bringing more pleasure and fun into your life. 2021 was a year of shifts, so trust that in 2022, you will have time for more fun. In fact, this is a fabulous week to set some goals around this topic. Whether it's taking more time off or adopting a new hobby, don't be shy when it comes to putting yourself first.
Libra
Venus retrograde has been intense, to say the least. However, this week's energy provides you with some healing energy, in the case that a relationship has been rocky. Also, as your ruler Venus meets with the Sun over the weekend, a moment of lucidity arrives. The way you relate to people is changing, Libra, so trust that this change is for the better. A transformation is happening below the surface, and soon, there will be an epic rebirth!
Scorpio
Venus retrograde in your third house of communication has been teaching you that your words are powerful and create your own reality. And this week's lunar energy invites a new beginning in the way you communicate with yourself, Scorpio. Over the days ahead, you could benefit from crafting some mantras that can remind you of your immense power. 2022 has a lot of transformation potential for you, so set yourself up for success by setting a positive tone for the year ahead.
Sagittarius
The retrograde has been having you facing some truths about your financial situation. And as the recent New Moon illuminates this same area of your life, you could be receiving some cosmic help on how to move forward. How does financial freedom look like to you? Set some serious goals around this topic, Sagittarius. Because even if they change in the future, you will have something to keep yourself in check in the year ahead.
Capricorn
What a powerful time to be a Capricorn! With so much cosmic activity happening in your sign, you're going through a profound reinvention. Make sure to journal your thoughts over the week ahead. And even if they end up changing in the future (they most likely will), this is a good time to set intentions for 2022. After all, this New Moon is yours for the taking! It is urging you to focus on changing personal habits to improve your confidence in yourself.
Aquarius
This week has an introspective vibe for you. Your inner life is brimming with activity as the cosmos sends you messages through your dreams and subconscious mind. In fact, the next four weeks are ideal for resting, letting go of the old, and recharging your spiritual batteries. Pay attention to the signs, they are all around you. You have a new beginning coming up—so don't miss out on this once-a-year opportunity to do some deep soul-searching.
Pisces
Last week's astrology delivered some goodies—and this week, the stars keep on giving. As lover Venus connects with Neptune in your sign, a destined meeting could be in the cards for you! If you're already partnered, the middle of the week is an incredible time to plan a date with your babe. Lastly, this week's New Moon energy also brings an opportunity to expand your network or group of friends.
Athena Antares is a traveling writer, astrologer, and mystic who believes in adding a touch of magic to everyday life. She has written horoscopes for numerous lifestyle publications and has dived deeply into astrological magic and manifestation spell work. In her spare time, Athena enjoys exploring new places, spending time in nature, and reading charts for her worldly clientele.