When's the next new moon? Your new moon calendar 2021
Our handy new moon calendar 2021 has all the intel on when's the next new moon, as well as rituals and meaning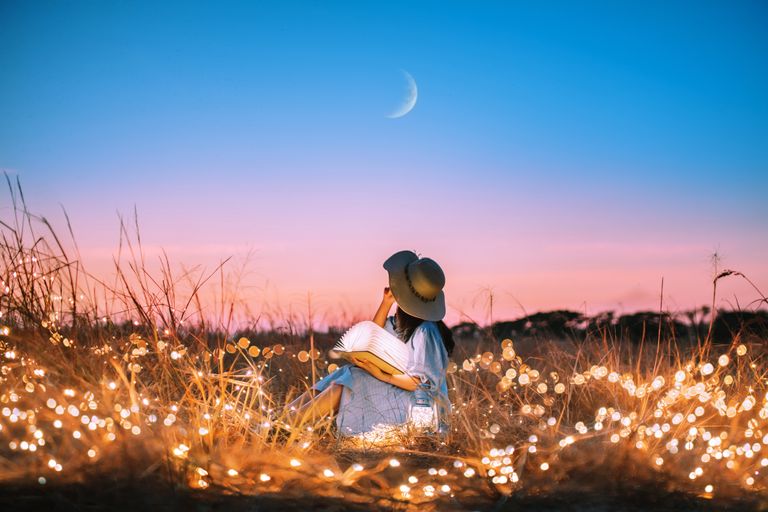 (Image credit: Getty)
If you're into lunar events, the question "When's the next new moon?" might just be on your mind. Though not as visible as the full moon, the celestial phase is not any less significant than its counterparts. 
In fact, a new moon is a great time to set intentions and make good on personal promises. Light a candle, grab your zodiac planner—all of which make perfect gifts for astrology fans, FYI—and embrace a fresh beginning. Our new moon calendar 2021 will help you mark which dates to look out for. 
---
---
When's the next new moon?
You can catch the upcoming new moon on September 7, 2021 at 12:52 am UTC (that's 8:52pm ET, 5:52pm PT on September 6, 2021, 12:51am GMT on September 7, 2021). The lunar event will probably give you a craving to become better acquainted with those around you. 
"The two relationship planets, Venus and Mars, will be forming positive aspects with Jupiter and Pluto, increasing our desire for connection," says Narayana Montufar, astrologer and author of the forthcoming Moon Signs: Unlock Your Inner Luminary Power.
New moon calendar 2021: Dates to know
The new moon schedule 2021 is as follows: 
January 13, 2021
February 11, 2021
March 13, 2021
April 12, 2021 
May 11, 2021
June 10, 2021
July 10, 2021
August 8, 2021
September 6-7, 2021
October 6, 2021 
November 4, 2021
December 4, 2021
What is a new moon?
In astronomic terms, this is when the moon moves between Earth and the sun, and the side of the moon facing us does not receive direct sunlight.
In astrological terms, it's a time for planting the seeds of intention, conceiving new ideas and starting new projects, according to Montufar.
New moon meaning: What to know
New moons offer the opportunity to restart. Regardless of the area of your life that needs a little sprucing up, a new moon can help usher in a welcomed change. Even better? It's often the time in the lunation cycle where you're likely to stick things out. 
"Feel ready for a relationship? Want to launch your business? Eager to get rid of a bad habit? Set an intention and watch it evolve over time," says astrologer Stephanie Powell. 
New moons also present a wonderful opportunity for reflection, according to astrologer Renée Watt. 
"There's a calmness that comes with this lunar event that we don't usually see, making it an excellent time to meditate and reconnect with yourself," Watt says. 
New moon rituals to practice
Just like no lunation is the name, no ritual is the same. There are different types of practices to try during this time
"Writing intentions can be incredibly powerful," says Powell. "I like to write out what I'd like to manifest in the present tense as if it's already happened. You can combine this with mirror work over the next few weeks or even months, and state your intentions as you look at yourself in the mirror as if they've already happened. And then, you simply watch the magic unfold before your eyes."
On the other hand, Watt opts for candle magick. 
"I will dress a candle with essential oils, write out my wish or goals on a piece of paper and leave an offering out for my spirit team," she says. "The following day I will bury my paper and offering in a plant or my front yard."
Danielle is a writer for My Imperfect Life, where she particularly enjoys covering lifestyle and entertainment news. She was previously the editor of Time Out New York Kids and a news editor at Elite Daily. When she's not working, you can find her reading a good book and enjoying a cup of coffee. Follow her @dvwrites.