Your weekly horoscope is here: March 7 – March 13
Time for your weekly horoscope—and there's a spirit of optimism in the air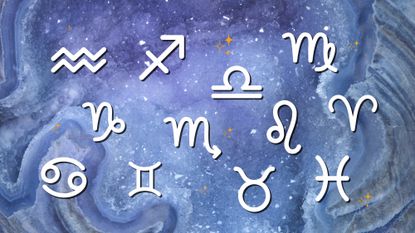 (Image credit: Future)
Ready for you weekly horoscope? After last week's lucky alignments, we begin the week with a spirit of optimism. A shift has taken place, and as lovely Luna waxes in light, we are invited to water the seeds we planted. Monday, Friday, and Saturday, specifically, are auspicious days to work towards our dreams and goals. During these days, the luminaries (Sun and Moon), will be strongly placed and making fortunate connections with other planets, so put stars on these days of your calendar.
On Wednesday, the world of dreams becomes even more vivid when communication master, Mercury, enters the deep waters of Pisces. For the next few weeks, we might struggle a little bit to focus on work and mundane tasks. On the flip side, our intuition gets a boost, which will help us decode some of the golden messages the universe will be sending our way in March and April.
This weekend brings one of the most positive alignments of the entire year. The Sun will have its annual meet-up with Neptune, the God of the Sea. This aspect will release waves of fantasy, illusion, romance, and inspiration. To make the best of this aspect, tune into your sense of compassion and spread some of your goodwill to the world. Glamour and artistic flair are also something you can tap into under this inspirational combination.
---
---
Weekly horoscope: what does this week have in store for you?
Aries
Your vibe attracts your tribe, Aries! For the past few weeks, you've been working hard—and now, it's time to socialize and network. For the next six weeks, Mars in Aquarius helps you establish connections, both for work and play. Still, you might sometimes feel like being alone to attune to the rich inner life you're enjoying these days. The Sun-Neptune meet-up sends you messages through your dreams, so make sure to tune in and take note of them.
Taurus
Your ruler, Venus, is now in your tenth house of career, and for the next four weeks, hard work brings blessings arriving in this area of your life. Mars and asteroid Vesta are accompanying her, hinting that a side of you is ready for a close-up! If you feel your ambition growing, this is the perfect week to put a strategy of world domination in place. Hint: You get more help from the universe when working with like-minded folks.
Gemini
Your sector of career has been lit and that trend continues, Gemini. Mercury entering this part of your chart delivers an important message, so keep an eye on the action you see at work or in your business. This week's Sun-Neptune meet-up and Grand Water Trine deliver a vision around your career and how to materialize it to generate more money in your bank account. It's an exciting week, so make sure to use this energy.
Cancer
This looks like a dreamy week for you, as the cosmic beauty will be illuminating you from Friday to Sunday! The Moon will be in your sign, uniting your house of creativity and far-away horizons with your house of self. Regardless of what you are trying to manifest, this is the week to go for it. Your lucky stars are handing you a vision, so go ahead and take note of all the codes and messages you receive, before they are dissolved in the ether.
Leo
Last week's new moon activated a sensitive part of your chart, and this week's Grand Water Trine continues doing that work. Allow the healing properties of this beautiful configuration to help you shed what no longer serves you, Leo. This is especially true in relation to preconceived insecurities about yourself or an important relationship. If you have a partner and you need to have an important conversation, this weekend's Sun-Neptune conjunction assists you in doing so with love and compassion.
Virgo
For you, Virgo, last week was about fun and dating—but this week, it's about sticking to the grind and working hard. Venus and Mars are now in your sixth house of work and daily routine, urging you to get your life up to speed in preparation for the next weeks of hard work. On a funnier note, Mercury entering your seventh house of partnerships could deliver an important message—either about a lover, or an important relationship.
Libra
This week's gorgeous and fortunate Grand Water Trine unites your tenth and sixth houses of work with your second house of money. A raise or the opportunity to reach more public visibility could be in the cards. If you get offered a new position, ask for more money. You are under lucky stars this week—and with Mars traveling next to Venus, you have the courage needed to assert yourself in any position you find yourself in.
Scorpio
One of the most beautiful manifestations of sacred energy touches your heart this week, Scorpio. On Friday, there will be a Grand Water Trine, uniting the luminaries with the south node of the Moon in your sign. This is a positive cosmic permission to abandon the old! Something is leaving your life, but you're letting it go with ease and grace. You are expanding your mind, searching for new horizons, and this week's Friday & Saturday Moon in Cancer delivers exactly that!
Sagittarius
The cosmic lovers, Venus and Mars, are now in Aquarius, activating your third house of communication. If you're looking for love, you could find it literally around the corner. If you're a creative, this combo also serves as inspiration. A message or visitor could arrive at your door as Mercury enters your sector of home, family, and ancestry. Mercury here can enhance your powers of concentration, and even take you on a trip down memory lane.
Capricorn
Express yourself, Capricorn! On Wednesday, Mercury enters your third house of communication, activating three other planets in this part of your chart. There is major inspiration available to you. You tend to be a quiet soul, but this week's astrology is begging you to throw caution to the wind and express what's in your heart. Trust us when we say that the more you activate your voice (written or spoken) this year, the more you will grow!
Aquarius
With Venus and Mars now in your sign, you're looking sexy—and you know it! Chatty Mercury leaves your sign on Wednesday, which should help you feel a little calmer, especially if your life has been busy recently. Sunday's ultra-sweet Sun-Jupiter conjunction is happening in your second house of money, bringing you ideas on how to make more money, honey. At a deeper level, this might translate into deep feelings about your self-worth that you haven't felt before. Embrace them, Aquarius!
Pisces
You are an absolute fish in the water this week, Pisces. The Sun-Neptune conjunction is an incredible opportunity to actualize your dreams. What does your best life look like? Spend some time creating that vision so you can follow through on it. Mercury entering your sign on Wednesday adds magic to your words, so when you express your desires to the wind, the universe listens. Under this energy, activating your throat chakra reawakens your voice.
Cute astrology-themed gifts
Brand
Colour
Price
Refine ☵
Sort By
Athena Antares is a traveling writer, astrologer, and mystic who believes in adding a touch of magic to everyday life. She has written horoscopes for numerous lifestyle publications and has dived deeply into astrological magic and manifestation spell work. In her spare time, Athena enjoys exploring new places, spending time in nature, and reading charts for her worldly clientele.