Your weekly horoscope is here: November 8 - November 14
It's time to put those plans into action! Here's what the weekly horoscope has in store for your sign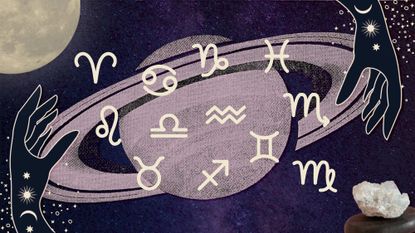 (Image credit: Future)
Do you feel your intuition and ambition building up? This week, as asteroid Pallas ends its retrograde, we are being called to reawaken our inner strategist! For the past few months, Pallas, the asteroid of wisdom and victory, has been teaching us that merging our intuition with our intelligence is the ultimate key to success and wholeness.
Now direct in the mystical sign of Pisces, Pallas invites us to put into action all that we have learned around this merging of the spiritual with the material world. While Pallas goes direct on Monday, expect to feel all the emotion and sensitivity of the water element during the entire week, as the Sun in Scorpio will also be forming a dreamy and inspirational trine to Neptune in Pisces.
Do expect a little tension when putting your ideas and strategies into action. Mercury and Mars, the planet of communication and the planet of drive, will be running into a tough clash with Saturn, the planet of blocks and delays. While this could feel like a sign to stop and not invest our efforts, nothing could be further from the truth. While Saturn's cold influence can often feel like a drag, it is a planet that appreciates (and rewards) mastery, above all.
As you go through your week, know that you have everything it takes to succeed, and that when the time comes, rewards will arrive for your hard work.
---
---
Weekly horoscope: what does the week ahead have in store for you?
Aries
Communication master Mercury is traveling very close to Mars, your planetary ruler. Over the days ahead, you have the gift of gab—so use it wisely! Wednesday is an amazing day to strategize your master plan for the future. What do you want to manifest in 2022? Even if you feel certain restrictions and blocks in your expression, staying the course can bring major breakthroughs your way. This will be especially true over the weekend, so keep alert.
Taurus
This could be a week to lay low, Taurus. Mercury, Mars, and Saturn could be creating drama between your partnership and your career sectors. Instead of getting caught up in the spectacle, it might be best to just keep your boundaries in check, even if people want to get you involved. Your favorite mantra "steady wins the race" applies here when it comes to working on projects you've already started instead of beginning new ones.
Gemini
Asteroid Pallas going direct in your sector of career and public visibility has a message for you, Gemini. The more you embrace your intuition, the better your strategy will be! As an air sign, you tend to intellectualize this side of yourself—but the truth is the more you embrace art, creativity, and holistic healing the more wisdom the universe will have available for you. Dare to go there, we promise you it will be worth it!
Cancer
Life is sweet for you this week as the cosmos encourage you to take a break and enjoy life and all the beautiful things it can bring your way. With the current focus on water sign pals, Scorpio and Pisces, this might be the perfect time for a weekend getaway or even a staycation. Alternatively, this cosmic weather is ideal for signing up for an art class or beginning to study a language you've always been interested in. It's all about expanding your mind!
Leo
The presence of Uranus in Taurus has been creating change in your life in the area of your chart that rules career and public visibility. And this week, a major aha moment could come around this subject. How can you create more freedom for yourself while embracing more inspiration? Pay attention to the signs, especially over the weekend. Big changes are on the horizon, and you are more ready for them than you think, Leo.
Virgo
The sector for your chart that rules communication and learning is lit this week, Virgo. You're most likely hungry to dive deeply into a new subject or are considering learning something new. Since this sector of your chart is going to be prominent in the future, it's important to hear the call. Whatever is calling your name now could very well bring more brilliance into your life. After all, you're the forever student of life, dear Virgo!
Libra
As Venus, the goddess of pleasure, sets root in your home sector, you're not only enjoying your time at home, you're probably considering design and remodeling upgrades. In fact, the current astrological weather is ideal for putting a plan in place that can be fully defined in the next few months. Since Venus is staying in this area of your chart until early March, the more you invite her in, the more beauty you will bring to your home.
Scorpio
With Mercury and Mars in your sign clashing with Saturn in your home sector, things could be getting intense at home. However, you do have two aspects that bring you the opportunity to get lost in a creative process that can reawaken your inspiration. This is the perfect week to get lost in a book, a movie marathon, or start writing that novel you've been ruminating about. Get lost in a world of fantasy, Scorpio!
Sagittarius
While your mind might be on your finances at the beginning of the week, this week's astrology has its focus on the sector of your chart that rules your home, dear Sagittarius. With the inspirational vibes coming from both, Pallas and Neptune, you have the chance to turn your home into the space you always dreamed of. How can you make room for more creativity in your life? The answer to this question is key for your future growth!
Capricorn
You are now hosting a total of three planetary forces in the sector of your chart that rules community. And as two of them clash with your planetary ruler, Saturn, on Wednesday, there might be some intensity within your friendships or networking groups. But guess what? With intensity also comes spark. Pay attention to the (themes) new people who come into your life now, Capricorn, as one of them could prove fruitful in helping you make a dream come true.
Aquarius
You have been hosting Saturn in your sign since the beginning of 2021—and this week, as Mercury and Mars activate its energy, the energy could feel a little heavy. You are receiving a big lesson on mastery and responsibility, Aquarius, so don't let this week's cosmic weather ruin what you have so far accomplished. A big moment of lucidity could arrive this weekend, so keep your options open and your antenna on in order to receive it.
Pisces
You have a sweet week ahead of you, Pisces. As asteroid Pallas goes direct, creativity is in full swing for you! You are not only being asked to actualize your dreams, you are also receiving cosmic permission to put a strategy in place to reach them. Since Pallas went retrograde in July, a project that stalled in the summer could now move forward as the light of the Sun is directed towards you. Use it to your advantage!
Athena Antares is a traveling writer, astrologer, and mystic who believes in adding a touch of magic to everyday life. She has written horoscopes for numerous lifestyle publications and has dived deeply into astrological magic and manifestation spell work. In her spare time, Athena enjoys exploring new places, spending time in nature, and reading charts for her worldly clientele.