What 'Euphoria' character are you based on your star sign?
Are you a Kat, a Maddy or a Cassie? Here's what 'Euphoria' character are you, based on your zodiac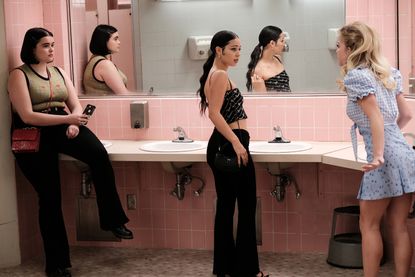 (Image credit: Eddy Chen/HBO)
If those season two episodes have you wondering what Euphoria character are you, the answer might just be in the stars.
Are you sensitive like Cassie Howard (Sydney Sweeney), confident like Maddy Perez (Alexa Demie) or sardonic like Kat Hernandez (Barbie Ferreira)?
The HBO teen drama—which "follows a group of high school students as they navigate love and friendships in a world of drugs, sex, trauma and social media," according to the official show synopsis—is crammed with complex, complicated characters, made all the more affecting given how young they are.
But if you're wondering which East Highland High School student you're most like, let's first take a look at your zodiac sign!
---
---
What 'Euphoria' character are you?
Aries: Nate
Aries can be quite a hot-headed, sexual sign which is just like Nate. Nate seems to struggle with his excessive masculine drive, sexual desires, and anger all throughout the first season—which is very similar to an unevolved Aries. When Nate becomes enraged at the idea of Madde knowing he's secretly exploring his sexuality, he physically lashes out at her in a Martian-like style. Both Aries and Nate have a lot of growing up to do!
Taurus: McKay
Sweet and loyal, nobody else could be a Taurus other than McKay! McKay's loving nature screams Taurus as he remains committed to Cassie even though she's widely slut-shamed by all of his friends. Like a good Taurus boyfriend, McKay dotes on Cassie while sticking up for her to his buddies. But his controlling, bull-headed side comes out like when he makes Cassie change her Halloween costume at his college party because he doesn't want to be embarrassed.
Gemini: Cal
Gemini is often scrutinized for being two-faced as this sign has a double life constructed upon lies—just like Cal Jacobs. Cal's public life is family-oriented, known as a loyal father and husband. But like Gemini, Cal's secret life is quite the opposite as he's secretly cheating on his wife, exploring his sexuality, and even creating pornographic content. However, this Gemini doesn't have an airtight alibi since his son, Nate, has discovered his secret life!
Cancer: Ali
Cancer is a compassionate, nurturing leader who is very similar to Ali, who is Rue's sponsor. Ali often gives Rue some parental tough love as her sponsor, usually telling her like it is but also encouraging her with compassion to get back on track. Like Cancer, Ali kind of serves as a pseudo-parent to Rue in a lot of ways as he's the first person she calls when she's strung out and in need of help.
Leo: Maddy
The Leo of Euphoria is none other than Maddy! As a superstar, ex-pageant queen, Maddy's Leo-like nature rules her high school. Her creativity comes out in her custom style, from her fierce make-up to her bold wardrobe. Like Leo, Maddy doesn't want to work because she wants to live a lavish lifestyle adorned in furs, glitter, and gold. She's also extremely passionate, like studying porn so that she can make Nate feel good in the bedroom.
Virgo: Rue
During the first episode, Rue says she was born three days after 9/11, which makes her a Virgo. She's considered incredibly intelligent but is unfortunately plagued by a multitude of disorders, most notably anxiety. Like the shadow side aspects of Virgo, Rue can become easily overwhelmed with her stress which eventually leads her to do drugs at a young age. Despite being high for most of the show, she is still highly perceptive just like a Virgo.
Libra: Fezco
One of the most liked people on the show is Fezco (played by Angus Cloud), who is definitely a Libra! Although he's the drug dealer, Fezco is still one of the more balanced, harmonious people on the show. Like Libra, Fezco doesn't like to resort to conflict or violence unless absolutely necessary. Fezco even tries to stop anything too crazy, like intercepting with his grandmother in season two. Instead, this Libra tends to prefer a peaceful, passive-aggressive threat.
Scorpio: Kat
Just like Scorpio, only Kat could pull off a leather harness and powerful, sexual transformation! Kat dives into the Scorpionic mystery of sexual taboo and power throughout the first season. She gets involved with online sex work, and even begins openly using her sensuality to find her sense of security. Her sexual plight is Scorpionic in nature, beginning with smutty fanfiction to maladaptive daydreams to being amazing at having casual sex. Her skills definitely don't go unnoticed either!
Sagittarius: Elliot
Although Elliot from Euphoria is new, as he's only introduced in season two, he does come across as a Sagittarius. He's first seen doing drugs with Rue on new year's, which is a very shadow-side aspect of Jupiter. Together, Elliot and Rue begin to explore new euphoric heights like getting high with each other for days. It looks like Elliot's Sagittarius nature will likely be a bad influence on Rue as season two continues to develop.
Capricorn: Lexi
Responsible and dependable, Lexi is the Capricorn in Euphoria. At first, she seems to have a minor role in the show thanks to her bookish nature and maturity which sets her apart from her peers. However, Lexi's Capricornian status is sure to rise as a main character throughout season two as she steps into her power by assuming control of her individuality and independence. Until then, this Capricorn wouldn't be caught dead making the same mistakes as her peers!
Aquarius: Jules
Jules is the Aquarius of Euphoria thanks to her friendly yet aloof nature. Like Aquarius, Jules keeps a relatively tight circle as she begins transitioning into high school. She's different from everyone else, from being the new kid on the scene to her style. But her differences set her apart and like Aquarius, Jules stands out. However, it's hard for this Aquarius to open up after spending time in the psych ward and being blackmailed by Nate.
Pisces: Cassie
Like Pisces, Cassie also has a seemingly angelic aura that is masked by confusion and delusion. As the Pisces of Euphoria, Cassie often struggles with boundaries throughout the show, like not consistently being taken advantage of by her friends and the guys she dates. The lack of boundaries confuses Cassie's idea of love, which makes it difficult for her to stand on her own. Her escapist nature even leads to crossing the ultimate line in season two!
Cute astrology-themed gifts
Brand
Colour
Price
Refine ☵
Sort By
Athena Antares is a traveling writer, astrologer, and mystic who believes in adding a touch of magic to everyday life. She has written horoscopes for numerous lifestyle publications and has dived deeply into astrological magic and manifestation spell work. In her spare time, Athena enjoys exploring new places, spending time in nature, and reading charts for her worldly clientele.