Who plays Elliot from 'Euphoria'? Everything to know about Dominic Fike
He's the new kid but who is the actor behind Elliot from 'Euphoria'? Plus, all about that song from the season-two finale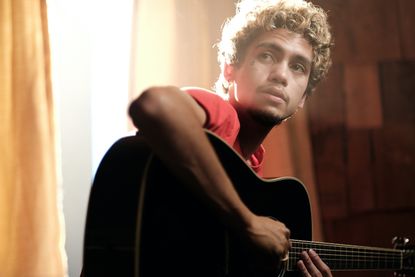 (Image credit: Eddy Chen/HBO)
Who plays Elliot from Euphoria? Allow us to introduce you to one of your new favorite characters (besides Fez, obviously).
The actor is the latest to join the stellar cast of the HBO teen drama, making his debut as a potential love interest (or bad influence) of Rue in the premiere of Euphoria season 2.
Played by Dominic Fike, the newbie is set to stir up some trouble as he enters a complex love triangle with Rue and Jules—a storyline both Zendaya, who plays the teenage drug addict, and Hunter Schafer, who plays her on-again, off-again girlfriend, have expressed concern about.
"There were a lot of conversations over the years about where the show was going to go and what it was going to evolve into, and I remember when [creator] Sam [Levinson] first kind of talked about the idea of this Elliot character, I wasn't feeling it — as someone who ships 'Rules' to the bitter end," Zendaya told Variety in January, just before the highly-anticipated second season of Euphoria dropped.
"I was like, 'whoa, whoa, whoa, what are we doing here?' But, in retrospect, and also as someone who understands where the show needs to go and what needs to happen for these characters, it's crucial that Elliot exist and that he be the person that is honestly the catalyst for a lot of things that just have to happen," the actress added.
Similarly, Schafer said: "I think I was in a similar boat to Z when I first heard about this 'Elliot boy.' But, you know, as we saw more of what it brought into the story and the script, it became a more interesting and exciting prospect, and once Dom came on board, he made it a lot of fun."
So, who is Dom exactly? The newbie actor is a musician you've probably heard before. Let us fill you in on all the details.
---
What Euphoria character are you based on your star sign?
These chaotic Euphoria memes will keep you entertained in between episodes
Love Euphoria? These are the forgotten Y2K beauty trends to keep you going
---
Who plays Elliot from 'Euphoria'? Meet Dominic Fike
The man behind the character of Elliot from Euphoria is Dominic Fike, a singer/songwriter and multi-instrumentalist. Born and raised in Florida, he initially gained prominence as a musician, posting his tracks on Soundcloud to a cult following before releasing his debut album, Don't Forget About Me, Demos.
He later went on to collaborate with some musicians you might have heard of—the likes of Halsey, Justin Bieber, Brockhampton and even Sir Paul McCartney. No big deal!
Dominic Fike age: how old is he?
Fike was born on December 30, 1995, which currently makes him 26 years old (and a Capricorn).
Is Dominic Fike Filipino?
Yes, the actor-musician is of Filipino and African-American descent.
Are Dominic Fike and Diana Silvers still dating?
Fike publicly dated model-actress Diana Silvers, who you may recognize from films like Booksmart and Ma, and the Netflix series Space Force. They went Instagram official in August 2020 and discussed their relationship in an interview with GQ in April 2021.
On how they met, Silvers told the outlet: "Dom sent me a demo on Instagram called 'Peanut Butter Bagel.' I responded, 'I've never had a peanut butter bagel, but the song is very good.' I had never really listened to his music, but my roommate knew he had an album coming out and told me he was probably promoting it. I messaged again, and I was like, 'Was this just a promo?' And he was like, 'No, I loved you in Space Force" and told me to come to a show."
However, by summer 2021, they had unfollowed each other on Instagram and digital evidence of their relationship was wiped from their accounts.
Are Hunter Schafer and Dominic Fike dating?
Though originally hesitant about Elliot's role in Euphoria, it seems Jules has taken quite a liking to him off-camera.
Hunter Schafer and Dominic Fike have sparked dating rumors with flirty dinner dates and fun outings, some of which we've even caught on Instagram. Check out this lip lock on Schafer's birthday! It's safe to say our Euphoria costars are pretty smitten!
Where can I watch the Dominic Fike documentary?
À la Britney Spears, Fike was the subject of an episode of the documentary series The New York Times Presents in summer 2020. Entitled "Dominic Fike, At First," the special is centered on "the making of a pop star in 2020."
"A young musician is plucked from obscurity—jail, actually—and given a multi-million dollar record deal. Meet Dominic Fike as he prepares for his first international tour and makes his debut album," reads the official synopsis.
The doc can be streamed on Hulu and FX.
What else has Dominic Fike been in?
Like co-star Angus Cloud, Euphoria is Dominic's first acting gig. He made his on-screen debut as Elliot in episode one of season two.
Speaking to Variety in August 2021, Fike revealed that he is pretty similar to his character in the teen drama, saying: "I don't have to do much acting. He's exactly like me. It's sh*t I would say and sh*t I would do."
He did however mention that he and Elliot are very different when it comes to their outlook on sobriety. "I'm in overdrive. I feel like I can work forever and do anything."
In a separate interview with GQ, the actor also opened up about his journey to getting sober and how it influenced the rise of his career.
"I can make full songs now, and I don't hate them. I make music by myself, so I need to be sober to know how to plug this s--t in here. I'm so proud of how far my music has come. I'm expanding my knowledge," he told the publication. "No drugs and alcohol anymore. I eat right [and] I drink water. Meditation helps me. Now that I'm making this one, I'm doing all that. I worked out today."
Dominic Fike 'Euphoria' song
The finale of Euphoria season 2, which aired on Sunday, February 27, featured a musical performance by Fike's Elliot, who serenaded Zendaya's Rue when she came by his house to make amends. The ditty, titled "Little Star," was actually co-written by Zendaya and Euphoria composer Labrinth, yet another original music collaboration for the twosome, including this season's "I'm Tired" and "All for Us."
"Little star, feels like you fell right on my head. Gave you away to the wind, I hope it was worth it in the end," Fike as Elliot croons in the episode. "You and my guitar, I think you may be your only friend. I gave it all to see you shine again, I hope it was worth it in the end."
Catch Fike, Zendaya and Labrinth talk about the moment in this finale behind-the-scenes clip below. "The cast aren't just acting—they're part of the music now, and I think that makes it more special," Labrinth says in the video.
If you want to add "Little Star" to your personal Euphoria playlist, the track will hit streaming services on March 4, 2022. It will keep you busy while you mull over Euphoria season 3 possibilities.
Christina Izzo is the Deputy Editor of My Imperfect Life.
More generally, she is a writer-editor covering food and drink, travel, lifestyle and culture in New York City. She was previously the Features Editor at Rachael Ray In Season and Reveal, as well as the Food & Drink Editor and chief restaurant critic at Time Out New York.
When she's not doing all that, she can probably be found eating cheese somewhere.