Where is Love in the Flesh filmed?
So we have to know, where is Love in the Flesh filmed? The Beach House is the dreamy destination we wish we could teleport to...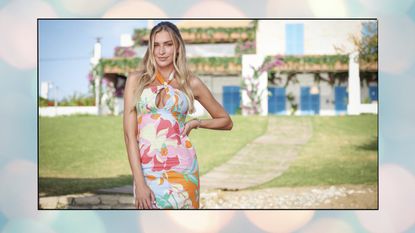 (Image credit: BBC Three)
Where is Love in the Flesh filmed? It's the question we've all been googling ever since we started watching the new BBC Three dating show.
Let's be honest, we've all had a giant Love Island-shaped hole in our hearts since last summer and while Love is Blind (season 3 is on the way btw) and Too Hot To Handle season 3 kept us afloat, nothing quite compares to life in the Mallorca villa. Luckily, we get a tiny dose of Love Island in Love in the Flesh, which is hosted by ex-islander Zara McDermott.
The show follows five potential couples who have formed connections online but have never met, until BBC Three throws them all into a beach house together where they can finally come face-to-face and figure out if their relationship can work in real life. But where exactly is the exotic beach house located?
One magical thing about dating shows is they'll teleport you to a romantic luxury destination that'll make falling in love easier than ever—and if all else fails, at least you get a nice holiday out of it. So BBC Three pulled out all the stops for the Love in the Flesh contestants. Here's what you need to know about the filming location...
Where is Love in the Flesh filmed?
The show is filmed on a Greek island, where all eight episodes took place. The contestants all live in a Beach House together, where they mingle not only with their online partner but the other singletons too.
As described in the BBC Three press release, "These online daters will be whisked away from the pressures of daily life and screens to explore whether their online relationships can turn into love in the flesh."
In the first episode, we're shown the contestants transported by luxury boats to the Grecian beach house—and we'd be lying if we said we weren't a little envious.
Like many Bridgerton filming locations, Greece has been a popular filming destination for multiple shows and Hollywood movies over the years, with everything from Lara Croft Tomb Raider and Mamma Mia! to The Bourne Identity filmed across the idyllic country. Love in the Flesh is just another title to add to the roster for the stunning hot spot. In fact, we might have to book a trip ourselves—summer is around the corner after all!
Sagal is a journalist, specialising in lifestyle, pop culture, fashion and beauty. She has written for a number of publications including Vogue, Glamour, Stylist, Evening Standard, Bustle, You Magazine, Dazed and Wonderland to name a few.