Where is 'Love Island USA' filmed? Here's what we know about the new villa's location
Wondering where is 'Love Island USA' filmed? We've got the lowdown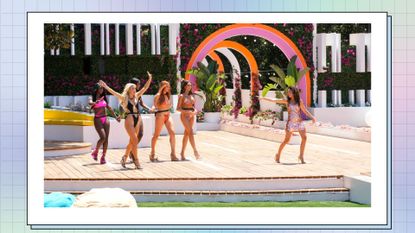 (Image credit: Peacock/ Casey Durkin)
Wondering where Love Island USA is filmed? It's a very good question and we've got all the deets. While the Spanish island of Mallorca is the iconic location where Love Island UK is filmed, the whereabouts of the stateside incarnation of the show is rather different for obvious logistical reasons.
The American show's first three seasons each took place in a different location, with islanders walking into a brand new villa each time. First, CBS filmed the series in Fiji, before moving it to Las Vegas for the second—due to pandemic restrictions—and then to sunny Hawaii for the third.
With Love Island USA having moved channels to Peacock, the location of the luxurious property—where a series of singletons will attempt to navigate romance and drama in the hope of finding their happy ever after—has moved yet again.
But to where you ask? Read on to discover everything we know about where our islanders will spend their summer of love, plus everything we know about the villa itself...
Where is 'Love Island USA' filmed?
The latest season of Love Island USA has moved to yet another glamorous and of course, sunny destination. This year it's taking place at a luxurious property on the coast in Santa Barbara, California—meaning incredible weather and stunning sea views.
According to the producers, the incredible dwelling "sits on one of the most beautiful and historically significant sights in California. Tucked between the Santa Ynez Mountains and the Pacific Ocean, it has incredible panoramic views overlooking the Pacific Ocean featuring its own private and pristine beach. It is a private gated 214-acre oceanfront property."
Of the property itself, they added: "This villa features an eight-foot-high, 80-foot long catwalk, that continues onto a runway with reflecting pools on either side just to show off those hot bods as they arrive! As well as some very private nooks to sneak away to."
In the first episode, viewers were taken on a tour through the swanky villa by Love Island USA host Sarah Hyland. Those watching at home followed the Modern Family actress as she showed off the islanders' new home—which features multiple swimming pools, exercise equipment, a 'love swing' and treehouse. There is also, of course, the iconic 'fire pit' area.
But while the villa is set in a picturesque and tranquil coastal town, three hours from busy LA—our islanders' stay will be anything but relaxing...
How can you watch 'Love Island USA'?
The fourth season of the American version of Love Island launched on July 19th, 2022. New episodes air Tuesday to Sunday every night at 9pm ET on Peacock (opens in new tab). It is thought that it will run for a couple of months.
Ahead of the premiere, Sarah appeared on The Tonight Show Starring Jimmy Fallon and admitted that the islanders are "very, very, very sexy human beings". She joked: "I could not stop staring. I thought HR was going to have an issue with me. Could not stop staring at the contestants."
If you're not stateside, then fear not. You can watch Love Island USA on Peacock if you're in the UK and Ireland via your usual Sky and NOW subscriptions. Or you can cross your fingers that it makes its way to ITV2—as it has for the last three series, a month after its American release. Until then, get your villa fix by recapping on the show's most memorable moments...
Lauren is a freelance writer and editor with more than six years of digital and magazine experience. Most recently, she has been the Acting Commissioning Editor of Women's Health—where she co-produced the Going For Goal podcast—and has previously also written news and features for titles including The Telegraph, Grazia, Stylist, Dazed, The Sun's Fabulous, Yahoo Style UK and Get The Gloss. She covers all aspects of lifestyle, specializing in health, beauty, and travel. Can't live without: oat milk lattes, new podcast episodes, long walks, and great skincare.