Where is 'Mrs. Maisel' filmed? Inside the show's 'marvelous' locations
From Carnegie Hall to Coney Island, our 'where is Mrs. Maisel filmed?' guide will take you through the IRL filming locations you can visit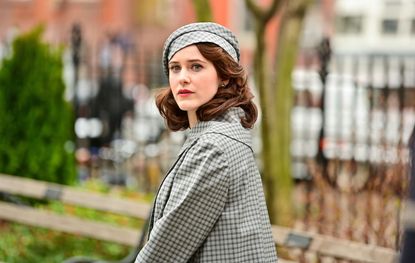 (Image credit: James Devaney/Getty)
New York City is as much a character in The Marvelous Mrs. Maisel as Midge herself, but where is Mrs. Maisel filmed exactly?
The Prime Video series—which centers on Midge Maisel (Rachel Brosnahan), a 1950s housewife who unexpectedly becomes a professional comic—bops around from the posh Upper West Side to the then-gritty Greenwich Village, from Brooklyn's southern stretch of Coney Island to the Catskills in upstate New York.
The Marvelous Mrs. Maisel—which aired the finale of its fourth season on Friday, March 11—explores other locales, from razzle-dazzle Las Vegas to bohemian Paris to postcard-worthy Miami ("I just wish it had a little more atmosphere," Midge jokes), but NYC is the show's heart and, as such, it faithfully restores good ol' Gotham in all of its midcentury glory.
Some of the Mrs. Maisel locations are unfortunately dearly departed in real life and had to be recreated in soundstages, like The Gaslight Cafe where Midge gets her stand-up start or the upscale B. Altman department store where she worked in season one. But others are happily still kicking and, better yet, are able to be visited. Here are 10 The Marvelous Mrs. Maisel filming locations you can visit IRL.
---
---
Where is 'Mrs. Maisel' filmed? 10 locations you can visit IRL
1. Carnegie Hall
The finale episode in season 4 of The Marvelous Mrs. Maisel features the famous Carnegie Hall performance of Midge's comedy mentor and maybe romantic interest, Lenny Bruce. Back in July 2021, the show spent three days filming at the real-life historic concert hall, which is located on Seventh Avenue between West 56th and 57th Streets in Manhattan.
2. Coney Island
The premiere episode of The Marvelous Mrs. Maisel season 4 featured a carnival of comedy set at Brooklyn's Coney Island, the classic seaside destination known for its retro rollercoasters and vaudevillian amusements. The neighborhood's iconic Wonder Wheel served as the colorful setting for a series of hilarious confessions between the Maisels and the Weissmans.
3. The Catskills
In season two episode four, Midge and her family memorably took their annual trip to the Catskills. Though the Weissmans enjoy summer delights like bikini contests, lakeside fireworks and row-boat dates at the fictional Steiner Mountain Resort, the actual filming location for the episode is the very real Scott's Family Resort on Oquaga Lake. Summer vacay, here we come!
4. The Apollo Theater
At the end of season three, Midge gets what is her biggest break yet for her comedy career as the opening act for pop superstar Shy Baldwin. His tour includes a stop at Harlem's Apollo Theater, a world-famous music hall that opened in 1913. And if you watched Mrs. Maisel's Apollo set, you already know the answer to the question "Why did Mrs. Maisel get fired?"
5. Washington Square Park
Washington Square Park, a public park and gathering space in Manhattan's Greenwich Village, has popped up a few times throughout The Marvelous Mrs. Maisel, most recently in season 4, when a disheveled, curlers-sporting Midge strolls through the park to pick up a newspaper in episode one.
6. The Village Vanguard
The Village Vanguard in Greenwich Village is the oldest operating jazz club in all of New York City, but though it's mostly known for its musical performances by the likes of Miles Davis and Thelonius Monk, it also once featured beat poetry and stand-up comedy acts. The Marvelous Mrs. Maisel takes advantage of that real-life history, using the iconic club as the setting for one of Lenny Bruce's gigs in season one.
7. Columbia University
For the show's first few seasons, Midge's father Abe Weissman taught mathematics at Columbia University, and the series frequently featured real classrooms from the Ivy League school, including one room located in 309 Havemeyer Hall. It is widely considered the most-filmed classroom ever, a 330-seat lecture hall that's appeared in movies like Kinsey, Malcolm X and the Spider-Man flicks.
8. McSorley's Old Ale House
The series used McSorley's—one of the oldest taverns in New York City, located in the East Village of Manhattan—as the setting of one of Midge and Benjamin's dates in season three. However, the show had to refer to it as The Cedar Tavern, since McSorley's only started admitting women in 1970, a solid decade after the events of The Marvelous Mrs. Maisel.
9. Albanese Meats & Poultry
The legendary Little Italy butcher shop has been featured in several episodes of The Marvelous Mrs. Maisel as the real-life site of Midge's go-to meat market, where she sources her "famous brisket."
10. Kings Theater
The lobby of Brooklyn's opulent Kings Theater—which was meticulously restored to all of its 1920s splendor in 2015—was used by the Mrs. Maisel crew as a stand-in for a Broadway theater in a season-four scene of a stage production that Abe reviews for The Village Voice.
Christina Izzo is the Deputy Editor of My Imperfect Life.
More generally, she is a writer-editor covering food and drink, travel, lifestyle and culture in New York City. She was previously the Features Editor at Rachael Ray In Season and Reveal, as well as the Food & Drink Editor and chief restaurant critic at Time Out New York.
When she's not doing all that, she can probably be found eating cheese somewhere.