Why did Mrs. Maisel get fired? Here's a season 4 catch-up
Midge is dealing with major money issues this season but why did Mrs. Maisel get fired in the first place? Let's recap!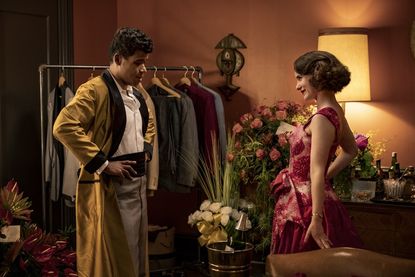 (Image credit: Philippe Antonello / Amazon Studios)
After more than two years, The Marvelous Mrs. Maisel is finally back with a fresh new season, but because of all that time between new episodes, you might be cloudy on exactly what happened at the end of season three. Namely, why did Mrs. Maisel get fired?
Before you catch up on all things Maisel—and witness all of the New York-y shenanigans that Rachel Brosnahan's Midge and Suzie and Lenny Bruce and the rest of the gang get up to in season four—here's a handy little recap of what went down by last season's end.
*Warning: spoilers ahead!*
---
---
Why did Mrs. Maisel get fired?
Let's take you back. Season three sees our marvelous Midge Maisel getting the biggest break of her stand-up career yet: opening for singing superstar Shy Baldwin (Leroy McClain) on a six-month tour across North America and Europe. It's the culmination of seasons' worth of hard work and hustle, and Midge even ends up personally befriending Shy, but the good vibes don't last long.
In the season finale of episode three, Midge is set to perform at Shy's sold-out gig at Harlem's legendary Apollo Theater. However, she's worried that her stand-up schtick ("Jewish brisket talk," one character calls it) will not jibe well with the theater's all-Black crowd, especially with the fact that Midge is performing alongside Black comedy legend Moms Mabley (played by Wanda Sykes).
Shy's manager Reggie (This is Us's Sterling K. Brown) tells Midge to scrap her usual act and instead poke fun at the singer, that the crowd will eat it up. "They want to hear stories about him," Reggie says. "Stories about the road, late-night craziness, gossip, tantrums—they love that sort of shit."
The problem is that Midge's innuendo-laden improvisations about Shy's effeminate nature and "Judy Garland shoes" (seriously) inadvertently out the closeted pop star and publicly humiliate him. By the time Midge and her manager Suzie get to the airport the next day to meet Shy and the rest of the touring crew for their flight to Europe, the jig is up. Reggie fires Midge on the spot and leaves her and Suzie crushed on the tarmac.
"I think Shy felt betrayed. He shared something with her. He even told Midge his real first name, which is not even anything that we discuss openly," said actor Sterling K. Brown in an interview with Gold Derby. "So the fact that she could go out on that stage and while she was not explicit, just toying with the idea of sharing something that wasn't meant to be shared with anybody else, hurt him to the core."
What happened to Midge's money?
By the end of The Marvelous Mrs. Maisel season three, Midge's comedy career is in shambles—but it gets worse. All of her tour earnings—about $4,000—are also gone, a casualty of her manager Suzie's severe gambling habit, as she bet Midge's money on a prizefight in the season finale and lost it all.
Midge doesn't know any of this and has bought back her Upper West Side apartment from her father-in-law Moishe (Kevin Pollak) using the Shy Baldwin tour contract as her collateral. Now that she's been fired, however, that contract is null and void and she'll have to pay Moishe back in full.
Scheming to replace Midge's money without her knowledge, Suzie and her sister burn down their dead mother's house to try and illegally claim the insurance money. But it's unclear when, or if, that money will come in to replenish Midge's tour earnings, or whether Suzie will be caught committing fraud. In a further act of deception, Suzie also asks Midge's estranged husband Joel (Michael Zegen) to secretly manage his wife's finances from now on, lest our go-to gambler should ever feel tempted again.
Whew, talk about drama. There will be plenty to unpack in The Marvelous Mrs. Maisel season four, which is currently streaming on Amazon Prime Video.
Christina Izzo is the Deputy Editor of My Imperfect Life.
More generally, she is a writer-editor covering food and drink, travel, lifestyle and culture in New York City. She was previously the Features Editor at Rachael Ray In Season and Reveal, as well as the Food & Drink Editor and chief restaurant critic at Time Out New York.
When she's not doing all that, she can probably be found eating cheese somewhere.