Who did Isaac from 'Too Hot to Handle' pick, Hannah or Yasmin?
Isaac from 'Too Hot to Handle' is at the center of multiple love triangles this season. But who does he ultimately choose?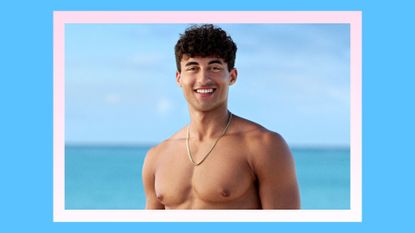 (Image credit: Netflix)
Isaac from Too Hot to Handle has captured the eyes of quite a few girls in the villa, with the Islander jumping from Courtney Randolph to Yazmin Marziali. And now there seems to be another girl in the mix in the form of ambitious Hannah Brooke.
Too Hot to Handle season 5 is setting up to be one of the messiest seasons of the Netflix reality dating show, as the contestants seem to be struggling with their sexual attractions more than ever.
There are rule breaks left and right as well as love triangles, which all seem to center around Isaac Francis, the same person who set up a rule break pact with fellow Islander Louis Russell in order to provide some relief for the fact that they found themselves on a no-sex retreat to help them build deeper connections when they were actually expecting to find themselves on a fun summer show full of flings.
We can't blame these hot singletons for being attracted to each other as super-attractive people tend to attract other super-attractive people. What we didn't really anticipate is that the show would have enough sexual chemistry to construct this many love triangles for Isaac so he can keep to his player ways.
So as Isaac's latest love triangle sees him stuck between Yazmin and Hannah, who does he end up choosing? Here's everything we know.
Who did Isaac from 'Too Hot to Handle' pick?
Having been single since Louis confessed to kissing Christine, Hannah decides that she is going to pursue Isaac even though he is with Yazmin. And let's just say Hannah is like a dog with a bone—when she wants something, she gets it.
In episode six, Hannah starts her "get Isaac in her bed" plan by allowing Isaac to rub cream all over her body and leaving him feeling turned on. But that's not all because, as Yazmin decides to be an angel and go for a deeper connection with Isaac, Hannah positions herself right in his eye line so she's always in his mind.
Deciding to crank up the temperature a bit and accelerate her plan to get Isaac in her bed, Hannah pulls out her charm, which involves helping him stretch after exercising. Like Hannah, Isaac also capitalizes on affection and sexual chemistry, so Hannah's moves really begin to turn his head.
Knowing that her flirty energy is working but that Isaac is stuck between her and Yazmin, Hannah lets him know that their connection would be even better if they shared a bed together, as she wants to break some rules with him. She gives him an ultimatum of sleeping in her bed tonight or forgetting her forever, as she won't be second best again.
We should add that all while Hannah is making these moves on Isaac, Yazmin is still discussing how she wants to get to know Isaac on a deeper level and know if he's committed to their relationship.
When it gets to bedtime, it's very much decision time for Isaac. Ys Yazmin announces she's in a cuddly mood, Isaac walks in and gets into her bed before whispering in her ear that he wants to talk to her properly about it tomorrow but for tonight he will be sleeping in Hannah's bed because she's shown interest in him. Isaac's new bed has the whole villa in shock except for Hannah who says in her confessional: "The cheetah always gets its prey." It's safe to say this move effectively finishes his relationship with Yazmin.
The following morning, Courtney urges Isaac to "be a real man" and talk to Yazmin: "You hurt people by blindsiding them. You don't hurt people by being open and transparent," she tells him. Isaac responds that he didn't feel he was leading anyone on and didn't think it would be this dramatic.
As Lana says, Hannah and Isaac will need to prove to everyone and themselves that their connection is more than just sexual attraction.
Who was Hannah with before Isaac?
Prior to coupling up with Isaac, Hannah was in a relationship with Louis. She had kind of stolen him away from Megan Thompson and Christine Obanor on the first day as she put her charm to the test. However, she succeeded and got Louis to sleep in her bed.
There was only one kink in their relationship, as Christine continued pursuing Louis. Christine even went so far as to kiss him on the beach before getting him to promise to sleep in her bed the following night.
However, when he got back to his bed from the beach, he kissed Hannah but neither girl knew about the other's kiss until Lana revealed it and Louis decided to end things with Hannah in favor of Christine.
What happened with Isaac and Courtney?
Isaac ended up dumping Courtney for Yazmin despite initially saying he was interested in her.
Isaac was paired with Courtney from their first day on the show. They got to know each other and Courtney was upfront with Isaac about her feelings and past relationships. They seemed strong. Little did they know a Latina bombshell was coming in that would see Isaac's head turn.
New arrival Yazmin took Isaac's world by storm as they kissed on their date when Lana had put a temporary pause on the rules. When Isaac returned to the villa, he was arm-in-arm with Yazmin and the two later shared a bed.
The first seven episodes of Too Hot to Handle season 5 are streaming on Netflix now, with the new episodes dropping on Friday, July 28.
Liv is a freelance journalist currently studying English at university. She loves covering everything from entertainment and politics to lifestyle and travel. As well as writing for My Imperfect Life, Liv has bylines in The Times, HuffPost, Den of Geek, Bustle The Metro and The Bookseller.