Who does Edwina Sharma marry in 'Bridgerton'?
We know who the younger Sharma doesn't end up with but who does Edwina Sharma marry in the 'Bridgerton' books and series?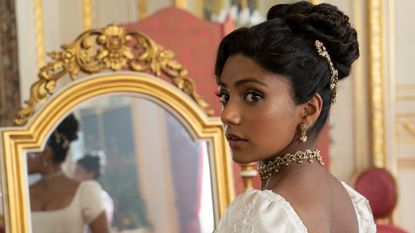 (Image credit: LIAM DANIEL/NETFLIX)
Fans of the Netflix series Bridgerton always want the best for their favorite characters and that includes even the ones who aren't that season's main focus, like Edwina Sharma.
Bridgerton season 2 follows Anthony Bridgerton (played by Jonathan Bailey) as he sets out on his quest to find a bride in order to fulfill his familial duty. After realizing most of the Ton does not meet his criteria for a potential wife, he meets the Queen's diamond of the season, Edwina Sharma (Charithra Chandran).
However, things aren't so simple, as in order to marry Edwina he has to get the approval of her stubborn sister Kate (Simone Ashley), which proves difficult, especially as he begins to fall more in love with Kate than Edwina. The tension becomes so evident that Edwina finally realizes and calls off her wedding to Anthony.
The finale leaves Edwina looking like she'll end the social season single. But despite the scandal, it seems all is actually not lost for the season's diamond. But who does Edwina Sharma marry in the Bridgerton books and, subsequently, onscreen?
*Warning: spoilers ahead!*
Who does Edwina Sharma marry in the book?
As we know, Bridgerton's showrunners Chris Van Dusen and Shonda Rhimes are not afraid to make some changes to Julia Quinn's books. Among the many differences between Bridgerton season 2 vs the books is the Bridgerton Indian influence that the new series sees as well as the inclusion of Eloise's love interest Theo Sharpe, not to mention Queen Charlotte—both of whom do not exist in the novels.
The same can be said for Edwina—she had a much smaller part in the books and her subsequent marriage does not get a big mention. Even when the younger Sharma sister is being courted by Anthony, she's rarely talked about outside of her relationship with Kate.
In fact, the entire love triangle created for the Netflix series does not exist in the books. On the page, Edwina is most supportive of her sister Kate's relationship with Anthony, whereas the series has her stop speaking to her sister for a while after the reality of Kate and Anthony's relationship is revealed.
In the epilogue of The Viscount Who Loved Me, the book on which Bridgerton's second season is based, it is revealed that Edwina does get married as she's referred to as Mrs. Bagwell.
Mr. Bagwell is a character in the books who is an archeological scholar that Edwina met at Lady Bridgerton's country house, though is he yet to make an appearance in the TV adaption. We're told that he is a second son and so doesn't have much income but considering that Kate married well, it means Edwina can marry freely without worrying about her family's finances. So, yes, Edwina gets a love match!
What happens to Edwina Sharma in 'Bridgerton' season 2?
After calling off her wedding to Anthony, Edwina does not end up engaged or married to anyone else, although Kate does reveal in the last episode that Lady Danbury will be sponsoring her younger sis for another season in London.
However, Edwina might not need to wait that long, as Queen Charlotte seems to still want happiness for her diamond of the season and during the Bridgerton season 2 ending tells Edwina that her nephew is single and in need of a wife.
The nephew is likely Prince Friedrich of Prussia, the young royal who courted Daphne Bridgerton at the beginning of season one. Edwina does not marry Friedrich in the books, but there is definitely hope for both characters to return for Bridgerton season 3 and form a potential love match. After all, they do want similar things out of their marriage, like love and children—and we do still feel a bit bad for him after his heartbreak in season one…
Should we start a hashtag now for Prince Friedrich's return in Season 3 for Miss Edwina? #Bridgerton pic.twitter.com/AVcg7vroZpMarch 26, 2022
See more
Who does Anthony Bridgerton end up with?
Anthony Bridgerton's story is told in the second book, The Viscount Who Loved Me, of the series by Julia Quinn. Like in the TV show, his attempt to win Edwina over is done by him having to impress her sister Kate. But it all goes pear-shaped when he falls in love with the elder Sharma.
As we said, the series differs a bit from the books as the engagement between Edwina and Anthony never happens and it's due to the book's infamous bee scene where Kate gets stung by the insect and it conjures up Anthony's memories of his dad dying from a bee sting.
Refusing to let that happen to Kate, he attempts to suck the bee venom from her chest—a very compromising position in which they get caught by the Ton's mamas, including gossip queen Lady Featherington. The moment forces the two to marry so there's no scandal and Kate's reputation is not ruined.
So, yes, in both the books and the Netflix series, Kate Sharma ends up as Viscountess Bridgerton and Anthony's wife, albeit in a different way.
All of Bridgerton season 2 is now available to stream on Netflix.
Liv is a freelance journalist currently studying English at university. She loves covering everything from entertainment and politics to lifestyle and travel. As well as writing for My Imperfect Life, Liv has bylines in The Times, HuffPost, Den of Geek, Bustle The Metro and The Bookseller.