Who is Lucinda Strafford? Everything you need to know about the Love Island bombshell
Blonde bombshell Lucinda Strafford has turned heads in the villa. But who is she?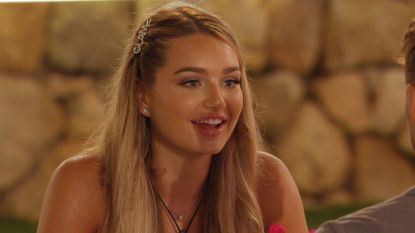 (Image credit: ITV)
Love Island is back and in full swing and while this year has been a bit of a slow burner, things are bound to spice up with the recent arrival of two new bombshells—including Lucinda Strafford.
The new Islander joining the Love Island cast has already turned the heads of every single boy in the villa and it looks like things are just only heating up, especially with future recouplings pending. So far, we've heard the men talk about their type on paper, which seems to have blonde and petite written all over it—two things the Love Island casting directors definitely kept in mind when bringing in Lucinda.
But aside from the fact that she's drop-dead gorgeous, what do we know about Lucinda? Here's everything you need to know about the exciting new addition to the villa…
WHO IS LUCINDA Strafford?
Brighton native Lucinda Stafford is one of the Islanders on this year's Love Island, where she entered the villa as a bombshell during week two.
As a late arrival, she has already watched the show and knows a little about her fellow contestants. Speaking about what she thought of the other girls in the villa, she said: "Liberty's a similar age to me, so I think I'll probably get along with her, she seems funny. I like Kaz, she seems really bubbly. I can tell Faye can stand up for herself, but I also quite like that about her. So I don't feel like we'll rub against each other."
HOW OLD IS LUCINDA?
Lucinda is 21 years old, meaning she is one of the youngest in the villa this year. On her first night in the villa, she told the boys she'd never date anyone younger than her, saying the cut-off point was her birthday.
WHAT IS LUCINDA'S JOB?
Like Kaz, Lucinda is in the fashion business. She runs her own online fashion boutique called The Luxe Range where she sells clothes and shoes mostly modeled by herself.
WHAT IS LUCINDA LOOKING FOR ON LOVE ISLAND?
Lucinda is in the villa to find love and have fun. Just before going in, she said: "I'm a relationship kind of girl. The timing is right and I want to have some fun."
She's also revealed that she has her eye on Brad and Liam, saying: "I really fancy Brad. And then possibly Liam. But obviously, I'm open to getting to know any of the other boys. I feel like Brad probably doesn't like people as much as he's letting on."
When it comes to on-screen PDA, Lucinda is all for it. "I'm fine about it," she said. "It's only just laughs. I do think to myself, my whole family are at home watching, but then again it's literally just a laugh. I'm 21, I'm just having fun."
Fun, indeed!
Sagal is a journalist, specialising in lifestyle, pop culture, fashion and beauty. She has written for a number of publications including Vogue, Glamour, Stylist, Evening Standard, Bustle, You Magazine, Dazed and Wonderland to name a few.