Who plays Camille in 'Emily in Paris'? Everything to know about the actress
If you've wondered, who plays Camille in Emily in Paris? Here's what you need to know about the actress who stars in seasons 1–3 of the Netflix hit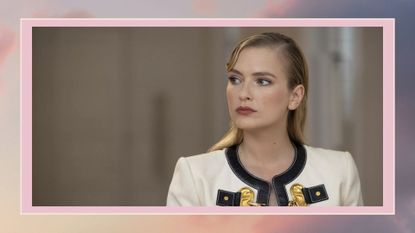 (Image credit: Future/Marie Etchegoyen/Netflix © 2022)
Who plays Camille in Emily in Paris? If you've been enjoying all of the Francophilic fun of the third season (which dropped just before Christmas), you may have wondered about the actress behind the oh-so-chic character.
The Netflix series—which follows a young American woman named Emily Cooper who lands her dream job at a marketing firm in Paris—is one of the platform's most-binged TV series. And Emily In Paris season 3 was no different! After hitting the streaming platform on December 21, 2022, fans flocked back to the show to see how their favorite American-in-Paris was getting on.
However, one of the other key Emily in Paris characters is the fashionable blonde Camille—so of course we wanted to know more about the actress/model who plays her. Here's everything we've dug up on the stylish star...
Who plays Camille in Emily in Paris?
This character—initially positioned as a threat to Emily Cooper's relationship with her neighbor Gabriel, until the two women develop a friendship that withstood Emily's romance with Camille's brother—is played by Camille Razat. (Yes, the actress got to keep her first name for her Emily in Paris character!)
Razat is a 28-year-old French actress who was born and raised in Toulouse, France and attended the Cours Florent drama school in Paris. So like her character, she is also French born-and-raised.
As well as being an actress, Camille is also an accomplished model for French agency Premium Models, having modeled for major brands like Louis Vuitton, Cartier and Balmain, and on the pages of magazines like French Vanity Fair. In summer 2021, she became a L'Oréal Paris spokesperson and global ambassador.
In an interview with French fashion magazine L'OFFICIEL, Camille revealed that she had initially wanted to be a war reporter before becoming an actress. It was only because she challenged herself to do something "a little more fun" before committing to her studies that she became an actress.
"I took a competition—which I passed—which committed me to five years of study. But first, I challenged myself to do something a little more fun and light, without it being a sabbatical year," she explained.
"I came across a Facebook ad for a theater internship at Cours Florent. It seemed like a fun experience to me and I signed up for it. I do the internship, I go into school, and I love everything I do there. I never went back to my previous project."
What is Camille's job in Emily in Paris?
While the real-life Camille is an actress and model, the Camille in Emily in Paris actually works at an art gallery. It is not clear whether she owns the gallery, or simply works there, but she regularly co-ordinates evens and bookings at the chic Paris location.
In fact, this is where Emily and Camille share some of their very first memories together. After saving Emily on the streets of the city, helping her to buy some flowers when she couldn't speak French, Camille invites Emily to her gallery to meet Randy Zimmer.
We soon learn too that Camille comes from a rather affluent background; her parents own a successful French champagne company. Lovely!
How tall is Camille Razat?
According to her Premium Models page, Camille Razat's height is 168cm tall, or 5ft 6in—which is a little over the average female height in France.
Is Camille Razat on Instagram?
Camille Razat can easily be found on Instagram under the handle @camillerazat and currently boasts 1.1 million followers. In terms of other social media accounts, she has a Twitter, but has not been active on the account recently.
On her Instagram, Camille Razat regularly posts pictures of her work, including promotional photoshoots and interviews for Emily in Paris, as well as images of her modelling, and more personal, low-key shots of herself.
Is Camille Razat close with the 'Emily in Paris' cast?
Off-set, Razat is good friends with her Emily in Paris co-stars, including Lucas Bravo, Ashley Park and the show's heroine, Lily Collins. Of the actresses, Razat tells Glamour: "I love them. They're very outgoing, very funny, a little bit goofy, in the good sense of it. They're very easy to work with....[Lily's] a generous actress, and I think it's a very, very important quality in an actor. Ashley's the little sunshine of the set. She arrives and she's making jokes, and she's laughing very loud, and it's fun."
In fact, she has such good chemistry with co-star Lily Collins that fans even want to see a romance between their two characters. Would Razat be down? "Definitely," she told Cosmopolitan UK. "It's so modern, it's so today. I think it [would] help with representation for people who don't necessarily have it in this show particularly. I think it's a great storyline."
Camille Razat boyfriend: who is she dating?
Camille Razat is engaged to her partner Etienne Baret, sharing the good news last December on Instagram with a sweet slow-mo video of the couple being showered in rose petals. The caption reads: "Pacsés 💍💜 @etiennebaret merci à mes ami(e)s extraordinaires, je vous aime !" which translates to "thank you to my extraordinary friends, I love you !"
Baret is a professional photographer, having graduated from the Auguste Renoir Art School in Paris.
What other shows and movies has Camille Razat been in?
Apart from Emily in Paris, which was Razat's first big American series, the actress is most famous for French-language projects such as Girls with Balls, The 15:17 to Paris and The Disappearance.
And while it's still a way off yet, we're looking forward to hopefully seeing Camille back on our screens for Emily in Paris season 4!
Liv is a freelance journalist currently studying English at university. She loves covering everything from entertainment and politics to lifestyle and travel. As well as writing for My Imperfect Life, Liv has bylines in The Times, HuffPost, Den of Geek, Bustle The Metro and The Bookseller.