Who plays Lottie, 'Yellowjackets' creepy teen turned cult leader?
Get to know the two actors behind Lottie, 'Yellowjackets' resident mystic and ruthless Antler Queen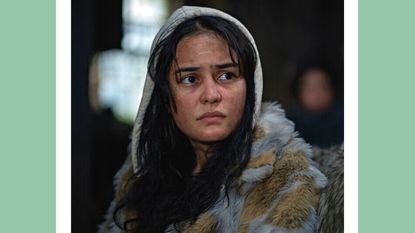 (Image credit: Colin Bentley/SHOWTIME)
She's the most mysterious member of the soccer team, but who plays Lottie? Yellowjackets' resident Antler Queen makes it out of the woods alive, that we know for sure, given that we were officially introduced to the present-day version of Lottie Matthews—now the leader of a cultish community dubbed Camp Green Pine—when Yellowjackets season 2 premiered on Showtime on Friday, March 24.
But who are the two actors portraying the Yellowjackets character in both the '90s timeline—as one of the teens who've been stranded in the remote Canadian wilderness after surviving a terrifying plane crash—and in the present day, as an adult survivor grappling with what occurred 25 years prior? Let's get to know the performers.
Who plays Lottie on 'Yellowjackets'?
1. Who plays young Lottie in 'Yellowjackets'?
In the 1996 timeline, Charlotte "Lottie" Matthews is played by 27-year-old Australian actress-model Courtney Eaton.
"This was my first TV show, and the idea of signing on to something for six years really scared me," Eaton told The Hollywood Reporter in a March 2023 interview. "But then I knew pretty early on that I wasn't ever going to get bored with this character."
Ahead of season two, Eaton told IndieWire about her character's journey: "Lottie is such a roller coaster...this season we find her trying to find her path in this leadership role, that she has semi-put herself in and others are putting pressure on her to do."
2. Who plays adult Lottie in 'Yellowjackets'?
On August 17, 2022, it was announced that we would be meeting the adult version of Lottie Matthews in the show's second season, played by 47-year-old New Zealand television actress Simone Kessell, joining elder Yellowjackets cast members Melanie Lynskey, Juliette Lewis, Christina Ricci and Tawny Cypress.
Though fans weren't sure if Lottie eventually escapes the woods and survives like Shauna, Taissa, Natalie and Misty, we got rumblings of her survival in that season one Yellowjackets ending. Natalie (Lewis) is taken from her hotel by a bunch of strangers and thrown into an unmarked van, thought to be the work of an alive-and-not-well Lottie, who also seemingly emptied Travis' bank account after his death.
We get our first sighting of adult Lottie, and Kessell's performance, in the season two premiere when we caught up with the character at the "wellness retreat" where she offers "therapeutic treatment" to her purple-clad acolytes and keeps Natalie chained to a bed at the camp compound.
"I think Lottie does have healing powers in the sense that she's been through so much and learned so much along her way. She's completely reinvented herself as a spiritual healer, as a guru," Kessell said of the character in a Deadline interview.
"There were days that I would be giving big speeches about trusting the authentic self and knowing who you are...these are speeches and, I guess sermons really, that she gives about how to work through past pain and trauma. Lottie's had an abundance of that in her past, so she's got something to draw on. She's moved from the darkness into the light, so she's all in. She really truly believes in her teachings."
Courtney Eaton movies and TV shows
Where have you seen Courtney Eaton before? Audiences may recognize the actress for her roles as Cheedo the Fragile in the 2015 film Mad Max: Fury Road, as Zaya in 2016's Gods of Egypt and Ava in 2019's Line of Duty. She will next be seen the Brittany Snow-directed film Parachute, which had its world premiere at the SXSW Film Festival in March 2023.
Simone Kessell movies and TV shows
Along with her work on Yellowjackets, Kessell is known for her roles as Lt. Alicia Washington in the Fox sci-fi series Terra Nova, as Queen Ahinoam in the ABC fantasy soap Of Kings and Prophets, and Mother Teach in the HBO Max rom-com series Our Flag Means Death, among others.
Catch Courtney Eaton and Simone Kessell as Lottie on Yellowjackets, airing Sundays at 9pm on Showtime and streaming on Paramount Plus.
Christina Izzo is the Deputy Editor of My Imperfect Life.
More generally, she is a writer-editor covering food and drink, travel, lifestyle and culture in New York City. She was previously the Features Editor at Rachael Ray In Season and Reveal, as well as the Food & Drink Editor and chief restaurant critic at Time Out New York.
When she's not doing all that, she can probably be found eating cheese somewhere.