Who tried to sue the Kardashians? What we know about their $100 million lawsuit
If you caught the season premiere of the family's new Hulu show and have been left wondering who tried to sue the Kardashians, we have the scoop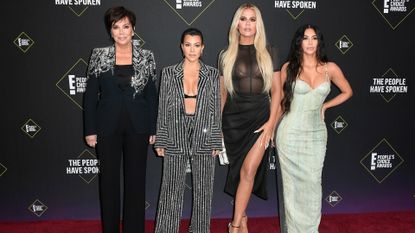 (Image credit: Frazer Harrison/Getty Images)
The premiere of season two of The Kardashians finally landed this week, and as expected, the family all brought the drama from the very first minute.
But while the emotional episode of The Kardashians on Hulu—featuring Khloe Kardashian's heartbreak over Tristan Thompson's latest infidelity (and baby)—was a hit with fans, it was the preview of what is to come this season that really got viewers talking.
In the 2-minute clip, Khloe and the other Kards were seen discussing the recent lawsuit against the family—but who tried to sue the Kardashians and what is the issue about? We've got all the deets on the trial—and how the world's most famous family ended up in court in the first place.
Who tried to sue the Kardashians and why?
The person who tried to sue the family was actually Blac Chyna—whose real name is Angela White—the mother Rob Kardashian five-year-old daughter, Dream.
If you're wondering why the Kardashians got sued, the reality star and model filed a lawsuit against the Kardashian family back in October 2017 for defamation and intentional interference with a contract. She alleged that Rob Kardashian's mother, Kris Jenner, and his sisters Kim Kardashian, Khloé Kardashian and Kylie Jenner, conspired with NBCUniversal against Chyna to get her former E! reality show Rob & Chyna canceled.
In early April 2022, she took to Twitter to provide her followers with an update on where she stands with her ex and his family.
"I'm taking them to court to stand up for my legal rights and to be an example to my kids that 'what's right is right' and 'what's wrong is wrong.' And what they did was so wrong."
The lengthy statement continued, "I am so thankful that a jury will finally listen to what really happened behind closed doors."
Blac Chyna's attorney, Lynne Ciani, also told Page Six back in 2021: "Chyna also proved that, although Kris Jenner was the ringleader for the plot to get season 2 of Rob & Chyna canceled, Kim Kardashian West, Khloé Kardashian and Kylie Jenner each separately defamed and intentionally interfered with Chyna's contract for season 2 —so all three daughters face a trial by jury for their illegal conduct against Chyna."
The trial kicked off in late April with opening statements from both parties.
On April 20, 2022, the prosecution argued that Kris Jenner falsely accused Chyna of physically assaulting Rob Kardashian as part of a coordinated effort to prevent Rob & Chyna from moving forward on E!
Arguing the case in court, the Associated Press reported that Chyna's lawyer told the jury Kris Jenner got "Rob & Chyna canceled" and that "she brought in her three daughters to help accomplish that."
Meanwhile, in their opening statement, the Kardashian's defense attorney Michael G. Rhodes argued that Chyna was desperate for the global fame the Kardashians have.
"The evidence is going to show you that Miss White [Blac Chyna] would say or do anything to be part of this family," he told the jury, insinuating that Chyna's lawsuit is a publicity stunt to boost her own profile.
The Kardashian's attorney continued his argument, explaining that the alleged assault led to the couple's breakup, and that's why E! producers canceled Rob & Chyna—not because of Kris Jenner and her daughters.
On Wednesday, April 27, Rob Kardashian testified and stated that he was at the lowest point in his life when in a relationship with Chyna.
"It wasn't a real type of love or we'd have been married. I didn't want to be married to someone like that. It was a toxic relationship and nothing I'd want my daughter to see, or how I was raised or how my father raised me. It was a toxic relationship from day one," he said, according to People.
Blac Chyna and Kardashian trial verdict
Roughly two weeks after the trail began, a verdict was reached on Monday, May 2.
According to a judge at the Stanley Mosk Courthouse in Los Angeles, California, Kris Jenner and her daughters—who were in New York at the time preparing for the Met Gala—were cleared of questions and won the trial, according to People. Chyna was not rewarded any financial damages.
The Kardashian's attorney stated that the family is pleased to move on from the whole ordeal. "I think the case was very clear. The jury did a great job, they got it. The family was very pleased and grateful, they were exuberant," Rhodes said, per People.
As of September 23 2022, Chyna has yet to post anything about the verdict to her social media accounts. However, her attorney Ciani still provided insight into the trial back in May, particularly the fact that the jury had to review several questions.
"I've never seen in my career before a jury have to go back and deliberate on four questions. The victory is that Chyna did not physically abuse her fiancé, Rob," she stated. She also noted that Chyna will, however, appeal the verdict.
What was said during the season premiere of The Kardashians, and at the 'KUWTK' reunion?
It seems that the second season of The Kardashians on Hulu in the US and Disney+ in the UK will address the family's legal battles extensively.
A preview for the entire season was shown at the end of the first episode, which saw Khloe sharing her concerns around the lawsuit. She explained that she was worried people would have preconceptions about the family, saying, "She's suing us for over $100 million, and we're leaving our fate in the hands of 12 random people—what if they hate us?"
Of course, we know now that the lawsuit worked out in the family's favor, but it'll certainly be interesting to see it play out in front of the Kardashians' cameras.
This isn't the first time the family have made reference to their war with Chyna though. During the two-part Keeping Up With the Kardashians reunion special in 2021, Rob Kardashian's ex made her way into the conversation, as the family discussed Rob's tumultuous relationship with her..
Rob did not appear at the two-part reunion, but big sis Khloé opened up about the emotional toll that the legal situation is taking on her younger brother: "We can only imagine how hard that is for him, and I know he feels really guilty about that, so none of us ever make him feel bad about it."
She seemed to be hinting at Rob's tumultuous relationship with former fiancée when she discussed his break from the family's reality show: "I think a lot of his personal relationships really, it's not so much about physical appearance, it's how he felt internally about some of the women in his life and how they've treated him and how he felt they may have used him to get to certain areas and levels and I think that really affected him."
Of her niece, Rob Kardashian and Blac Chyna's 5-year-old daughter, Dream, Khloé said: "Dream is honestly one of the most incredible little girls in the entire world. We never blur the two… We respect that Chyna is the mother of Dream, and we'll always respect that that's her position. So we never try to let that bleed through and make Rob feel more guilty. 'Cause, that's out of his control."
Blac Chyna and Rob Kardashian relationship
The model and reality TV star first got together in January 2016. In April of that year, they announced their engagement on Instagram. They welcomed their daughter Dream Renée Kardashian several months later in November.
A month after Dream's birth, the couple announced their separation on social media. Both have accused the other party of infidelity and physical assault.
Despite the ongoing battle, Rob is allegedly staying out of the limelight and focusing on his daughter, Dream, according to People.
Will this drama all unfold on Hulu, like the Ray J and Kim Kardashian beef? We'll have to wait and see.
Christina Izzo is the Deputy Editor of My Imperfect Life.
More generally, she is a writer-editor covering food and drink, travel, lifestyle and culture in New York City. She was previously the Features Editor at Rachael Ray In Season and Reveal, as well as the Food & Drink Editor and chief restaurant critic at Time Out New York.
When she's not doing all that, she can probably be found eating cheese somewhere.