Why this 7 minute workout was the hit of lockdown
Too busy to exercise? Not anymore, with this 7 minute workout...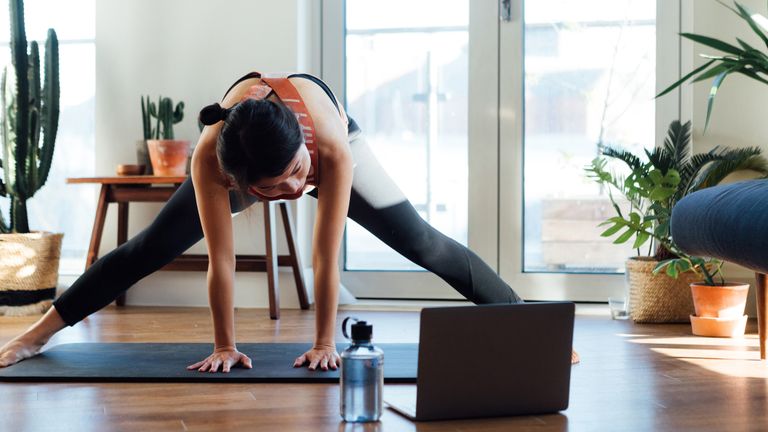 (Image credit: Getty)
As UK fitness gurus go, one name tends to dominate: Joe Wicks. Yet, while The Body Coach kept the nation moving with his daily P.E workouts (charming everyone and their nan in the process), another YouTube workout was also racking in the views during the lockdown. Fitness trainer Lucy Wyndham-Read's 7 minute workout has surged in popularity and her most-watched video helping people lose belly fat has commanded close to 80 million views on Youtube. This seven-minute workout was the hit of lockdown workouts and views are continuing to climb.
Lucy Wyndham-Read is the UK's most popular fitness expert on Youtube, says Ofcom. In their Media Nation report (August 2020), they confirm the ex-army corporal's page is "the most-watched British fitness channel" mainly due to her seven minute workout routines. Wyndham-Read's channel has a massive 1.48 million subscribers and over 200,000,000 views — close to Joe's own viewing figures.
So what's pulling viewers in? The home workout requires viewers to devote seven days to a quick and effective seven minute fitness routine. Wyndham-Read, a personal trainer of 25 years, claims you can lose up to 1-2 inches from your waist — as long as you follow it exactly and work on your nutrition.
On the first try, you can see the lure of this exercise routine. After all, it's just seven minutes — you can just about hard boil an egg in that time — leaving you a whole lot of space to complete your ever-growing to-do list. Yet, there's not much you can achieve physically in seven minutes, surely? Or so I thought. Turns out, thousands back Wyndham-Read's quick and easy method and have witnessed results.
On Youtube, one fan writes: "This is working for me at 60 yrs. I do three of her routines and am her biggest fan! Thanks for making exercise so much fun and easy to continue with... so inspired with the great results so far. Please keep the routines coming."
The seven-minute workout challenges the idea that exercise routines need to be long and extremely tiresome to be effective. It is deceptively challenging, featuring popular moves such as bear crawls, knee lifts, bicycle crunches, and more. Naturally, there are no rests, and, depending on your efforts, you'll certainly see a spike in your heart rate.
The workouts are accessible for all ages and abilities, so good news for those who haven't spent lockdown far from the sofa.
Despite the workout's phenomenal popularity, Lucy is quietly successful.
Speaking to The Sunday Telegraph, she explains: "In the beginning, I would be lucky if I got 10 views. It took years to take off but I just never gave up."
Clearly consistency is key in more ways than one for the trainer, who launched her Youtube channel in 2012.
"I remember uploading the seven-minute workout - I thought it was a good workout but it was just another standard video and never, ever could I have imagined this. Then I started noticing, wow, that's getting a lot more views. And then it just went viral," she explained.
Lucy's journey to fitness success began after her husband was killed in a tragic accident.
She told You Magazine that exercise helped her cope with grief: "I'd run for miles, and before anyone was doing HIIT [high-intensity interval training], I was creating my own routines in my barracks room. Exercise became a release, helping to lift the sadness that enveloped me. I slept better, it gave me a focus and it was time alone to come to terms with what had happened."
It seems Lucy's approach to exercise has helped many learn to deal with the uncertainty of the pandemic and conquer their fitness and health — even with just seven minutes of work.