Kris Humphries and the KUWTK reunion: Did Kim Kardashian apologize to her ex-hubby?
Kim K talked about unfinished business with ex Kris Humphries during the Keeping Up With the Kardashian reunion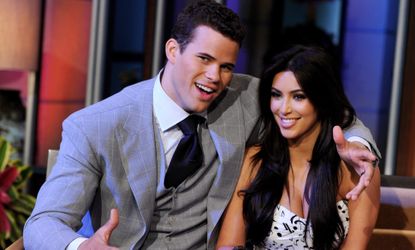 (Image credit: Kevin Winter/NBCUniversal/Getty)
The final episode of Keeping Up With the Kardashians has come and gone, but that doesn't mean the drama is close to being over.

The Keeping Up With the Kardashians reunion special kicked off its first part last night, June 17th (the second of the two-parter will air on June 20th), and there was plenty to talk about, as momager Kris Jenner and famous daughters Kim Kardashian, Kourtney Kardashian, Khloe Kardashian, Kylie Jenner, and Kendall Jenner sat down with Andy Cohen to go over 14 years and 20 seasons' worth of feuds, fanfare and more.
One topic that the reunion dug into is Kim Kardashian's past relationships, including her marriages to rapper Kanye West and former basketball player Kris Humphries. The latter in particular was intriguing to fans, as, in teaser clips of the reunion, Cohen asks Kim: "Do you think you owe him an apology?" She answers: "Absolutely."
The him in the exchange ended up being Humphries. Elsewhere in the teaser, Cohen seemingly refers to Kardashian's crazy-quick marriage to Humphries, asking: "Would you say you partially went through with the wedding because of the show?" When Kardashian and Humphries married on the reality show back in August 2011, many believed that the bride went through with the much-publicized nuptials solely for ratings.
In part one of the reunion, Kardashian reveals that she has reached out to her former husband several times to apologize for how things went down. "I handled it totally the wrong way. I tried to [apologize]. I tried calling him for months," Kim reveals, later saying that she ran into him at the Beverly Hills Hotel with her daughter North while she was pregnant with Saint, but the interaction was less than positive.
Kim said: "I saw him and all of his friends got up from the table, we had the tables next to each other. All of his friends got up and said hi to me and he literally just looked at me and like wouldn't even speak to me."
Kim also revealed that she suffered a serious case of cold feet the night before her wedding, saying that her mother was supportive of her potentially backing out of the wedding: "What you said to me was, 'Go, I'm going to put you in a car. No one will find you. Just leave and I'll handle it. I thought, 'OK, we're filming this for a TV show. If I leave, I'm going to be known as the runaway bride forever. It's going to be a huge joke.'"
And in regards to those rumors that she used a "fake" marriage for ratings, Kardashian said: "The show paid us, obviously, a fee to film the show. I took my entire fee and probably Kris' [fee] because I wanted a bigger wedding than what they were going to pay for. So I used all of our production money on the wedding. So, if that was, like, fake, I would have saved my money!"
Kardashian went on to say of her former husband: "He's very faith-based, and so, I'm sure he would have loved to not have marriage on his record. He wanted an annulment. The only legal way to get an annulment is if fraud is involved, so he marked fraud to get an annulment. So the whole world wondered, 'What is this fraud?'…If I was mature, I would have wanted the annulment too. I wish I was only married once."
How long was Kim Kardashian married to Kris Humphries?
After her first marriage to music producer Damon Thomas and her third marriage to rap icon Kanye West, from whom she is currently divorcing, Kim Kardashian was married to then-New Jersey Nets player Kris Humphries for 72 days.
The couple began dating in October 2010 and became engaged in May 2011. They got married in a lavish televised ceremony in Montecito, California in August 2011, which aired as a two-part TV special on E! two months later. A mere few weeks after the airing of their wedding special, Kardashian filed for divorce from Humphries, citing "irreconcilable differences."
Kim Kardashian ring from Kris Humphries
Humphries had proposed to the reality star with a Lorraine Schwartz whopper of an engagement ring, which featured a 16.21-carat center diamond and two 1.8-carat side diamonds and was reportedly worth $2 million.
Following the break-up, the engagement ring was sold at a Christie's auction in New York City in October 2013 for $620,000, according to Insider.
What is Kris Humphries doing now?
Humphries announced his retirement from the NBA in March 2019. Since his heavily publicized break-up from Kardashian, Humphries has for the most part stayed out of the spotlight. In 2019, he wrote an essay for The Players' Tribune that detailed the downfall of that famous relationship: "I met a girl who happened to be really famous, and I got married, and.…. Damn. Look, I should have known what I was getting into. I was definitely naive about how much my life was going to change."
He continued: "When it was clear that it wasn't working … what can I say? It sucked. It's never easy to go through the embarrassment of something like that — with your friends, with your family…. But when it plays out so publicly, in front of the world, it's a whole other level. It was brutal."
"I'll be honest, I dealt with a lot of anxiety, especially in crowds. There was about a year where I was in a dark place. I didn't want to leave my home," Humphries wrote. "You feel like … I don't know … the whole world hates you, but they don't even know why. They don't even know you at all. They just recognize your face, and they're on you."
Following his basketball career, Humphries has segued into fast-casual restaurants: He's a franchise partner of Crisp & Green chain and has opened more than 10 Five Guys burger franchises in the U.S.
Who is Kris Humphries' girlfriend?
In January 2021, Humphries was spotted on vacation in Miami with 30-year-old Instagram model Nayleen Ashley Rang. However, some social-media sleuthing doesn't see either party on each other's Instagram pages recently, so who knows if the two are still together.
Christina Izzo is the Deputy Editor of My Imperfect Life.
More generally, she is a writer-editor covering food and drink, travel, lifestyle and culture in New York City. She was previously the Features Editor at Rachael Ray In Season and Reveal, as well as the Food & Drink Editor and chief restaurant critic at Time Out New York.
When she's not doing all that, she can probably be found eating cheese somewhere.