Will there be a season 2 of Clickbait on Netflix?
Still shocked over that finale? If you're asking yourself, "Will there be a season 2 of Clickbait on Netflix?" we've got some news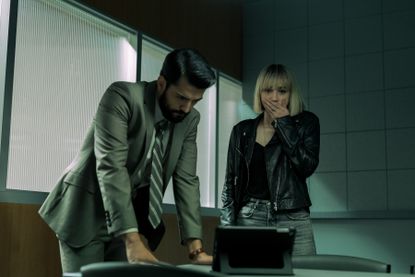 (Image credit: BEN KING/NETFLIX)
After that insane finale, there couldn't possibly be any twists and turns left for a Clickbait season 2, right? Or so we thought.
The psychological thriller starring Adrian Grenier, Betty Gabriel and Zoe Kazan has become a certified Netflix smash since hitting the streaming platform on August 25, 2021, thanks to its intriguingly sinister premise.
Grenier plays Nick Brewer, a California family man who, after being abducted by unknown captors, is forced to participate in viral videos in which he's seen holding up signs that convict him of abuse and even murder. His family and local police try to track Nick down before it's too late, as a web of lies and deceit grows larger and more entwined with each passing episode.
And after that explosive ending, fans have nearly as many questions as they do answers—namely, will there be a Clickbait season 2 in our streaming future?
---
---
Will there be a season 2 of Clickbait on Netflix?
Though billed as a limited series, Clickbait could potentially return to Netflix, as show creators Tony Ayres and Christian White are reportedly both ready with ideas for its next chapter, according to Entertainment Weekly.
"I really love this format and if people connect to it, I would love to do it again," says Ayres. "I think it works really well, especially for a more elevated crime. I like to satisfy the whodunnit quality, but still try to do a deep dive on character and then at the same time do a 360 around an event because everyone has slightly different [perspectives]. I've got ideas for a season 2 or 3."
And it seems the Clickbait cast agrees. In an interview with Metro, Grenier said: "A lot of what the show is about is perspectives and incentives. The device of focusing on each character and their perspective, it goes so well with what's happening out in the real mediascape."
Because of all of those characters, "this could go on for a long time," Grenier told the outlet. "I mean I think it's gonna keep fragmenting out, becoming more complex and more interesting. So yeah, season two, I'm there!"
Co-star Betty Gabriel adds: "I personally feel like you could spend an entire season exploring each character."
"There's so many characters, there's so much story to tell. So I think definitely [we could get a series two]."
Given the way season one ended, however, it would be safe to assume that season 2 would focus anthology-style on new characters and a new storyline, but as the show has not officially been picked up yet for a sophomore season, only time will tell!
When could we expect Clickbait season 2?
Season one of Clickbait began production in Melbourne, Australia, back in December 2019, but was halted due to the COVID-19 pandemic, according to TV Tonight. The show resumed filming in November 2020 and was released in August 2021.
Though still waiting on an official greenlight from Netflix, using season one as a gauge (save any pandemic-related pushback, of course), viewers could potentially expect a season 2 of Clickbait as soon as late 2022.
How many episodes of Clickbait are there?
The show's first season is comprised of eight hour-long episodes, each told from the perspective of a different person in Nick's orbit, from his sister Pia (Kazan) to his young son Kai (Camaron Engels) to the detective working on his case. If Clickbait gets picked up for season two, it's safe to assume that it will have a similar output.
Of that shocking episode-eight finale, creator Tony Ayres told Entertainment Weekly: "I think people are really going to love it, or I think they're going to throw their remote at the television. Or both."
Ayres continued: "The thing I really wanted to do was to make episode 8 also a 'why done it' so that even though it comes out of the blue, what we were trying to do was then explain how did this happen? How does someone like that end up in this situation?"
Well, it was surprising, to say the least!
Christina Izzo is the Deputy Editor of My Imperfect Life.
More generally, she is a writer-editor covering food and drink, travel, lifestyle and culture in New York City. She was previously the Features Editor at Rachael Ray In Season and Reveal, as well as the Food & Drink Editor and chief restaurant critic at Time Out New York.
When she's not doing all that, she can probably be found eating cheese somewhere.