Would 'Bridgerton' have been a hit without the pandemic? An investigation
Did we really like the Duke that much or was our obsession a byproduct of these 'unprecedented times'?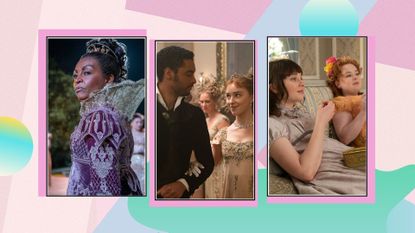 (Image credit: Courtesy of Netflix, LIAM DANIEL/NETFLIX © 2020)
This essay is part of our Lost Years series, where we investigate the two years since the COVID-19 pandemic was declared by WHO on March 11, 2020. Did we collectively change, how and will we ever go back? How has this time affected our relationship with work, our loved ones, dating and even entertainment? And can we take action to reclaim what we may have lost?
---
We can all agree that the pandemic turned out to be a great time for television.
Almost overnight, the world found itself stuck at home with a desperate need for something to take our minds off the intensity of what was going on across the globe. Luckily, there were plenty of enticing selections to binge as networks and streaming services provided a wide range of content to keep us entertained.
Programs like Normal People had us all feeling horny AF at a time when dating was very much on lockdown, while Tiger King was an obsession that no one saw coming as we were sucked into the insane world of Joe Exotic, Carole Baskin and the world of Big Cats.
Elsewhere, I May Destroy You felt like a group therapy session that perfectly communicated the impact of trauma caused by sexual assault, while WandaVision was another series that had us hooked. "What is grief, if not love persevering?" were wise words from Paul Bettany's Vision hit us all right in the feels in February 2021.
However, Bridgerton arguably enjoyed the largest success of all. Indeed, the reception of all the previously mentioned shows came as an unexpected surprise as they benefitted from circumstances caused by the coronavirus pandemic. But as far as this author is concerned, Bridgerton was always going to be the biggest smash hit—thanks to the perfect mix of glamour, passion and a spoon-licking Duke (miss you already, Regé Jean-Page).
Don't get me wrong, the pandemic definitely played a part in its record-breaking success. Reaching 82 million households in the first month is far more than Netflix could ever have imagined. However, the company always had high hopes for its Regency-era series—and rightly so.
First and foremost, this is a Shondaland production. For those who don't know, Shonda Rhimes is the woman behind megahits such as Grey's Anatomy, Scandal and How To Get Away With Murder. This is someone who knows how to make TV that viewers adore—especially if there is a core love story involved. It also helps that she chose to adapt a best-selling novel that already had a massively loyal fan base ready and waiting for their favorite characters brought to life (here's how to read the Bridgerton books in order if you want to catch up).
It's no surprise then that Netflix threw top dollar towards every part of the production. In the space of five months, over 7500 costumes were made by a team of 238 people and their creations sparked the resurgence of Regency-inspired fashion.
The Bridgerton soundtrack was another way they successfully switched things up, featuring classical string arrangements of contemporary hits such as 'Thank U, Next' by Ariana Grande and Taylor Swift's 'Wildest Dreams'.
These elements alone would have made Bridgerton one to watch, but then we also got to enjoy the brilliance of Shondaland's color-blind casting policy.
Thanks to this, we got Adjoa Andoh's captivating Lady Danbury, Golda Rosheuval's brilliant Queen Charlotte and THE Regé-Jean Page as Simon Basset, Duke of Hastings. This decision was always going to make Bridgerton the talk of the town thanks to the antiquated argument that period dramas should only feature white actors. Thankfully, the "controversy" only seemed to boost interest in the show.
Honestly, I'd bet money that if Bridgerton had dropped in a world where Covid didn't exist, people would still have tuned in to see this beautifully created world—and they would have fallen in love just as fast as they did in December 2020.
The visuals are incredible, the score is stunning, and the entire cast is a wonderful breath of fresh air. The chemistry—not only between the main lovebirds but also between the Bridgerton family members and everyone else they encountered—was always going to get us swept up in the drama of the Ton.
Plus, the incredible feat of getting THE Dame Julie Andrews to voice everyone's favorite secret teller since Gossip Girl didn't hurt either.
Now, I would be remiss if I didn't mention another key part of Bridgerton's magic—horny, lustful sexiness.
Simon's spoon-licking, Daphne discovering masturbation, Anthony having sex against the tree, the wedding night sex, Simon and Daphne going at in the middle of the field or that time when Simon was going down on his wife in the library… I could on.
The writers wanted to get us all hot and bothered, and boy did they succeed. Let's face it, even if we weren't dealing with the many complications that coronavirus brought into our lives that Christmas, the clips of Simon and Daphne were always going to set the internet ablaze.
As we gear up for Bridgerton season 2, the show always had the perfect recipe for success if you ask me. This author is just glad that we were able to enjoy everything it had to give at a time when we needed it the most.
Nola is an experienced entertainment reporter, having written for publications like Yahoo Entertainment, Pink News, Metro and Refinery29 UK.